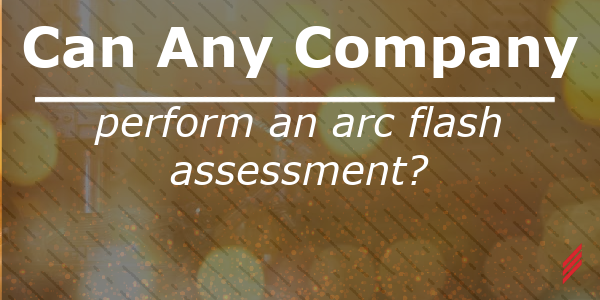 ---
I recently received an email from an individual who downloaded a recording of my webinar "3 Ways to Complete an Arc Flash Assessment on a Limited Budget." In the email, I was asked the following question:
"Can any company perform Arc flash assessments, or does it have to be a company that is certified to complete arc flash studies?"
I've been asked this question many times, so I decided to share my response as a blog post.
There are two ways to complete a "risk assessment" for compliance:
Incident energy analysis (which is what Hallam-ICS does) – this is an engineered analysis.
Risk assessment utilizing the tables in NFPA 70E–2018. Someone within your organization can complete this based on below.
If you utilize the tables, you will need to meet the available fault current and cycle time minimums. Someone will need to calculate these values within your organization. If a task is not listed in the tables that someone needs to complete, then you must have an engineered assessment completed. The table method is often the most cost-effective way to complete the assessment, but it does require someone to do the necessary research to ensure compliance. You might also want to check with your state and local regulations on whether a Professional Engineer needs to perform the assessment.
The benefit of an "incident energy assessment" (or what I call an "engineered assessment"), is that you will be ensured that the calculations are completed properly by an experienced engineering firm. There are several steps to follow to complete a thorough assessment. Be cautious with who you choose for this though. I say this because there are many firms out there that do not have the experience and knowledge level to conduct this properly. I have seen this first hand more times than you can imagine.
Other benefits of an incident energy analysis are:
Updated and complete building electrical distribution one-line diagrams. Your maintenance personnel will love this because it's "road map" of the electrical system
One-lines are also provided in AutoCAD format for managing changes. Also, the entire report is provided on a CD.
EEWP (Energized Electrical Work Permits) for each piece of equipment included in the study. This is a requirement of NFPA 70E to plan and manage live work
The database is built and for any future changes to your system, you can call the engineering firm to make the changes and re-run the analysis to see if it affects the results and labels
And lastly, it's critical that your maintenance and/or electricians receive the proper qualified electrical safety training. This also is a requirement of NFPA 70E. This is a service that we also provide. It's an enlightening 8-hour course. Eye opening. No one can be considered "qualified" until they receive the training. It's part of the definition.
I hope this information is helpful and if you would like to talk on the phone, I would be most happy to do so. If you have any other questions, please feel free to let me know.
About the Author
Scott King is the VP & National Director of Electrical Safety Services. Scott has been with Hallam-ICS for over 30 years. Scott and his team have been conducting power system studies for over 15 years.
Read My Hallam Story
About Hallam-ICS
Hallam-ICS is an engineering and automation company that designs MEP systems for facilities and plants, engineers control and automation solutions, and ensures safety and regulatory compliance through arc flash studies, commissioning, and validation. Our offices are located in Massachusetts, Connecticut, New York, Vermont and North Carolina and our projects take us world-wide.