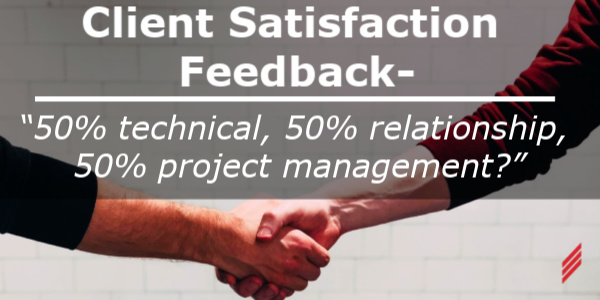 When completing a client satisfaction survey, it's natural to think "what is the company going to do with these results?" At Hallam-ICS, we share the results with our clients and our employees. As a Certified B-Corporation transparency is part of who we are. The results of a survey can contain valuable information, but only if that feedback is made available. As engineers and technically minded people, we're inclined to look for problems; "what are we doing wrong and how do we correct it?" This is part of the process, but it's equally important is to take the time to understand "what are we doing right and how do we continue to excel in these areas?"
We recently conducted our annual client satisfaction survey. Prior to last year, we had relied primarily upon our regional managers, project managers and engineering staff staying in close contact with our clients to receive direct feedback about our performance. After speaking with other, similar engineering and automation firms we decided to augment this approach by implementing an email survey last year. This blog will share the results of the survey.
Some of you like the details and will be interested in "the numbers." Others of you are likely more interested in some key themes or takeaways from the survey. I'll try and provide you with both.
For "the numbers" folks, here are some details:
Our survey group included a distribution of clients from:
Each of our office regions
Each of our service lines
Each of our key markets
Each client received an email directing them to a SurveyMonkey site.
Our response rate approached 25% (above industry average, according to multiple sources)
The survey consisted of 9 questions. Clients were asked to rate Hallam-ICS on a 0-10 scale (0 equals poor, 10 equals exceptional) for each question.
The last rating question was geared towards the Net Promoter Score, asking our clients:
How likely that you would recommend Hallam-ICS to a colleague (0 equals very unlikely, 10 equals very likely)?
Here are the results, with the average score for each question: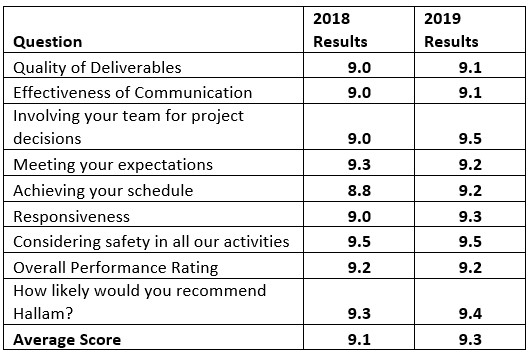 Our overall Net Promoter Score (Promoters minus Detractors) was 93.3. Except for "Meeting your expectations," all our results improved from a year ago, with the largest gains being made in "Involving your team for project decisions," and "Achieving your schedule."
The final question provided an opportunity for clients to share specific comments and feedback:
What do you value most about working with Hallam-ICS or enter your general comments here.
For the less analytical folks, these responses are likely more interesting and may provide some insight into what our clients value from their engineering and automation consultants. The feedback received on this question was fascinating and we are greatly appreciative of the time our clients took to offer such thoughtful and candid thoughts.
At Hallam-ICS, we have long held the belief that our business is "50% Technical and 50% Relationship." Our founder, Dave Hallam, shared this philosophy with us often and our clients often reinforced this through our conversations. Feedback we received from this survey further supported this belief, with one caveat; Project Management is equally important!
Rather than sharing the specific comments, I'll instead offer specific themes that were brought up multiple times. Technical capability is very important with many comments referring to our expertise, knowledge, experience, professionalism and insights. Relationship is highly valued, with clients emphasizing the importance of our responsiveness, friendliness, being "easy to work with," a team player and collaborative nature. Finally, Project Management was a core theme, with many clients appreciative our commitment to schedule, cost and communication.
Other observations and takeaways from the survey include:
Responsiveness does not equal communication! One of our offices received a nearly perfect score (9.9 average) for their "Responsiveness." This is good to hear as we stress the importance of prompt and timely response. However, that office also received their lowest score (8.9 average) for "Effectiveness of Communication." There's a good lesson here. Responsiveness is important, but timeliness by itself does not create effective communication.
Project management is everyone's job! Hewlett Packard's (HP) co-founder David Packard once said, "Marketing is too important to be left to the marketing department." The prevalence of schedule, scope management, budget, communication in the comment section, reinforces that, as a project-based company, managing projects is something all of our engineers have to assist in. "Project Management is too important to be left to the Project Management department."
As an aside, I was very pleased to see how often we are described as "easy to work with," "friendly," "professional," and "honest." On our website, we say that "At Hallam-ICS, our Teams Love Engineering and People." We have to be technical experts at what we do, but we want you to enjoy your experience of working with us.
We'll review and discuss this feedback and will implement changes that hopefully our clients will notice in the coming year. Some will be subtle, others more noticeable. After the 2018 survey, we decided to pursue ISO-9001 Certification. This year, one takeaway I have is that we may need to slightly tweak our adage on what is important to our clients. Maybe we need to expand our view to say that our business is "50% Technical, 50% Relationship, and 50% Project Management?"
About the author
Keith is a graduate of the University of Vermont with a BSEE and an MBA. He has been with Hallam-ICS since 1988 as an electrical engineer, manager of integration services, CFO, and CEO. He focuses the company on understanding and meeting the needs of each individual client while at the same time delivering the highest possible level of technical expertise.
Read My Hallam Story
About Hallam-ICS
Hallam-ICS is an engineering and automation company that designs MEP systems for facilities and plants, engineers control and automation solutions, and ensures safety and regulatory compliance through arc flash studies, commissioning, and validation. Our offices are located in Massachusetts, Connecticut, New York, Vermont and North Carolina and our projects take us world-wide.