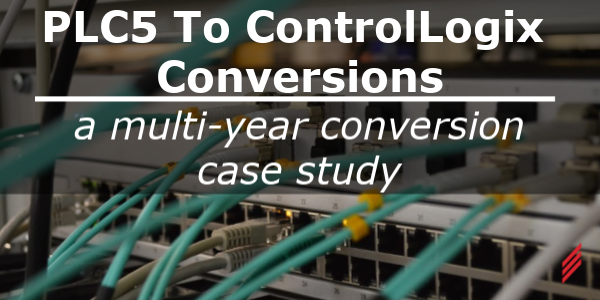 ---
PLC5 Conversion 3-Part Series detail considerations when performing a PLC5 to ControlLogix conversion.
PLC5 to ControlLogix Conversions - Part 1: Custom Solutions to Further Reduce Costs
PLC5 to ControlLogix Conversions - Part 2: 3 Ways to Meet Your Budget
PLC5 to ControlLogix Conversions - Part 3: A multi-year Conversion Case Study
In my previous blogs on PLC5 to ControlLogix Conversion, I discussed your budget, and our "lessons learned". In this blog, I would like to introduce a large system conversion of an obsolete control system that took several years to implement due to shut-down windows and budget constraints.
Case History
In any field, you develop relationships. Some clients, you only get to work with for one or two projects. With some clients, you are able to develop multi-decade relationships. In some cases you get to do the initial system installation, and then do the upgrade many years later. Hallam-ICS has developed a lot of these long-term relationships over the years.
One such client, installed a large PLC 5 control system in the 1980s. As one of our engineers had previously worked directly for one of the client's major vendors, we had some unique insights to their systems and were able to leverage that knowledge in establishing credibility in both system maintenance, and new system upgrades.
Early 2000's
The installation was nearly 20 years old. Some of the control system hardware and software were obsolete. Hallam-ICS worked with our client to convert the existing PLC back bone to a (then quite new) ControlLogix 1756-L55 processor with ControlNet communications. All Loop Controllers and Analog display units were converted to ControlLogix I/O on ControlNet. Their obsolete SCADA was upgraded to a supported version during the same shutdown. The installation would run another dozen years without significant upgrades or changes.
In the interim, the PLC5, 1771 hardware was beginning to be obsoleted. The client was running their site on a system, where some of their spares would soon be available only on E-bay. We began to discuss options for conversion with the client.
Hallam-ICS worked up a project budget for the conversion of their Allen-Bradley PLC, I/O racks and their plant SCADA. The 1771 to 1756 conversion manual was used as the basis for the conversion. We compared the results to those provided by the Integrated Architecture Builder module of the Rockwell Connected Components Workbench. Based on annual budget allocation for the systems, the project was divided into three additional phases.
Year 1 Conversion
The PLC5 and three RIO racks for a critical support system were converted to ControlLogix with Ethernet Communications. It was a mid-sized sub-system with less than 500 total I/O. It would be a good confidence builder for the client, before cutting into the 3000 I/O of the main PLC.
The 1771 to 1756 conversion modules were used. Two technicians swapped out the main rack and three RIO racks in less than a day with zero wiring errors. Hallam-ICS and the client were sold on the conversion hardware from Rockwell Automation.
The converted code was 99+% prior to debug. It was discovered that one of the obsolete I/O cards had alternating Normally Open and Normally Closed relay contacts . Three lines of code were inverted during start-up & debug – that was it!
Year 2 Conversion – Control Room upgrade
The SCADA and the Windows 2000 computers were, again, obsolete; so both were upgraded to the currently supported versions. New SCADA computers were loaded and installed by Hallam-ICS. They were run side-by-by-side with the existing units until operations was convinced they were identical in functionality.
Ten existing ControlLogix ControlNet racks supporting analog I/O were converted to Ethernet. Eight 16-slot racks of 1771 I/O were converted to ControlLogix modules using the conversion hardware offered by Allen-Bradley. Two technicians were able to swap the 8 racks in less than two days. As Allen-Bradley did not offer cables to convert 8 channel I/O modules to work with 16 channel cards, Hallam-ICS designed custom cable sets to work with these module pairs. We were able to cut projected hardware costs for all rack conversions by over $100,000 (about 25% of total hardware bill). The client was very pleased with the reduction in total cost, and this phase of the conversion was a success.
As in the Year 1 conversion of the first system, only a few software conversion glitches had to be debugged during start-up.
Year 3 Conversion – Seventeen (17) Additional RIO Racks Upgraded
Now that we had a lot of these conversions under our belt, things were going even more smoothly. One Skid had an old Panel Board with over 60 lights, switches and pushbuttons and another dozen analog indicators or analog BCD entry devices. We determined that based on I/O card savings we could pay for the hardware and programming of an HMI Touch Screen to replace all of the panel board functionality. The client already had several Automation Direct C-More displays on site; and they directed us to use the same.
We had an additional 17 racks of RIO to replace on this shutdown, and quite a few were in shallow cabinets (actually MCC buckets). The standard conversion hardware would be too deep to allow the doors to close. We would have to either hardwire all the I/O, which would take a lot of time and introduce room for mistakes, or find another solution. Hallam-ICS was able to engineer a custom solution, using available hardware, that allowed the customer the ability to use the conversion hardware in the existing cabinet without "bumping out" the doors. Two technicians replaced the 17 racks in about 3 days' time. Zero wiring errors. Zero hardware issues to debug.
The SCADA was updated only for new communications alarm points.
Our relationship with this client is stronger than ever. It is a shame that we will have to wait 15 years or so to do our next major project with them. I guess we just have to hope for a big plant expansion.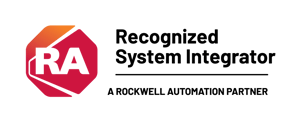 To date, Hallam-ICS has upgraded more than 40 PLC5 I/O racks on over a dozen processors. We have another 25 conversions slated over the next 3 quarters. We are able to execute the physical conversions and the PLC code conversions in a very effective manner. We are also very well versed in converting existing networks to Ethernet for communications. If you have any questions on PLC5 to ControlLogix conversion strategies and potential cost savings, please contact me. We are also well versed on several other vendors' legacy conversions; so don't hesitate to ask about other platforms. Feel free to contact us as you evaluate your conversion and your budget. We look forward to working with you on your PLC5 conversion.
About the author
Ray Racine is a Senior Controls engineer with Hallam-ICS. He has been involved in all facets of Automated Control Systems since 1985. He joined Hallam-ICS in 1995.
Read My Hallam Story
About Hallam-ICS
Hallam-ICS is an engineering and automation company that designs MEP systems for facilities and plants, engineers control and automation solutions, and ensures safety and regulatory compliance through arc flash studies, commissioning, and validation. Our offices are located in Massachusetts, Connecticut, New York, Vermont and North Carolina and our projects take us world-wide.