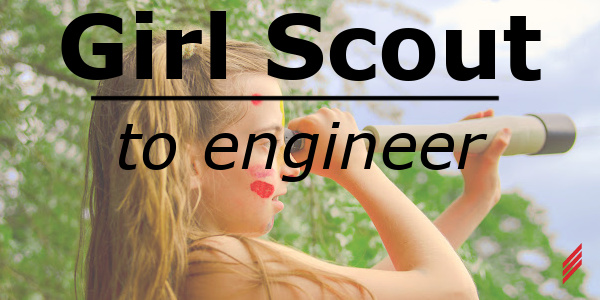 The Hallam-ICS North Carolina office recently had the rare opportunity to teach young girls what it is like to be an engineer. We hosted Brownie Troop 803 for a morning filled with mainly electrical safety tips, tricks, and of course play dough. Let's be honest, electrical is the most fun anyway.The young ladies learned about our office through Emily Crosby (her father, Brian Crosby, is one of us). Emily was thrilled to be able to show off what her dad does and learn a few things about why we love what we do.
Introductions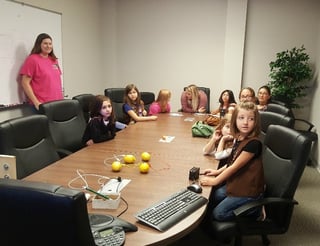 The morning started with a quick tour around our office. We couldn't let the mechanical and controls guys be completely left out! The ladies heard about our CAD and Revit software, took a crash course in controls, and made their way back to the cube space to chat with the arc flash and electrical group. We then made our way to the conference room to watch a short video about electrical safety. These ladies are very sharp. They asked plenty of questions and answered a few of our trickier questions. Once the safety video was done, we started discussing how electricity flows and the ways in which different circuits are wired. We brought in brought circuit boards, LEDs, battery packs, and more to allow the girls a hands-on experience. The circuit boards were passed around the table so that each one of the girls had a chance to see the wiring, lights, and batteries that made the circuit work.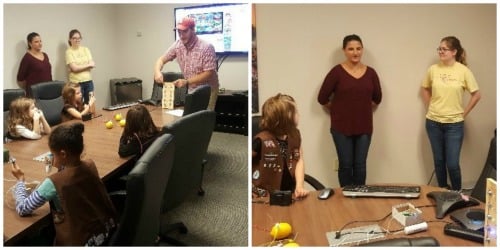 The Tools
An electric magnet and a box of magnetic and non-magnetic items were used to help demonstrate the differences between conductive and non-conductive materials. The ladies learned that in order for the magnet to work, the circuit had to be completed by holding the button. Once we had a better understanding of conductive materials, it was time to break out the lemon battery. We had placed bolts in one end of the lemons and copper wires in the other, threw a few alligator clips between them and were ready to impress by turning on a small LED light. There were several "oohs" and "aahs" from the girls, us too (we are easily amused).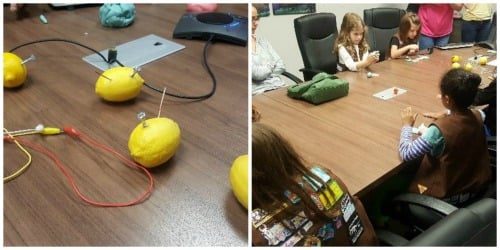 The best activity was saved for last. The girls were feeling much more confident about how electricity worked, so we wanted to give them a chance to build their own "circuit". Prior to our activity day, Kimberly Witte found a recipe online for conductive play dough. She made both the conductive and insulating dough necessary for powering our LEDs. The ladies were instructed to create anything they wanted, as long as they had two pieces of the conductive dough separated by one piece of the insulating dough. Butterflies were a popular choice that day. The leads of the LED light and the battery were placed in either side of the conductive dough and the girls were able to see their creations come to life.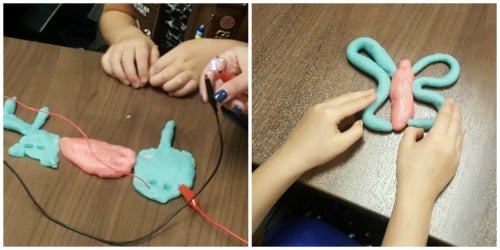 Girls in STEM
We were able to tell the girls that they were seeing a small-scale version of what we work with every day. We knew all along that we wanted to be positive role models for these girls. Women are still in the minority for STEM students and professionals, so witnessing their enthusiasm that day made me excited for the future. Our main goal was to teach through hands-on activities rather than losing their attention during a presentation, and I think we achieved that. We were even able to show off our artistic play dough skills as well.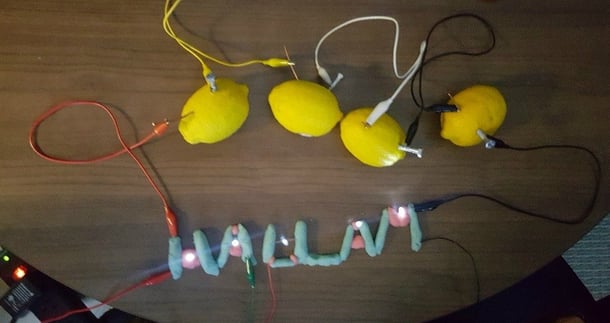 If you would like to try any of the experiments at home, the websites with more information can be found here:
About the author
Courtney Allen is the Operations Manager- South Atlantic. She has worked on projects of varying sizes throughout New England and the South-Atlantic region. Originally from Vermont, she now works out of the North Carolina office. Courtney has been with Hallam-ICS since graduating from the University of Vermont in 2013.
Read My Hallam Story
About Hallam-ICS
Hallam-ICS is an engineering and automation company that designs MEP systems for facilities and plants, engineers control and automation solutions, and ensures safety and regulatory compliance through arc flash studies, commissioning, and validation. Our offices are located in Massachusetts, Connecticut, New York, Vermont and North Carolina and our projects take us world-wide.