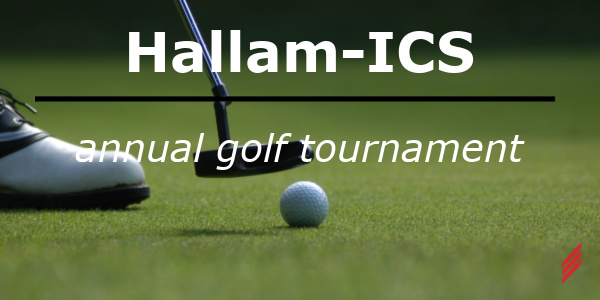 FORE!
Greetings to all from the golf links!
On August 12th the annual Hallam-ICS golf tournament was played at the Links at Lang Farm in Essex Junction, VT. This marked the 20th anniversary of the tournament in which Hallam-ICS employees, clients, friends and family members form 2-person teams and compete in a scramble format for prizes as well as, most importantly, bragging rights.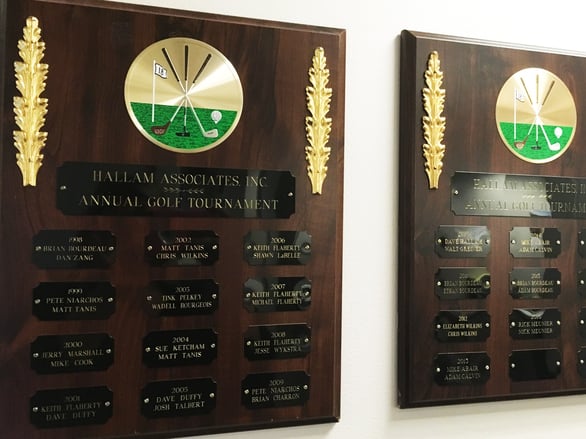 Handicaps and mulligans are assigned to each team based on playing ability in an attempt to make the tournament more competitive and enjoyable for each team. This year we were extremely happy to have a few former employees participate as Chris Reck, Joel Trudeau and the founder of the company, David Hallam, were all able to attend. Kristian Montenegro also made the trek from our Malta, NY office to play in his first tournament with his father-in-law Allan LeMere.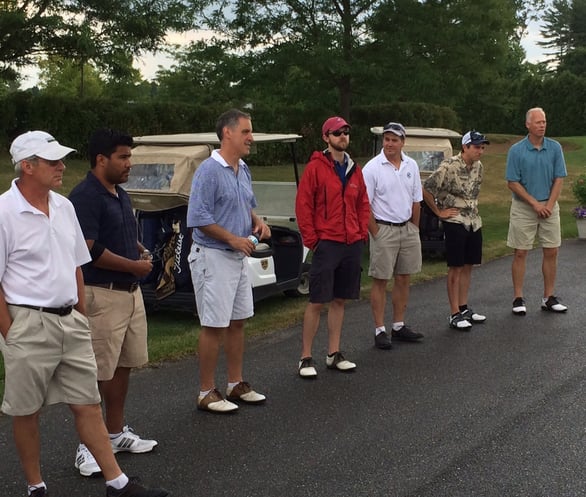 Golfers receive instructions prior to playing
The weather was iffy with thunderstorms in the forecast but, with only a few sprinkles falling, we tee'd off at our planned 12:30pm start time. Fortunately, the rain and storms stayed at bay and we were able to complete the tournament just moments before it started to rain heavily. Only once in tournament history have we been forced to stop due to weather.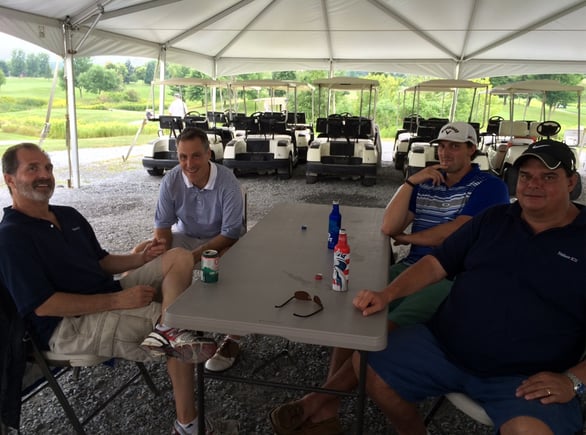 Enjoying a refreshment after the round for tournament winners Nick and Rick Meunier (Right side of table).
This year's championship went to the father-son team of Rick and Nick Meunier who took advantage of their assigned handicap to shoot a net score of 61. This is the fourth time in tournament history that a father-son duo captured the title. Second place went to the father-son team of Keith Flaherty and Mike Flaherty with a net score of 63 and third place went to the team of Joel Trudeau and Brent Weigel with a net score of 64. The defending champions from 2015, Brian and Adam Bourdeau, did not handle the pressure very well and finished dead last in this year's outing. Adam Bourdeau is considering looking for a new partner for next year's tournament.
The other on course competitions went as follows:
| | |
| --- | --- |
| Longest drive hole #4 | Nick Meunier |
| Straightest drive hole #14 | Walt Greiner |
| Closest to the pin #7 | Doug Carroll (32'-9 ½") |
| Closest to the pin #15 | Brian Bourdeau (5'-5") |
All in all it was another great golf outing with co-workers and friends. A special thanks to Brett Clace and all the folks at The Links at Lang Farm for their course setup and use of the driving range. Also, a shout out to the folks at Cody's Irish Pub for accommodating our large group for food and drinks following the conclusion of the tournament.
I hope to see everyone out there again next year!
Brian Bourdeau, tournament organizer
About the Author
Brian has been employed with Hallam-ICS since January of 1988 and has been the IT Manager for over 25 years. He is a graduate of Vermont Technical College with a degree in Mechanical Engineering Technology. He and his team pride themselves in providing reliable technical solutions to individual and corporate IT needs in a timely manner.
Read My Hallam Story
About Hallam-ICS
Hallam-ICS is an engineering and automation company that designs MEP systems for facilities and plants, engineers control and automation solutions, and ensures safety and regulatory compliance through arc flash studies, commissioning, and validation. Our offices are located in Massachusetts, Connecticut, New York, Vermont and North Carolina and our projects take us world-wide.