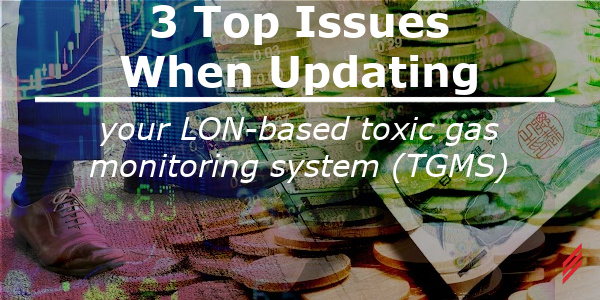 There was a time when LON-based Toxic Gas Monitoring Systems (TGMS) was all the rage. Hallam-ICS designed and integrated several of these systems. Low installation costs matched with industry leading gas detection technology made for a compelling combination. As with all things on the leading edge, they eventually are not leading edge any longer.
Even in their heyday, LON systems had their limitations. Only 16 connections were permitted for any one device. This resulted in the need to have a cascade of logic to address more connections to simply shut down a single gas valve for multiple causes. Programming LON has been described as three-dimensional chess. These complicated piles of code took hours to store and back-up. The programming software itself, Lonworks, is no longer being updated. Using LON-based communication networks for TGMS never really caught on with gas detection manufacturers as a whole. Because of this, LON was not optimized for use with TGMS and few alternates for gas detection equipment evolved.
Today, if you have a LON-based TGMS, you likely are looking to replace it with a system that is more modern, robust and flexible. There are many hurdles to overcome when upgrading an existing TGMS from LON communication to any alternate method of gathering gas concentration values. One of the most important is whether to remain on a network-based platform (such as POE, which has been encouraged by some) or move towards a non-proprietary platform. We typically recommend the latter, as most folks learned the lesson of a "low initial cost, high lifetime cost" of locking in to a proprietary system.
With that said, here are the top three issues to consider when upgrading your LON-based TGMS:
New Infrastructure
Moving away from LON will require selecting a new communication bus. This could be 4-20mA analog signals, digital signals, Ethernet, or other options. In any case, it is unlikely to be a direct match for the LON wiring infrastructure that you already have in place. The new infrastructure will have a significant cost and installation time impact to your upgrade.
We have found that a star topology Ethernet network architecture is the best option. A central PLC logic solver is coupled to remote I/O panels via Ethernet. Gas detection devices communicate to the remote I/O panels with traditional 4-20ma signals. Fault and warning signals can also be communicated via this analog path. This Ethernet infrastructure can also provide pathways for multiple view nodes, remote access, and paging notification.
Gas Detection Reuse
You may be able to reuse your existing gas detection transmitters. The challenge will be determining the effort involved with changing the output from LON to your new format. It may be as simple as terminating new wires on different termination points within the transmitter. Some LON-compatible transmitters, like the Honeywell Analytics MIDAS, are really analog devices with an add-on LON module. These are easy to convert back to analog. The Honeywell Analytics (MST) Satellite is more specifically a LON device and will require further investigation.
It is worth determining if your transmitters will make this transition seamlessly or if firmware or hardware upgrades are required. This feeds directly into our final point, Downtime. You will need to determine if the time required to transition your devices, and extending your downtime, is a better choice than upgrading your gas detection. In some cases, the existing gas detection retains value if it can be upgraded as a secondary project and stocked for future expansion or replacement.
Downtime
Shutting down your active system will be required if you intend to do anything but build a fully redundant system in parallel with your existing system. Even with a parallel system, it is likely that interface points to other systems will not be easily duplicated. Systems like Fire Alarm and Building Automation Systems, and Security Systems come to mind.
We have found that most users can't survive a multi-week shutdown to transition to a new system in a single shutdown. We would propose building a parallel remote I/O structure to support all analog signals from the gas detection devices themselves. With a new logic solver (PLC) and this analog remote I/O infrastructure in place, a shorter shutdown is required to transition existing and any new gas detection devices. The gas detection is validated, and a temporary minimal interface with the exiting TGMS is implemented to permit restarting operations. The next phase is to transition the remaining discrete I/O to new the new TGMS. This typically uses the current LON PIPs and RIOs as junction boxes. Echelon hardware is removed, and the existing terminal blocks are connected to the new system.
These three issues are at the top of the heap for those considering an upgrade from LON. They are by no means the only issues you will face. Approach your project with an open mind, and a cynical eye, and you will be well prepared for your next step in keeping your TGMS in step with the times.
About the Author
Dan Maxwell is a Senior Project Manager with Hallam-ICS's Toxic Gas Monitoring team. Dan trained in Mechanical Engineering and has worked in Project Management in the construction and manufacturing sectors before coming to Hallam-ICS in 1999.
Read My Hallam Story
About Hallam-ICS
Hallam-ICS is an engineering and automation company that designs MEP systems for facilities and plants, engineers control and automation solutions, and ensures safety and regulatory compliance through arc flash studies, commissioning, and validation. Our offices are located in Massachusetts, Connecticut, New York, Vermont and North Carolina and our projects take us world-wide.