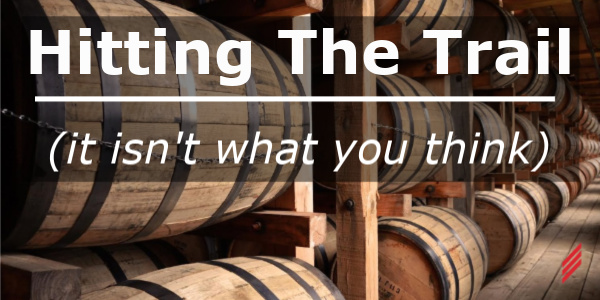 My son is also an engineer. He works for an energy company putting up wind farms, and they work him 80+ hours a week. In return, they fly him out for a 5-day weekend every 3 weeks. A few months ago, he called and asked if I wanted to fly to Louisville and hit the trail with him – The Kentucky Bourbon Trail.No kidding, there is one & I fancy myself an aficionado of "America's Spirit", so I told him, "Game on". Bourbon in Vermont is pretty limited. Small population, far from Kentucky, limited distribution; so a trip to Kentucky is the perfect way to expand my education.
Many of the same rules apply whenever you are about to hit the trail.
Footwear-Be sure you have footwear that is appropriate, and already broken in
Hydration-If you aren't certain of the availability of water, you had better carry it
Nutrition- Make sure you have plenty of good calories for the trek
Route & Detours-Plan your route up front, but be ready for detours
Safety-Always be safe on the trail
Why Kentucky?
Kentucky sits on a huge limestone filtered aquifer. As a result, their natural water contains almost zero iron and manganese, which both make liquor bitter. So before there was solid science around this stuff, the early settlers figured out that they made the best distilled spirits around. Kentucky whiskey was actually used as currency on the American frontier. Oh, and 95% of bourbon is made in Kentucky.
The trail consists of 10 distilleries spread out within a couple of hours (by car) of Louisville. You get a passport. They stamp your passport at each Distillery; and if you complete the trail, you literally "get the tee shirt".
Now I am a Chemical Engineer by training, and have been working in controls for 32 years; so a distillery is the ultimate dream for me. On the science side, we have enormous fermentation tanks (some pushing 100,000 gallons), Batch and continuous distillation with gorgeous copper sections (or completely copper), you have product testing. Really, I can almost see me in a distillery as my post retirement job. Then you have the science meets art. New American Oak 53 gallon Barrels, an exact char on the inside of the barrel which caramelizes the sugars in the oak. The filling with spirits at a precise proof: and then the aging. Ahhh.
If you care, in order to be bourbon it has to be made in the USofA. Your grain mix (called a mash bill) has to be at least 51% corn. The other grains are most often Barley (for enzymes) and Rye for flavor. Some mash bills use wheat (mellower) instead of rye (or a mix of both). They ferment the mash to beer (Usually 8-10%) using their proprietary yeast strains. They then distill it to not more than 160 proof – any more and you strip out all of the flavor of your grain mix and end up with Vodka (reserving my comments on that). At this point it is clear and not very tasty. The locals call it "white dog". White for the color – dog for the bite. They then dilute to 125 proof, or less, with distilled or Reverse Osmosis water. Then comes the beauty. They put 52 gallons in a gorgeous 53 gallon oak barrel and you put it in a Rick House (rack house if you aren't from Kentucky). More about that extra gallon later. Your bourbon will absorb all of its color and most of its flavor from its new oak home.
Rick houses are usually 7 stories high and huge. Usually, they lay up between 10,000 and 40,000 barrels. Most of the newer ones are just as ugly as a building can be. Surprisingly, they are totally un-air-conditioned. Unlike with its fermented grape counterpart, wine, bourbon needs to be treated nasty. That air space that results from 1 gallon under filling is key in the early stages. On a hot summer's day that air heats up and puts pressure on the bourbon, forcing it into the oak. In the winter, that air contracts and sucks that bourbon back into the barrel. This occurs to a lesser extent on a daily basis for the heat of the day to the cool of the night. This continuous push/pull is key to the development of your bourbon.
The aroma in the Rick Houses is amazing. Every year, each barrel loses 3-5% of its volume. So when you wonder why those 15 and 25 year bourbons cost so much, think about pulling 5-15 gallons out of a once full barrel. The locals call the bourbon that effuses through the barrel (or cask) the "Angel's Share" (this comes up again). Legend has it that in exchange for their share, the angels protect the distilleries from fire. Just imaging 20,000 barrels (kind of an average size rick house) of highly flammable liquid going off. Needless to say there have been some spectacular light shows in Kentucky over the many years of bourbon production. So back to the trail...
Day One
Strap on our walking shoes (footwear). Hit the Big Boy for a buffet breakfast (nutrition). After that, we stop at the grocery and buy a case of bottled water (hydration). Distillery #1 Buffalo Trace. This place is enormous and makes some of the true premium bourbons in the world. Our tour guide, David (remember him for later), was fantastic. Personable and he had an encyclopedic knowledge of bourbon. After the tour comes the tasting. Now before anyone gets the idea that these bourbon tours are putting a bunch of drunks on the road, let me assure you it is not so. Most of the distillers allow you to taste between 2 & 4 of their liquors. These tastes usually fall short of ¼ ounce; so even if you have four of them at a distiller, you are shy of a shot. Add the drive time and tour time in between tastings, and you really can't achieve an illegal level of blood level alcohol.
Again, back to the trail. There are three more distillers in the region; so we continue to tour and sample. Then on to the next region. First stop: our hotel. Now begins the walking part of the tour (safety). There is one distillery within walking distance of the hotel, which we visit. This one is very small. Everything that was spread out over acres at the big distillers exists in three rooms. Not great bourbon; but the small scale of the operation really allowed you to get your arms around the whole scope of the operation. After sampling here, it was on to food (nutrition). We had picked a restaurant prior to the start; but luckily we stumbled across a barbecue & bluegrass festival on our way (route & detours).
After the barbecue, the real tasting begins. Louisville and Lexington pride themselves on their bourbon bars. They have places with hundreds of bourbons that we had scoped out prior to the trip (route & detours). As with wine, nobody likes them all; but each one has its fans. Bourbons are as varied as wines. We settled into one bourbon bar with a scant 85 on hand and commenced to tasting. We're not talking about tossing back shots fraternity style. This is real tasting. Plenty of water on hand (hydration). Note pad, pen, and two guys sipping and discussing every shot. All the tasters agree on three sips before you even think about an opinion. Sip one, you are tasting mostly alcohol: especially on some of the barrel proof bourbons. Sip two, it starts to open up – much like wine. Sip three, now you know what you have.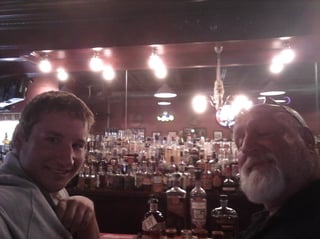 After tasting what we wanted to there, we went to the biggest bourbon bar in Lexington. Over 700 bottles and 250 brands. Truly staggering. Remember our first tour guide, David? He talked with Matt and I well past the end of the tour and made one strong recommendation: George T. Stagg. Unfortunately, this place had it at over $100 per shot. Now I drive a Honda Fit with almost 200,000 miles on it. I ain't exactly the guy to flash his cash and waste his money; and yet a fairly frugal life allows for the occasional splurge. My son kept saying "no", "no way". I pulled the trigger anyway. WOW. I now know what perfection in a glass is. At just over 140 proof, you would think it would melt your fillings. I'm not going to tell you there was no kick; but it was mostly smooth and warm all the way down. Great taste profile. The aftertaste was full and lingering. We were both blown away. It almost made two big men cry.
Dumping that much on a single shot had a very freeing effect on us. After that, the $30-50 dollar high-end shots seemed like a bargain. More tasting and a walk back to the hotel (safety).
Day Two
Luckily it is Sunday. Everything starts later and finishes earlier. We set a pretty aggressive pace on Day 1, and could use the shortened schedule. The late start left plenty of time for church in the morning (we Catholics are allowed to drink). Breakfast and a lot more water (nutrition and hydration), then we hit the trail again. Maker's Mark is the first stop. Most of these distilleries are pretty in their way (except the newer Rick Houses). Nestled into the blue grass hills of Kentucky. Maker's is no exception. Second stop is Heaven Hill. They may be the biggest distiller you never heard of. Over 100 labels from well bourbon to classics. We are also in the home town of Stephen Foster; and they are proud of him.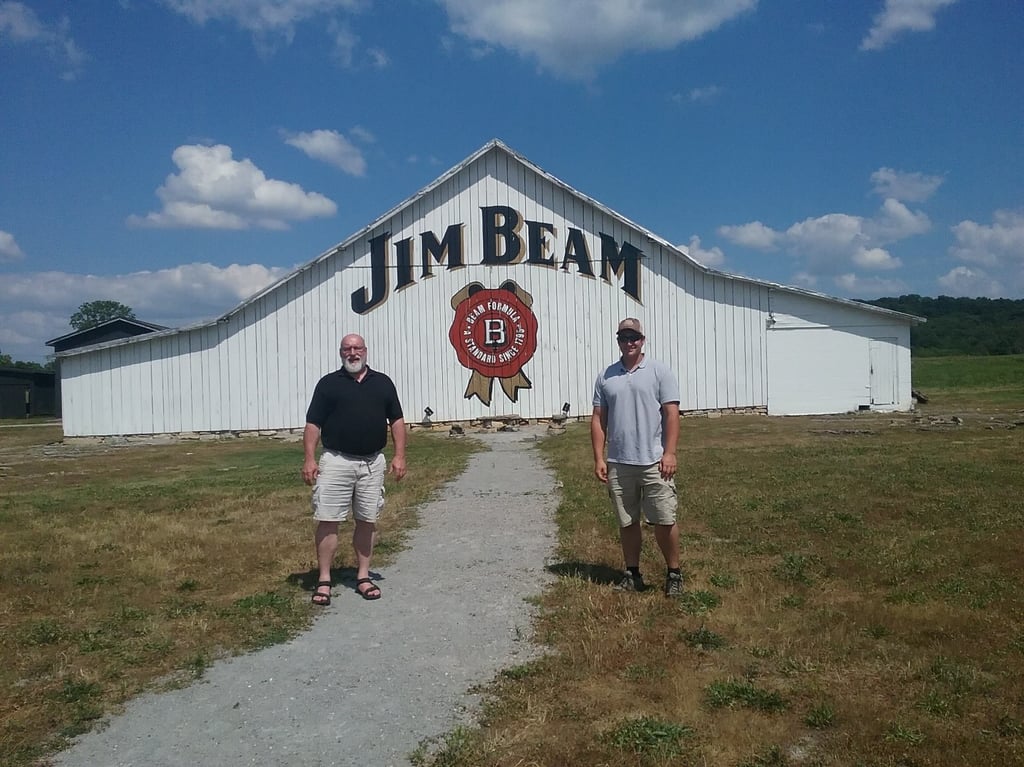 We finish our day at Jim Beam, possibly the Grand Daddy of them all.
We settle into the hotel and walk a couple of miles to find food and more sampling (nutrition & safety). Another good day spent with my kid.
Day Three
Day three finds us with only three more passport stamps to get and all in the city of Louisville, home of Churchill Downs and the Kentucky Derby; but who cares about horses. This trip is about bourbon.
Matt and I decided to back track to a cooperage (barrel manufacturer). Now the barrels are a thing of beauty. The barrel top and bottom (heads) are made of tongue and groove planks. No adhesives just joinery. The rest of that water-proof barrel is all done with shaping and pressure from the hoops. Watching the inside of these barrels engulfed in fire is amazing. Different distillers specify a different char level, based on burn time, to instill different properties to their bourbons. Each barrel is made to the specifications of a single client. We were there on a Monday, and our guide informed us that, "Every Monday is Maker's Mark day". All they make on Monday goes to that single client.
When the Bourbon makers are done with the barrels, they break them down and ship many of them across the Pond, where our Irish and Scottish brothers & sisters rebuild them for aging their own national spirits. After they are done with it, a barrel could go to Portugal for Port or the Caribbean for Rum. These things could live a century or more in active production. What I'd give to be a barrel. Barrel making is truly art meets science and industry. If you ever get a chance, go to a cooperage.
At the next distiller, we learn a little bit more of the history of bourbon. Hundreds of small distillers were put out of business during prohibition, never to return. During prohibition, distilled spirits were allowed only for medicinal purposes. The 2 million residents of Kentucky filled over 6 million "prescriptions" the first year of prohibition. Bourbon was almost killed off again by clear liquors between 1976 and the early 2000s; so these folk have seen their ups and downs. The current bourbon boom is pushing all limits. Remember, this stuff has to age for years; so you just don't throw the switch and fill the liquor store shelves immediately. We leave a little wiser.
We hit the hotel. It is about a 3 mile loop to hit the last two distillers and the Kentucky Visitors Center (footwear & safety). We meet a really nice gentleman at the first distiller who shares a bit of their top shelf stuff with us. We continue on to our last stop: Angel's Envy. Remember the "Angel's Share"? Well they will tell you that their bourbon is so good that the angels are envious of whatever stays in their barrels. We taste - we talk - we leave. We hike back to the Visitor's center and present our passports. Bourbon Trail completed!
Should I tell you just how many bourbons we sampled? Should I tell you how much we spent in tasting? Or, should I just say: Kentucky Bourbon Trail – been there – done that – got my tee shirt?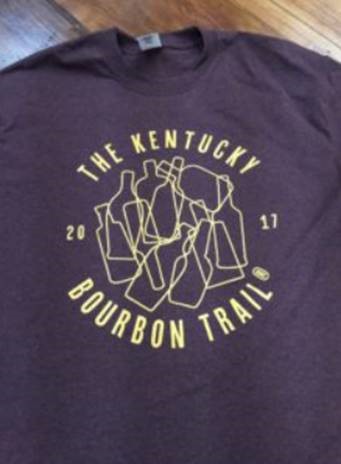 About the author
Ray is a Senior Controls Engineer. He has been with Hallam-ICS over 20 years. Ray is very active in the social mission of the company as he appreciates the opportunity to express and apply his values in his work place. He has organized our first and second Service days; and has set up our teams for meal preparation at shelter programs; painting in child service charities; yard work & house cleaning for transitional housing and building furniture for a shelters.
Read My Hallam Story
About Hallam-ICS
Hallam-ICS is an engineering and automation company that designs MEP systems for facilities and plants, engineers control and automation solutions, and ensures safety and regulatory compliance through arc flash studies, commissioning, and validation. Our offices are located in Massachusetts, Connecticut, New York, Vermont and North Carolina and our projects take us world-wide.