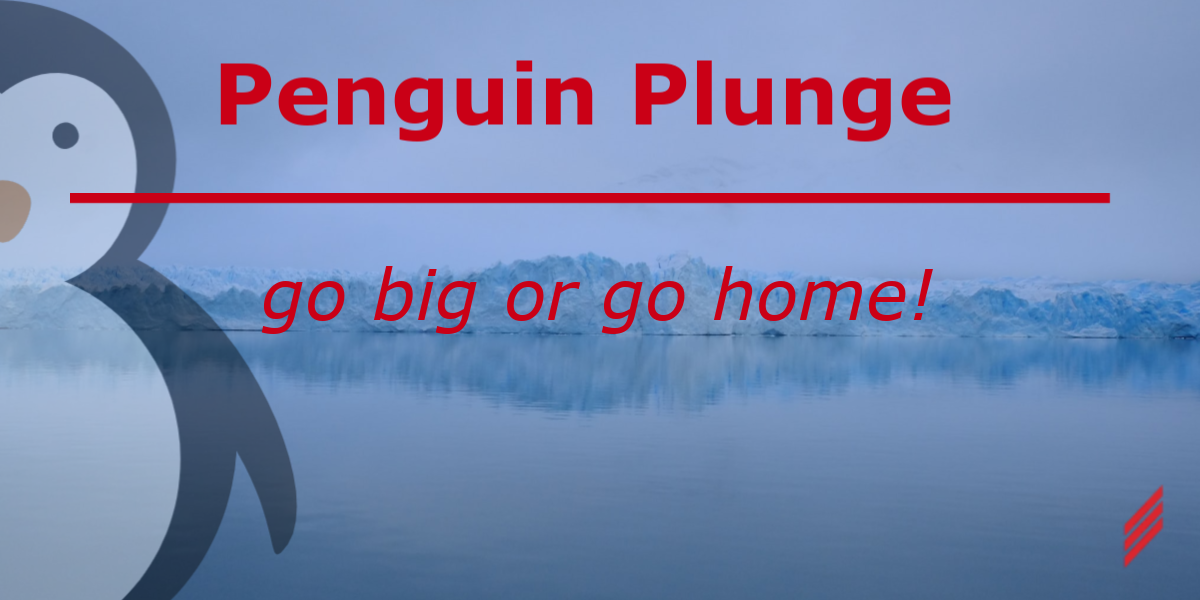 One crisp and cool February afternoon, not one so cold that your nostrils freeze into place immediately upon entering the frigid, winter air, but one of those mildly cool afternoons where your breath fogs out in front of your face with every exhale, a few people decided that it would be the perfect day to dip their toes into the freezing Lake Champlain. Crazy right? Except that it was not just a couple of people, and for some odd reason, they decided that completely submerging their bodies from head to toe was really the only way to do it. (Go big or go home?) On February 1st, over one thousand people jumped into Lake Champlain, participating in the 25th Annual Penguin Plunge, and I am so glad I was one of them.

Every year in Burlington, as many of the local Vermonters are already aware, the Penguin Plunge takes place. The event is one that is not dependent on warm temperatures, bright sunshine, or cloudless skies. This past week, the temperature hovered around 30 degrees and the sky was entirely overcast (an improvement over the prior year's conditions). It was a dark and dreary day though, to say the least. But why are all these people jumping into the lake on such a cold day anyway? Well, obviously, they are all just a little bit crazy - kidding! The event is for a great cause... and they are a little crazy.

The Penguin Plunge is a fundraising event for Special Olympics Vermont. This year, over $600,000 has been raised to date, with fundraising staying open through the end of February. Each year, the fundraiser ends up totaling almost half of the organization's annual budget, so the success of the event and participation from the community is crucial to the organization's success. Special Olympics Vermont will then take these funds to raise awareness within communities, boost confidence and self-esteem, and develop physical and social skills through the power of sports for athletes with intellectual disabilities. The benefits will impact thousands of athletes within Vermont, as well as the communities, friends, and families around them.
Now, I know what you are thinking in terms of participating in the event next time it comes around. Probably something along the lines of, "absolutely not", or maybe, "I can't think of anything else I'd rather NOT do with my free time!". However, you would be missing out on something phenomenal. Jumping into the lake in February is not how I would typically spend my free time either, but if I did not participate, I would not have conquered the fear of being vulnerably (and literally) freezing. I would not have overcome the challenge of keeping my muscles functioning when they were attempting to slow down and stop working. I would have missed an opportunity to realize my physical and mental strength, an opportunity to participate with a team I could trust and lean on (quite literally), and an opportunity to fully experience the support our community has for an organization that works so hard to better people's lives.
Without a doubt, I will participate in the Penguin Plunge for years to come. I found it surprising that I had as much fun (yes, fun) as I did being a part of the event. Looking back, I am thankful the weather was as mild as it was this year, and not as brutal as it was the year before (when I watched from the sidelines bundled in heavy-duty winter gear and thought I was going to have a frost-bitten nose!) Not only is the event exciting, it is surprisingly warm, uplifting, and high-spirited.
Enjoy this shot of our crazy team, the talented and tough Burlington Rugby Club, slowly marching into the water in order to drag out the pain and discomfort... intentionally.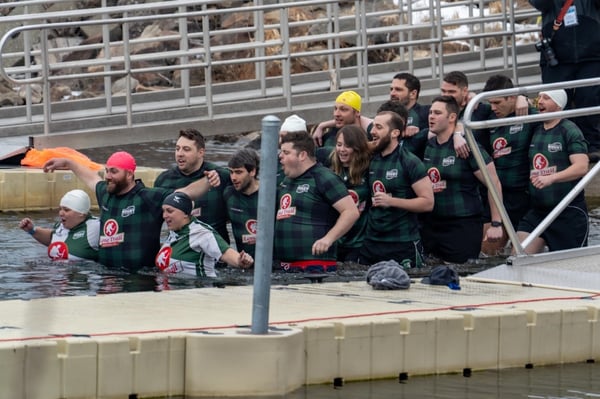 About the author
I have been a member of the Accounting Department at Hallam-ICS since 2017. I graduated Champlain College with my B.S. in Accounting in 2014, and I went on to get an MBA with a specialization in Advanced Management, which I received in 2017. When not at work, it is likely that I am on a mountain somewhere, or curled up with a good book.
About Hallam-ICS
Hallam-ICS is an engineering and automation company that designs MEP systems for facilities and plants, engineers control and automation solutions, and ensures safety and regulatory compliance through arc flash studies, commissioning, and validation. Our offices are located in Massachusetts, Connecticut, New York, Vermont and North Carolina and our projects take us world-wide.