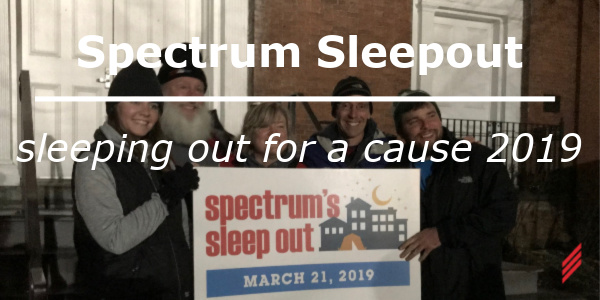 ---
For the past several years, Hallam-ICS has participated in the Spectrum Sleep-out. Spectrum is a Vermont based charity focused on Homeless and At Risk Youth. Please do check them out at: http://www.spectrumvt.org/ Anyway, the group is run by a juggernaut name Mark Redmond, who contacted us a few years back to get us to participate. It is now an annual event for us and we usually punch above our weight in raising funds for this fantastic group. This year the overall event raised just over $300,000. Our Hallam-ICS team raised almost $9000 and the company matched that. I love working for a company that gives back!
The normal flow of the event is:
Meet in the evening
Share a few snacks
Listen to a presentation by one of the kids or young adults who have had their lives changed by the services they received
Take some group photos
Head out for sleeping
Wake up and pack your gear
As you read on, please forgive the hopping back and forth I do. A straight time-line recap just didn't really work for this one.
We got there early and staked out some tent space, then went back inside. After the kickoff festivities we headed out to sleep. Keith (one of my Hallam-ICS team mates and our CEO) had his camp mat stolen before we even got started. He got to re-experience his first year, where he laid on corrugated boxes as a ground cover (there's a reason us older repeats bring camp mats). Not exactly the greatest hardship; but certainly a pointed reminder of how easy most of us have it. It turns out that the thief got up early and left Keith's mat abandoned under the tent. Keith found it on his way out; so hopefully someone else can benefit from sleeping on it next year!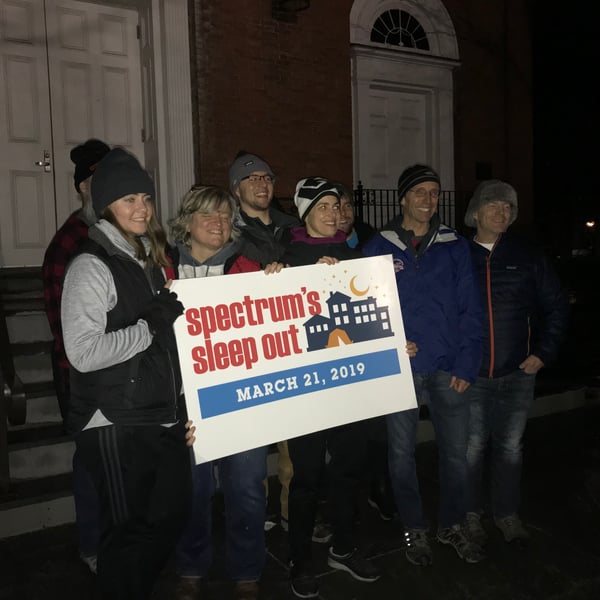 Hallam-ICS employees joined by fellow Vermont Employee Owners 89 North (Chroma Technology)
It's funny what you think about when you are sleeping outside for an event like this. They set up two of those enormous event tents (no sides) and lay tarps on the ground for a large group of people. You may be sleeping (or not sleeping as a lot of the night goes) within a foot of a stranger. You get the chatty folk early on; and as they quiet down, the coughing and snoring begin. If you have ever slept barracks style, you know that it is never truly quiet. Add to that, you are in the middle of a small city; so there is traffic noise, and street lights, and emergency vehicles…
Within 20 minutes of hitting the hay, there was a domestic assault. The cops chased an unruly guy down the sidewalk about 100 feet away from us. He was very, very uncooperative; and it was a noisy and exciting arrest. A hundred or so of us huddled under our tents didn't "feel the fear"; but how different would that same experience be for a kid sleeping out alone? I bet they would "feel the fear". At 2:00 AM when the bars close down and the boisterous and belligerent drunks empty into the streets; I bet those kids are very much hoping to not be discovered wherever they are hiding. And they have to do it every night–searching for a spot to lay down their heads the feels at least "somewhat safe". "Somewhat safe" was a line taken from this year's keynote speaker who had been attending college but was homeless. The highest aspiration of her evenings was to find a place that was "somewhat safe".
So for the Sleeper-Outers, most of us were on our way to our normal lives by 5:30 AM. I guess we have to hope that at least some of these kids get a shot at something close to normal and can find a "somewhat safe" place to lay down their heads every night.
About the author
Ray is a Senior Controls Engineer. He has been with Hallam-ICS over 20 years. Ray is very active in the social mission of the company as he appreciates the opportunity to express and apply his values in his work place. He has organized our first and second Service days; and has set up our teams for meal preparation at shelter programs; painting in child service charities; yard work & house cleaning for transitional housing and building furniture for a shelters.
Read My Hallam Story
About Hallam-ICS
Hallam-ICS is an engineering and automation company that designs MEP systems for facilities and plants, engineers control and automation solutions, and ensures safety and regulatory compliance through arc flash studies, commissioning, and validation. Our offices are located in Massachusetts, Connecticut, New York, Vermont and North Carolina and our projects take us world-wide.