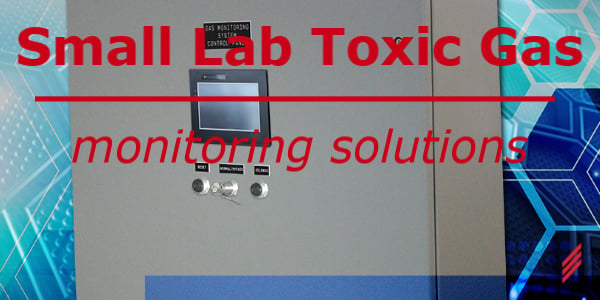 Hallam-ICS has been developing Toxic Gas Monitoring Systems (TGMS) for over two decades. In recent years we have seen a need for small TGMS systems to support a small number of tools and gases. Hallam-ICS is focused on bringing our experience to these smaller spaces in a price competitive manner while offering robust functionality found in larger systems.
There is a long history of TGMS in microelectronics. Traditionally microelectronics fabrication has required the use of a clean room. These were, and are, large spaces supported by significant resources. In the past, microelectronics fabrication tools have required these clean environments. Today's micro-fabrication tools often are self-contained environments. This permits installation of tools using hazardous production/research materials (HPM/HRM) in spaces that might have previously been considered wet or dry lab space. Individuals or small groups of users can now find usable space that previously may not have been available or affordable. Though these spaces are smaller they still require attention to the hazards associated with toxic and/or flammable compressed gases.
The problem with most small gas detection controllers on the market is that they are just that, only gas detection controllers. They have limited output capabilities. Often, only high alarm, low alarm, and fault conditions are signaled. Fewer still are the opportunities to add inputs to the controller that may be critical to the user's safety system. Items such as emergency gas off buttons, exhaust air flow switches, or fire alarm inputs are often required to provide a safe work environment. A small lab environment deserves a full gas monitoring and safety system that has the capacity to accept all the required types of inputs, and can logically output the correct safety responses to these inputs.
We have considered the needs of the small lab user, applicable codes, and our experience with the greater micro-fabrication industry, to create a TGMS solution truly specific to the small lab space. Not only have we considered the hardware, we have put a great deal of work into the user interface.
Hallam-ICS has spent many years developing our user interface for TGMS. We call it "Argus" and have installed it in many small laboratories, including several at colleges and universities. Argus offers a more intuitive interface in a dialog box style that we are all so familiar with from Microsoft products. We have assured that the small lab TGMS is fully compatible with our larger Argus systems. This protects your investment should you need to expand the capacity of the system. A full Argus interface can provide a useful interaction with an entire campus of toxic gas monitoring devices. We have installations with gas detection point counts in the hundreds. Our small lab solution brings the same user experience and functionality to a system with just 12 points of gas detection or less.
The Hallam-ICS small lab TGMS panel with a panel mounted HMI is available starting at $15,000. Hallam-ICS can also work with the project stakeholders to confirm the user requirements, evaluate gas detection technology, and establish a safe, code compliant functional specification for the operation of your small lab TGMS. Our goal is to assure that your facility has the correct TGMS solution for your needs, bringing value and safety for your application.
Argus Features
Real-Time safety information

Secure password protected user interface
Live Gas Concentration trend graphs
User tunable safety responses

Capable of supporting up to 12 analog gas monitoring points

Support for Ethernet enabled gas detection
Provides relay outputs and digital inputs/outputs for typical TGMS field devices
Horns and Strobes
Emergency Gas Off Buttons
Air Flow Switches
Coaxial pressure monitors
Gas Shutoff Valves
Gas Cabinet Status
Fire Alarm interface
Building Automation interface
Total field wired I/O capacity
10 Points Digital Input
16 Points Digital Output
12 Points Analog Gas Detection or Ethernet enables Gas Detection Input
8 Points Relay Output
Industrial grade Allen-Bradley Programmable Logic Controller (PLC)
Internal Uninterruptable Power Supply (UPS)
7" Color touchscreen
Open PLC and touchscreen programming code
UL508A labelled control panel
A Toxic Gas Monitoring System solution truly specific to the small lab space - the Hallam-ICS Small Lab TGMS panel with a panel mounted HMI is available starting at $15,000. Ready to get started? Get a custom quote.
About the Author
Dan Maxwell is a Senior Project Manager with Hallam-ICS's Toxic Gas Monitoring team. Dan trained in Mechanical Engineering and has worked in Project Management in the construction and manufacturing sectors before coming to Hallam-ICS in 1999.
Read My Hallam Story
About Hallam-ICS
Hallam-ICS is an engineering and automation company that designs MEP systems for facilities and plants, engineers control and automation solutions, and ensures safety and regulatory compliance through arc flash studies, commissioning, and validation. Our offices are located in Massachusetts, Connecticut, New York, Vermont and North Carolina and our projects take us world-wide.