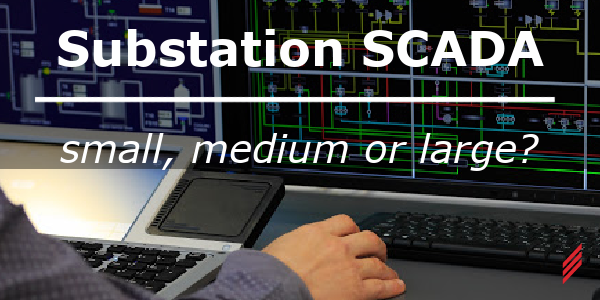 Medium Voltage (MV) is typically defined as the range of 600-100,000V. In standard voltages, this includes 4160V systems up to 69kV systems even though most equipment ratings stop at 38kV. Many non-utility entities own MV equipment as well.
When plant engineers think of automation, they tend towards PLC-based systems and SCADA packages.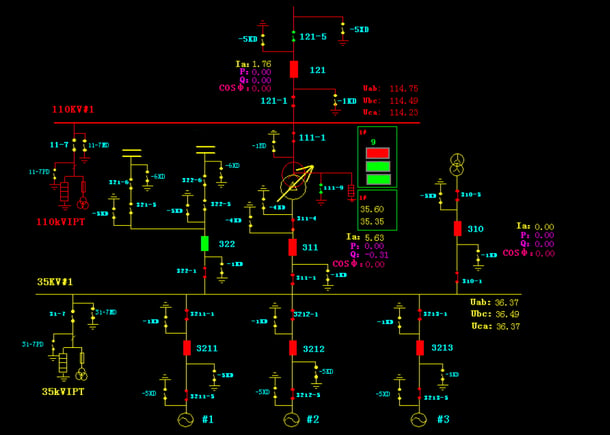 MV SCADA System
Utility engineers tend towards systems developed by MV equipment manufacturers. Since all of the information gathered needs to be shared, the IT Department also has a stake in any SCADA system design and protecting it from outside threats. So if I'm a plant engineer responsible for specifying either a 480V or MV Substation SCADA system, where do I start? How about small, medium, or large?
Small Systems
What qualifies as small? Not necessarily small kVA equipment or small physical footprint, but simple applications like the 480V substation shown below. In this system, we are just looking for breaker status monitor and method to operate the breakers safely outside the arc flash boundary (using SCADA for arc flash mitigation is a great cost justification). We also have some alarm and troubleshooting capabilities with this system.
This type of application lends itself to a touchscreen and PLC. Any data captured by the PLC can be securely communicated over the plant control network. Once on the control network, it can be displayed on a webpage or automatically text/email maintenance personnel in the event of an issue. It is also possible to enter lower protective settings to the breaker trip units and relays from this touchscreen to reduce arc flash levels during maintenance. This approach is inexpensive, secure, and familiar to plant maintenance personnel. It is also readily repeatable at multiple substations at a facility.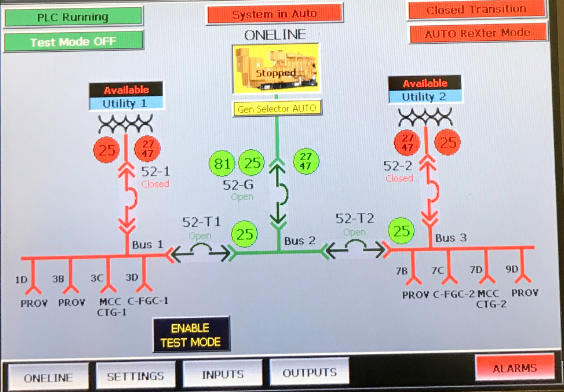 Status Monitoring and Remote Operation
Medium Systems
Medium applications might span multiple substations or need to take action automatically such as in load shedding or loop switching/fault isolation. Security and reliability are critical with this level of automation. Since we need to signal more complicated devices, the communications also become a more prominent factor.
Suppose we are controlling a system with digital relays in various substations, PMH switches and reclosers. We could use a PLC-based control system and communicate via Modbus to those relays and open/close devices, read status, and alter settings. The advantage of this design is that we can use any SCADA package with that PLC and have all of the normal alarming, reporting, historian and database exchange the plant is used to. However, this approach works best if all of the digital relays are of the same manufacturer, age, and communication type.
On these more complicated systems, it is usually better to use a data concentrator than a PLC to take advantage of their peer-to-peer messaging and integrated security management. Adding new devices and mapping SCADA tags is much easier as well since many come with preconfigured templates for devices. The complete information from the digital field devices is easily read and displayed like the figure shown below. Finding each individual tag and mapping it to a PLC is much more cumbersome.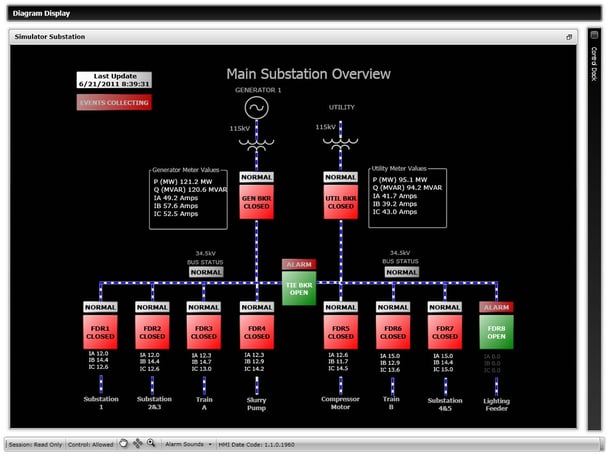 SCADA with Power Quality Information from Relays
Large Systems
A large system, like the one shown below, provides supervisory control of an entire campus or facility. The system architecture usually consists of a controller at each substation and IEC 61850 compliant communication between them. An overall real-time controller is at the top level of control. The overall controller needs to provide security features per NERC/CIP requirements for auditing, logging, port control, and password protection. PLC-based control is not a viable option at this level. The automation hardware developed by the MV equipment manufacturers are the best fit for this application. Custom SCADA is still possible but the control platform is set with limited options. However, these systems are highly scalable and can capture tremendous amounts of information.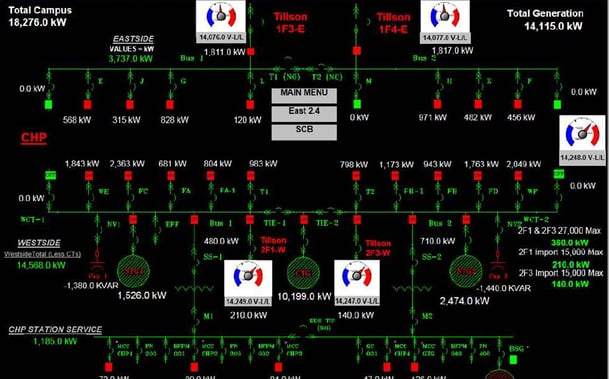 Campus Power System
Conclusion
Choosing the right system architecture for a 480V or MV SCADA system depends on the application. There is no one-type-fits-all solution. Start by defining your application as small, medium, or large and then zero in on the controls platform based on what field devices need to be controlled. The system integration effort will be determined by how well the controls platform communicates with the digital field devices. Be sure to consider whether the system will always remain standalone or will grow into a campus-wide system. Today's small system may become tomorrow's large one.
About the author
Dan Laird has left Hallam-ICS to pursue other endeavors, but his contributions to the company continue to be valued.
About Hallam-ICS
Hallam-ICS is an engineering and automation company that designs MEP systems for facilities and plants, engineers control and automation solutions, and ensures safety and regulatory compliance through arc flash studies, commissioning, and validation. Our offices are located in Massachusetts, Connecticut, New York, Vermont and North Carolina and our projects take us world-wide.