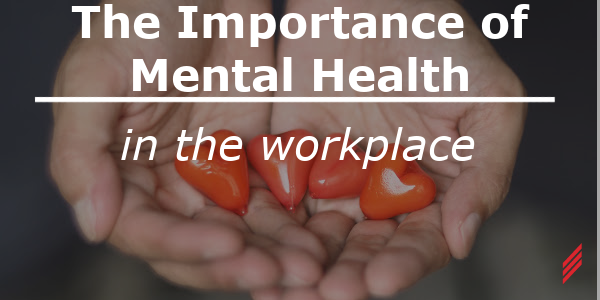 ---
"We envisage a society in which mental health problems are an acceptable and in some ways valued part of human experience"

- Mike Slade, Lindsay Oades, & Aaron Jarden, 2017

I graduated college with a BA in mental health and addiction. Most of the fellow students in my classes were people who had personal experience, whether it be themselves or someone they knew, suffering with mental health and/or addiction. Those students offered similar opinions, understanding, thoughts and acknowledgements that you don't always find out in the world, especially in the workplace.

There is a certain stigma around mental health that makes those dealing with it not want to speak up or share what they are struggling with, mostly out of fear of not being understood, being looked down on or it having a negative impact on how they are viewed at work or in their personal relationships. These sort of reactions only further alienate them, fueling their struggles and unfortunately are the common response.

According to the CDC, "More than 50% (of people) will be diagnosed with a mental illness or disorder at some point in their lifetime." This statistic is so important because one of the most common feelings of people suffering from a mental illness and/or addiction, is feeling alone. Knowing that over 50% of people will experience, in some form, the same feelings and struggles, helps those suffering from mental illness and substance use disorders feel less isolated and alone. Furthermore, the National Institute of Mental Health (NIMH) states that as of 2020 nearly 1 in five U.S. adults live with a mental illness.

The figure below shows the numbers for mental illness in 2020 broken up into groups; Sex, Age, and Race/Ethnicity. For some background to better understand the figure below, this figure depicts Any mental illness (AMI), as defined by NIMH, as "AMI is defined as a mental, behavioral, or emotional disorder. AMI can vary in impact, ranging from no impairment to mild, moderate, and even severe impairment."

NIMH goes on to highlight what can be seen in the figure:

In 2020, there were an estimated 52.9 million adults aged 18 or older in the United States with AMI. This number represented 21.0% of all U.S. adults.

The prevalence of AMI was higher among females (25.8%) than males (15.8%).
Young adults aged 18-25 years had the highest prevalence of AMI (30.6%) compared to adults aged 26-49 years (25.3%) and aged 50 and older (14.5%).
The prevalence of AMI was highest among the adults reporting two or more races (35.8%), followed by White adults (22.6%). The prevalence of AMI was lowest among Asian adults (13.9%).

There are certainly some obvious differences and trends in where we see mental illness. Between different genders, races, and age groups there are specific groups that are seeing higher rates of mental illness. We won't get too much into that, that's for another blog - but the interesting part is while there are certain groups that have higher rates, we also see a wide variety of people, genders, races and ethnicity overall. The point here is that more than likely you work with someone, have someone on your team or as a colleague that has suffered or is suffering from some form of mental illness.

According to the Substance Abuse and Mental Health Services Administration (SAMHSA), approximately 10.8 million full time workers have substance use disorder. That is a staggering amount of people! Now one of the most important parts of that statistic is the "full time workers," part. These people not only are struggling with a substance use disorder, but they are working full time. The importance of having a solid support system at work, the place you spend most of your time, makes all the difference and can help in implementing positive change in their life. Creating a work environment that allows people to talk openly about what they are going through and an environment that has people who are understanding and willing to reach out and check on one another, can be the lifeline that saves them.

According to the Harvard Business Review as many as 200 million workdays are lost each year due to mental health challenges. Now, I know that is not a surprising number because we know that over 10 million people work full time with these challenges, but it is important to keep in mind when thinking about how we can foster an open, supportive environment in our workplace that acknowledges that there may be employees struggling with these issues.

Not all people struggling with mental illness, or a substance use disorder will be visibly struggling. They may not speak about it; they may smile and laugh and have fun on the weekends. Mental illness looks different on everybody. Individuals are unique in the way they share or don't share what they are struggling with. Mental illness and substance use disorder comes in all shapes and sizes, with varying degrees of side effects, and challenges. When we prepare our leaders and employees with ways to identify, understand and respond to these situations and signs (if applicable), we raise the likelihood of those people speaking up and sharing with us what's going on. They are more likely to reach out for help if there's a feeling of being supported and no negative consequences.

I recently took an 8-hour training course in Mental Health First Aid. This is a Vermont State funded (free) training open to everyone, to gain the skills and knowledge to help our colleagues, our communities, and our loved ones when these situations arise. Just like CPR and First Aid training, this training provides the tools and options that you may want to use if you find yourself in a situation where someone is reaching out for help, or you think they may need help and haven't reached out. Just like in CPR and First Aid training, one of the important things to remember when giving Mental Health First Aid help to someone is that you are not there to diagnose someone or be the sole provider of assistance. Your job is to keep that person safe until they are connected to a professional who is equipped to help them, just like waiting on the EMTs or ambulance in a medical emergency.

One thing you can do right now, without having taken this training is put phone numbers for resources in your cell phone to have on hand if you ever need them for someone. With the growing need in mental health care, we are now seeing waiting lists for those in need of help. Some people aren't able to get help for weeks or even months. It is so important that during the time people are waiting to get help they know about the resources available to them, it may be a matter of life and death.

I will include resources at the bottom of this blog, and always keep in mind if you aren't comfortable helping or aren't in a space to provide help, you don't have to. I do encourage you to research the resources in your local communities to see what is available and save the information in your phone.
Resources
Phone Numbers:

911

988 – Call or Text - Suicide & Crisis Lifeline

211 – A statewide (in various states), confidential information and referral helpline that connects callers to available human services including food, shelter, and healthcare.

1-800-647-9151 - EAP Resource // https://www.unicare.com/employer/eap/employee

VT Resources:

(802) 861-3150 - Turning Point Center // https://turningpointcentervt.org/

802-488-7777 - First Call for Chittenden County: 24-hour, 7-day-per-week emergency service for anyone in Chittenden County experiencing a crisis

802-488-6000 – Howard Center // https://howardcenter.org/

Source: https://www.nimh.nih.gov/health/statistics/mental-illness
---
About the author
Sarah Lester joined Hallam-ICS as the Senior Office Coordinator in January of 2022, after 7 years in the tech industry, working for a software company that focused on Affordable Housing and HUD regulations. Sarah can usually be found at a Phish show, hiking with her husband or finishing yet another book with her kitties by her side. Sarah jumped right into getting involved in the Social Mission here at Hallam-ICS.
Read My Hallam Story
About Hallam-ICS
Hallam-ICS is an engineering and automation company that designs MEP systems for facilities and plants, engineers control and automation solutions, and ensures safety and regulatory compliance through arc flash studies, commissioning, and validation. Our offices are located in Massachusetts, Connecticut, New York, Vermont and North Carolina and our projects take us world-wide.