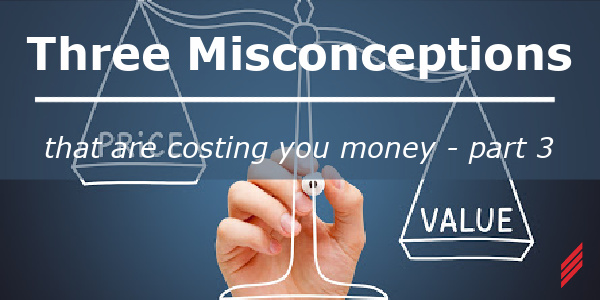 This is the third of a three-part blog series titled "Do we really need to get engineering involved? – Three common misconceptions that are costing you money":
Misconception #1: My project is too small/simple to get engineering involved.
Misconception #2: My contractor can figure it out – just put it in their scope.
Misconception #3: My vendor is going to provide the engineering.
"Do we really need to get Engineering involved?"
Misconception #3:My Vendor is Going to Provide the Engineering.
In industrial facilities, complete projects are often executed "inside the fence" where permits and inspections are not required. Without an external requirement for sealed engineering drawings, hiring an engineering firm suddenly becomes unnecessary in the minds of some project managers. This idea is reinforced when a vendor offers to provide engineering. Sometimes equipment vendors will offer to provide "free engineering" or their proposal will say "engineering included." More often than not you get what you pay for, and this approach is usually disastrous for a project.
SIDE NOTE: If your vendor is not licensed to practice engineering in your state, offering engineering services (beyond the design of their equipment) is likely illegal. This is a complicated subject that goes beyond the scope of this article, but it is important to mention. As the National Council of Examiners of Engineers and Surveyors (NCEES) explains: "Professional licensure protects the public by enforcing standards that restrict practice to qualified individuals who have met specific qualifications in education, work experience, and exams." (For more information on this topic, you can visit NCEES or your state's engineering licensing board website.)
If you are talking to a vendor about more than budgetary pricing, and you have not yet hired an engineer, you may already be on a slippery slope. In Part 2 (link) of this blog series, I discuss how your engineer works with you to develop a plan to execute your project successfully. Two critical parts of developing this plan are considering your entire process as well as your financial objectives. Equipment vendors are rarely equipped to properly identify and address all the potential issues that could negatively impact your project.
When a vendor offers to provide engineering, the reality is they are offering to provide partial engineering. For example, they may provide equipment general arrangements, foundation designs, a motor list, and utility connection points. On the surface, many think providing that information to a good contractor should be adequate for a complete project (See Part 2 to learn about problems with hiring contractors with incomplete engineering.) But as you probably know, complete engineering includes many additional details. Design of power distribution, control systems, connections to and interface with existing equipment and systems, as well as verification of power availability, capacities of existing utility systems, arc flash compliance, etc. are all details that are crucial to a successful project. Unless your vendor is an EPC (engineering, procurement, and construction) contractor, or you have the internal engineering resources to thoroughly address all the details, you are asking for trouble if you forego hiring an engineer.
It can be tempting to let a vendor provide whatever engineering they can, and only hire an engineer to do the rest. While this may seem like a good way to reduce costs early in a project, you will pay for it one way or another. To be successful, this approach demands extra time and attention from the owner's project manager to coordinate the engineering efforts from multiple sources. It sounds simple enough, but the reality is the owner's PM usually has other responsibilities beyond a single project, often is located remotely from both the vendor and the engineer, and without regular contact and discussion, coordination suffers. More often than not, the PM is unable to commit the time and attention to detail necessary to make this approach work. This is when the real costs can begin to add up as design details are missed and they have to be fixed during construction, or worse yet commissioning (Read Part 1 to see how expensive this can be.) If your engineer is responsible for the complete design, these issues are identified, coordinated, and resolved on paper ahead of time.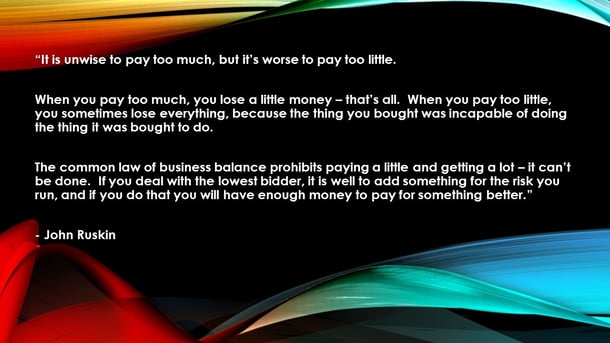 Many projects require equipment from multiple vendors. Proper coordination amongst these vendors, from specifications to physical installation, requires process and equipment knowledge beyond the expertise of a single vendor. I have seen projects where one equipment vendor will offer to take the lead in coordinating other vendors as a favor to the owner and the end result is always the same: additional costs and schedule delays.
The problem with relying on a "lead" vendor is their priority is always going to be their own equipment, instead of the project as a whole. Details get overlooked in the design process, creating scope gaps that are not identified until construction, or worse yet during commissioning. Once these gaps are identified, nobody wants to bear the additional costs of closing them, and more effort gets spent playing defense than trying to solve the problem. The lead vendor is sometimes incapable and often unwilling to assist in resolving issues outside their direct scope of supply. If their equipment is performing, they leave you to deal with the other vendors on your own, further increasing delays and costs. Two of your engineer's primary objectives are to make sure scope gaps do not exist, and to help you assess unexpected problems, and identify, evaluate, and implement solutions. These efforts minimize unexpected costs and delays late in the project, when they are the most expensive.
As I've mentioned previously in this series, your engineer is your partner and your advocate. Making your projects successful is our primary focus. We do this by helping you minimize risk and maximize your return on your investment. Scaling back services for your smaller projects, looking after all of the details on your larger projects, and working with your best interest in mind is what we do.
So for your next project, don't ask yourself if you have to hire an engineer, ask how much value you can get by hiring one.
About the Author
Chris Giusto is Director of Industrial Projects and works primarily with industrial facilities to improve processes & safety, reduce waste & energy consumption, increase flexibility & capacity, and build new facilities. He has nearly 20 years of mechanical engineering experience including design and specification of equipment and systems, detailed machine design, and project management. Areas of expertise include custom equipment design and fabrication, material handling, dust collection, and combustible dust safety.
Read My Hallam Story
About Hallam-ICS
Hallam-ICS is an engineering and automation company that designs MEP systems for facilities and plants, engineers control and automation solutions, and ensures safety and regulatory compliance through arc flash studies, commissioning, and validation. Our offices are located in Massachusetts, Connecticut, New York, Vermont and North Carolina and our projects take us world-wide.