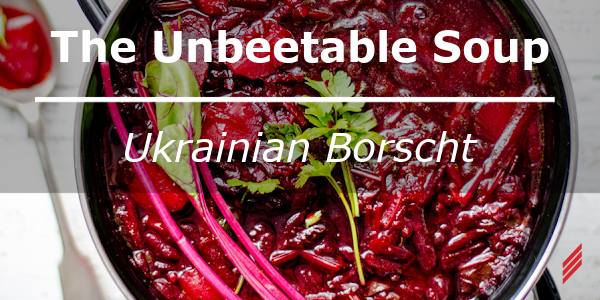 Soups are considered to be a comfort food. Psychological Science* actually demonstrated that comfort foods, such as soups, are associated with positive relationships, diminish negativity, and even reduce feelings of loneliness. During the experiment volunteers were asked to think of soup as a comfort food and were offered to eat a bowl soup. It was noted that these volunteers were able to express more positive relationship related words. And those volunteers with relationship attachment problems felt less lonely and less unhappy.
Our soup du jour has been around since somewhere between 5th and 9th century AD. Got its name from its early main ingredient Heracleum Sphondylium or Giant Hogweed. Evolved in its composition, transcending through time as various peoples left their culinary mark by actually growing new ingredients to include for the first time... ever. Despite its countless recipes and variations and several countries claiming its origin, it's an unmistakably Eastern European dish. If you've never had it before yet are curious about that cuisine, give it a try. It's an easy dish to make and the taste compares to nothing else.
In its nowadays and very recognizable composition, a bowl of this soup packs ingredients that help control blood pressure, promotes heart, liver, and gut health. It's gluten free, can be low calorie without taste sacrifice and can be made vegetarian and vegan. And when served hot, the combination of its slightly sweet and slightly acidic flavors creates a sense of true comfort.
The soup is… BORSCHT.


What makes it so special? Aside from wicked good-for-you ingredients, I tend to think it's the love that goes into making it. I've never seen it being sold in aluminum cans, mass produced in a larger than life, yet lifeless factory (where ingredients go to die). At its best, borscht should be eaten the next day after being prepared, but who has the time to wait that long when the entire house is filled with aromas of meat, veggies, and garlic.
Borscht main ingredients include beets, meat, potatoes, onions, garlic, dill and parsley, dash of salt and pepper and a smidge of tomato paste and vinegar.

Beets that give borscht its 'traditional' (in a sense) color, have many nutrients and few calories. They help regulate blood pressure and can improve athletic performance by helping fight inflammation and balancing energy levels. Beets improve digestive health and support brain health.

Carrots, packed with calcium and vitamin K, help regulate blood sugar levels, promote vision and bone heath.

Potatoes offer many nutrients; help regulate blood sugar and promote gut heath due to the special resistant starch. They are also gluten free.

Parsley is rich in antioxidants, packed with vitamin C and K and supports bone health.

Onions are also packed with nutrients and antioxidants. Onions promote heart health and contain cancer-fighting compounds. They help control blood sugar, may boost bone density and digestive health.

Beef stock contains many important vitamins and minerals, improve joint health by fighting inflammation. It may even improve sleep and brain function.

Garlic is highly nutritious with medicinal properties, reduces blood pressure, improves cholesterol levels, contains antioxidants, and improves athletic performance.
Depending on your or your chef's preference, other ingredients can be put into play, such as cabbage, red beans, smoked meats, paprika, tomato paste, vinegar and your choice of cooking oil (for sautéing vegetables). The traditional garnish for both taste and presentation are minced parsley and sour cream. Tomato paste, and a splash of vinegar give the soup their acidic tones, while the beets and carrots give their sweetness. Savory beef stock and starchy potatoes dance to create the comfort and balance all the flavors.
Wintertime is when we tend to remember that there is such wonderful thing as soup. Yes, of course, you can eat soups all year round, and yet, when we get closer to winter, especially in the Northeast, somehow soup is what we think we want more often. We equate soup with comfort, safety even, on some subconscious level. Perhaps, some warm childhood memories come to mind. And while a soup is just a soup, this particular soup, borscht, definitely deserves its place at the table. Perhaps, better on the table... in a soup bowl.
Cook time – about 2 hours.
Makes 4 quarts
Ingredients:
3-4 Medium size firm red beets
1 Medium carrot
2 Medium potatoes
1 Medium onion
1 Tablespoon of tomato paste
1 Teaspoon of white vinegar
Salt
Black pepper
Paprika (optional)
2-3 Bay leaves
Fresh or dry dill
Fresh or dry parsley
Fresh parsley for garnish
About 1 pound of beef with bones, or beef bones with some meat on them.
2 Cloves of garlic
2 Tablespoons of cooking oil (sunflower oil works best but any cooking oil will suffice)
Quarter of a medium size white head of cabbage (optional)
1 can of dark red beans (optional)
Sour cream for serving
A step-by-step recipe for a Ukrainian Borscht (beet-red).
To prepare beef stock, put beef cuts, preferably with bones, in a large 6 QT soup pot and fill with about 4 QTs of cold water. Bring to hard boil.
With a slotted spoon remove foam that accumulates as the result of boiling. Reduce heat to simmer. Add salt, bay leaves, black pepper, and chopped or dry dill. Add paprika if using. Cover and simmer for 1 to 1.5 hours.
You can use store bought beef stock if you prefer or if you are short on time.

Vegetarian version:

fill pot with water and set on high heat. Start on veggies.
When the beef stock is half an hour from being ready, start on veggies.
Peel the beets and slice into half inch cubes. The red beet juice will wash off hands easily with soap but will stain clothes (wear an apron). You can grate beets on a large-holes grater if you prefer texture of thinner vegetables in your soups. Set aside.
Peel the carrots and grate on large grater.
Peel and chop the onion.
Heat a frying pan and add cooking oil. Sauté carrots and onions on medium heat for about five minutes.
The beef stock is done. With a slotted spoon remove the beef and bones from the pot into a bowl and set aside to cool.
You can very carefully strain the stock into another pot to remove any undesirable sediment or debris (this is optional).
Bring stock to boil.

Vegetarian version:

the water is ready.
Add beets, sautéed carrots and onions, tomato paste, vinegar, parsley (fresh or dry), and paprika (if using).
Reduce heat, cover and let simmer till the beets are half-way done. If cubed, 15-20 minutes. If grated, 10-15 minutes.
Peel and cut potatoes into half inch cubes.
Separate meat from bones and cut into bite size pieces.

Vegetarian version:

add dark red beans (optional)
Add potatoes to the pot.
Add meat to the pot.
Cook for another 15-20 minutes.

Vegetarian version:

add thinly sliced white cabbage (optional), cook 15-20 minutes.
Check veggies for your desired doneness. Add more salt if desired.
Crush garlic, add to the pot, stir and cover.
Turn off the heat.
Let sit for a few minutes for flavors to settle.
Serve with sour cream and fresh chopped parsley and dill as garnish.
*Adjust the acidity levels to your liking because that 'tasty' balance is a very personal thing. I like mine really acidic. My Ukrainian mother in law uses pork (sweeter meat) and actually sautés the beets with added sugar to make the soup sweeter.
Enjoy and Na Zdorovje!
*Association for Psychological Science. Chicken Soup Really is Good for the Soul. March 31, 2011.
https://www.psychologicalscience.org/observer/chicken-soup-really-is-good-for-the-soul
About the Author
Natasha has been with Hallam-ICS since 1995. She holds an M.S. Degree in Marketing from Southern New Hampshire University. From wordsmithing and color splashing to goofing off on social media she strives to add a human element to the highly technical world of engineering and controls.
Read My Hallam Story
About Hallam-ICS
Hallam-ICS is an engineering and automation company that designs MEP systems for facilities and plants, engineers control and automation solutions, and ensures safety and regulatory compliance through arc flash studies, commissioning, and validation. Our offices are located in Massachusetts, Connecticut, New York, Vermont and North Carolina and our projects take us world-wide.