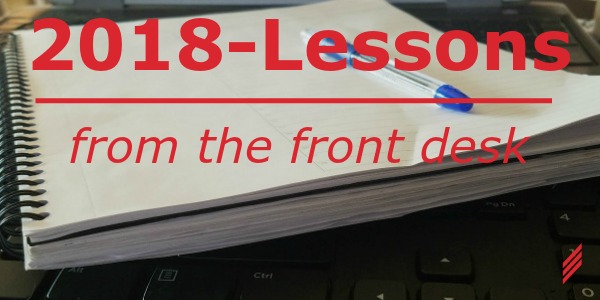 When you sit at the front desk you have the unique vantage point of seeing and hearing people from outside and inside the organization. I've learned lessons about integrity and good character from my fellow employees and clients. Often a phone conversation can change my perspective and awareness of what matters most to people. Here are few examples of things I've learned over the past 20 years that I think are worth passing on:
Volunteer or become a mentor. There's a good chance the skills, talent and knowledge you have can help someone out. Mark Felgate

is an excellent example of leadership and mentoring. (see his

blog

on mentoring young engineers.)
Toss, donate or re-purpose three items every week. In a year, you will have cleared out or donated 156 items. Pam Boutin-Adams has been de-cluttering and donating for years and is excellent at it.
Leave work at work. Write down your undone tasks at the end of the day, so you can pick up the work when you return. Linda Kronoff deserves credit for the suggestion to let go of the habit of checking emails and stressing about what needs to be done.
Approach every person with a desire to learn something. Keith Flaherty is perhaps the first person I think of as an engaged listener who genuinely asks questions and listens with respect to everyone.
Be authentically yourself. The idea that "being real" means you need to be negative is wrong, and so is the notion that being "positive" means you need to smile constantly.
Realize that there's a difference between disbelief and doubt. Disbelief allows room for fact-finding and creating solutions. Doubt shuts people down.
Investigate your limitations. Are they real or perceived? Often you can do the thing you think you cannot do. Bill Neuburger is an excellent example of someone who expects more of everyone and challenges what others think can be done.
When you're making your choices, think beyond the moment. Think about the big picture and the goal of being of service to clients and coworkers.
Say "Please" and "Thank you." Do it every single time you ask for something and when someone does something for you.
About the Author
Jennifer has left Hallam-ICS to pursue other endeavors, but her contributions to the company continue to be valued.
Read My Hallam Story
About Hallam-ICS
Hallam-ICS is an engineering and automation company that designs MEP systems for facilities and plants, engineers control and automation solutions, and ensures safety and regulatory compliance through arc flash studies, commissioning, and validation. Our offices are located in Massachusetts, Connecticut, New York, Vermont and North Carolina and our projects take us world-wide.