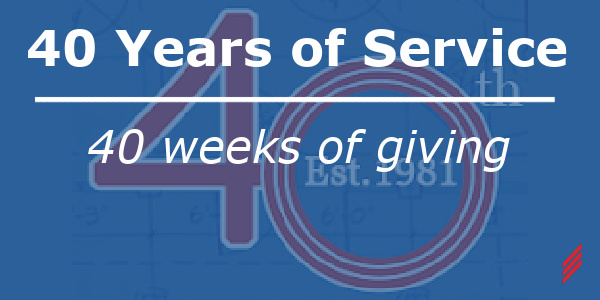 Hallam-ICS is celebrating our 40th Anniversary in 2021. With up to 95% of small businesses failing in their first 5 years, turning 40 years old is an important milestone for any company. Becoming 40 has led me to reflect on the past, to appreciate the present, and to have hope for the future. My thoughts have alternated from the past to the future, becoming surprised when I realize a certain memory is from more than 10 years ago (does anyone else feel like they've somehow lost a decade along the way?), proud when I think about who we are today, and confident that our journey forward will be as gratifying as our past.
How will we recognize and celebrate this milestone? Company-wide gatherings and day-long activities are a regular part of our culture (at least when we've been able to travel….). For our 20th Anniversary, we brought all our employees together to celebrate Dave Hallam's retirement and Hallam becoming an employee-owned company.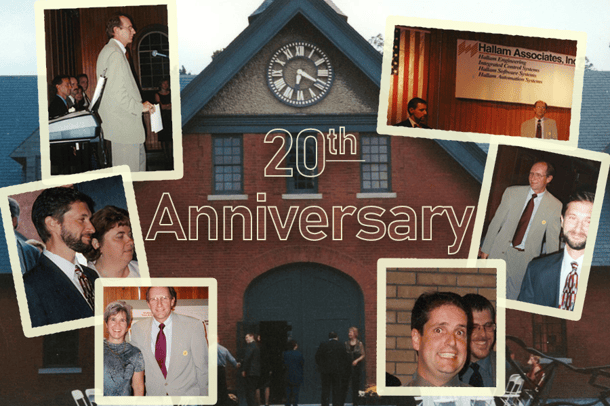 Our 35th Anniversary included a day filled with activities, followed by a dinner featuring our own Hallam rock band, "The In-Sultants."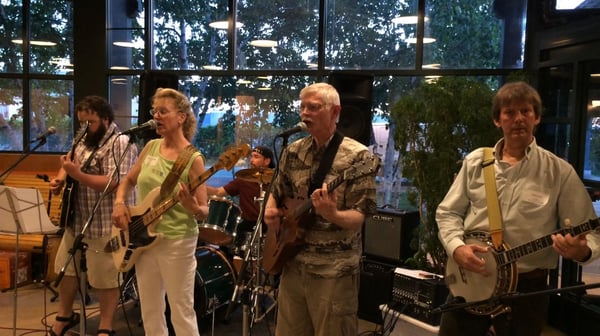 This year, our celebration will take on a different look, but one that is consistent with our values. Generosity is a term that is often used in describing Hallam and our people. We are generous with our time, our talent, and our resources. It feels natural to practice generosity and include our community as part of celebrating our 40th Anniversary. From March thru December, Hallam-ICS will celebrate through a "40 Years of Service, 40 Weeks of Giving" campaign. For 40 consecutive weeks, a Hallam employee will select an organization from our communities that inspires us. We'll donate $2,500 to the organization and promote their work across our social media channels.
Our first recipient is St. Mary's Home for Children in Providence, RI. St. Mary's was nominated by Jeff Silcox, our Regional Manager in our Mansfield, MA office. In describing why he chose St. Mary's, Jeff says,
"I get up each morning thinking about making a profit. The staff at St Mary's Home for Children gets up each morning, thinking about the welfare of these kids, and I am in awe of them."
From our founding in 1981, we've tried to do good work, enjoy the people we work with, and share our good fortune with our neighbors. We'll continue to build upon and live these values for the next 40 years. Prior to our 20th Anniversary in 2001, Dave identified the 7 S's of our business (Structure, Staffing, Systems, Stewardship, Skills, Success, Style, and Strategy – yes, we know there are 8 S's!). Stewardship is timeless and the words that were written 20 years ago ring true today.
"Stewardship
[The careful and responsible management of something entrusted to one's care.]
Hallam Associates is twenty years old. We have grown from one person to over one hundred and ten, from a one-room office to a multi-state, international corporation. A key reason for this is Stewardship: the act of taking care and preserving value
From the beginning the people of Hallam-ICS have understood that what we do here is not just for the benefit of us or our families, but also for the future benefit of generations to come. We are carefully balancing the consumption of our resources with the necessity of always assuring that there is reinvestment in our assets: people, systems, tools, and money. We understand that what we are growing here is not just for our personal livelihood, but for the good of the community and generations to come.
Stewardship means that we each understand that this company is not "mine," but that we are each entrusted, for a time, with the responsibility and benefits of this renewable resource. We will organize and perpetuate our ownership with a constant awareness that we must pass it on in better condition than we received it."
Happy 40th to all Hallamites past and present!
About the author
Keith is a graduate of the University of Vermont with a BSEE and an MBA. He has been with Hallam-ICS since 1988 as an electrical engineer, manager of integration services, CFO, and CEO. He focuses the company on understanding and meeting the needs of each individual client while at the same time delivering the highest possible level of technical expertise.
Read My Hallam Story
About Hallam-ICS
Hallam-ICS is an engineering and automation company that designs MEP systems for facilities and plants, engineers control and automation solutions, and ensures safety and regulatory compliance through arc flash studies, commissioning, and validation. Our offices are located in Massachusetts, Connecticut, New York, Vermont and North Carolina and our projects take us world-wide.