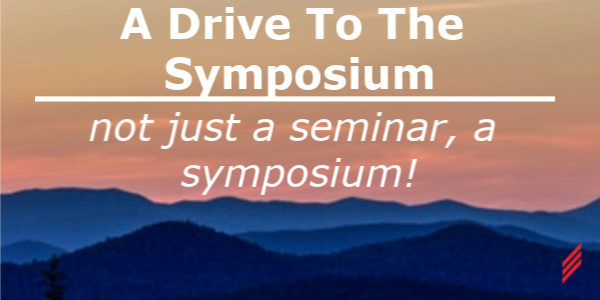 On October 24, 2017 Horizon Solutions, Rockwell Automation and Hallam-ICS co-sponsored a Drives Symposium, a technical seminar focused on Variable Frequency Drive technology and applications.
The free, full-day seminar was held at the Double Tree Hotel in South Burlington with a target audience of Engineers, Maintenance and Technical Managers employed by local manufacturing and industrial companies. The response was tremendous as over 50 people, form 19 different organizations, signed up for the event. Personally, it was wonderful to see and catch-up with some familiar clients but was equally great to meet some new folks in the process.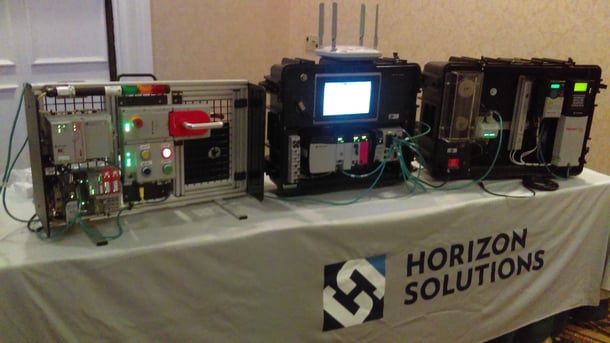 After company and presenter introductions, the day started with the cornerstone presentation of the seminar, a Drives Boot Camp. Steve Littlefield (Power Control Area Manager of Rockwell Automation) spent the morning discussing everything you ever wanted to know about AC motors and drives. Steve's presentation, which was very technical and not brand specific, started with a detailed description about Drive Physics. Steve then covered the following topics through the course of the morning:
AC motor construction & operation
AC Drive functionality & configuration
Drive Applications Examples
The attendees were deeply engaged in the presentation, especially after Horizon offered free Rockwell Automation merch for those answering questions correctly!
Following a BBQ lunch, the seminar continued with a wide variety of technical presentations and some specific information about Rockwell Automation drive products.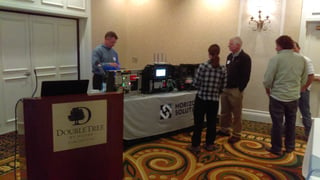 Kevin Beach (Horizon Solutions, Drives Specialist) led the afternoon with a product update about Allen-Bradley's PowerFlex 520 (523, 525, 527) and 750 (753, 755) series of Variable Frequency Drives.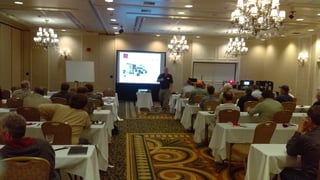 Andy Lussier (Horizon Solutions, Drives & Motion Control Specialist) followed with a presentation about best practices to consider when modernizing your plant. Anita O'Brien (Horizon Solutions, Services Business Manager) then talked about the Professional Services that Horizon Solutions offers to its clients. Steve Littlefield returned to discuss Machine Safety best practices as specifically related to drives. Jennifer Mansfield (Rockwell Automation, IIOT Strategist) and Ryan Shenk (Horizon Solutions, Automation Specialist) finished the day with a presentation about Rockwell Automation's latest Manufacturing Data Analytics software tools and productivity apps for mobile devices (TeamONE).
As you can tell it was an information-packed and energy filled day.
I would like to conclude with a thank you to Horizon Solutions and Rockwell Automation for bringing this great event and technical expertise to our area. The Symposium was about 6 months in the making and was supported by a team of people from both of these organization. A special thanks to Kevin Beach and Dan Langan for partnering with me to bring the seminar to fruition.
About Horizon Solutions
Horizon Solutions helps improve our customers' efficiency, productivity and safety through expertise in Electrical, Automation, Industrial, Energy, and Safety products and services. Our customers include Industrial End-Users, Electrical Contractors, Equipment Manufacturers, and Commercial, Institutional and Municipal facilities across New England and Upstate New York. Horizon Solutions is the exclusive Rockwell Automation Authorized Allen-Bradley distributor in New Hampshire, Vermont, and Maine and in select areas in New York and Massachusetts.
About the author
Pete is a graduate of the University of Vermont, with a B.S. in Electrical Engineering and a Masters of Business Administration. He originally joined Hallam-ICS in 1995 (leaving in 2001 and returning again in 2005) as Controls Engineer. Currently, he serves as a Project Manager and Team Leader for the Control Systems Integration group. Outside of work Pete enjoys skiing, golfing, music, and coaching his kid's baseball / softball teams.
Read My Hallam Story
About Hallam-ICS
Hallam-ICS is an engineering and automation company that designs MEP systems for facilities and plants, engineers control and automation solutions, and ensures safety and regulatory compliance through arc flash studies, commissioning, and validation. Our offices are located in Massachusetts, Connecticut, New York, Vermont and North Carolina and our projects take us world-wide.