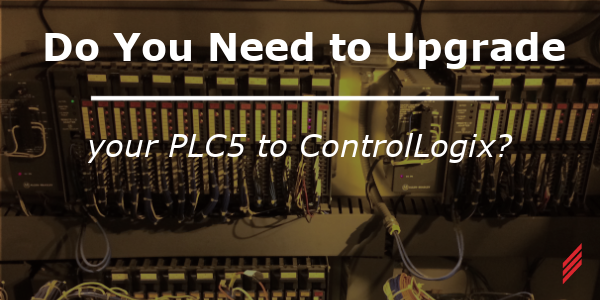 ---
The Allen-Bradley PLC5 had a product run of over 30 years. It had one of the largest installed bases of any system to date. There are still thousands of these things running processes all over the place. Chances are, you might have one of them.
They have a bulletproof nature, and we love them. However, they stopped making these things in 2017, and yours probably went into service way before that. Unless you are the luckiest person on earth, yours is going to die sometime.

Only a planned conversion and cutover is going to give you a better night's sleep in the short run and reliable service in the long run.
Rockwell has tried to make it as simple as possible with their PLC5 to ControlLogix PLC Code Translation Tool and their conversion hardware. This hardware assures near zero I/O problems on cutover.
A Living System – Multi - Year Conversion
In the Early 1980s, a Utility installed a new Bio-mass Boiler. Due to the extensive use of Remote I/O, an older PLC2 had to be used, because the new PLC5 could not support as many remote racks.
Redundant PLC2s with 42 Racks of Remote I/O on the discrete controls.
Analog or regulatory control (including combustion) on Moore Mycro 352s
SCADA was a Moore Local Instrument Link compatible package
Burner Management was PLC5 with 3 remote racks
By the early 2000s the system was showing its age and it was time for Upgrades.
PLC2s converted to Redundant ControlLogix
All combustion logic moved from the Moore 352s into the PLC

Moore I/O moved into 10 ControlLogix Racks on ControlNet

New WonderWare SCADA replaced the original
Trending moved from 4-Pen recorders into SCADA
Just over a dozen years later, time was still grinding away on this system. The client approached Hallam-ICS again, this time to provide budgetary estimates for a multi-year upgrade. We worked with Horizon (our Allen-Bradley rep.) to pull together pricing for a massive task. It would include 46 new racks, Power Supplies & Ethernet Cards. It would take over 400 I/O modules & a ton of conversion hardware to bring this together.
Year 1
We converted the PLC5 and three remote I/O racks on the Burner Management system to ControlLogix to test the waters. We converted the 4 racks using the conversion hardware in about a half day. The code converted cleanly. It took about 2 hours to debug the system before it was ready to run. Things were looking good for the big pushes ahead.
Year 2
SCADAs don't tend to age well, and it was time to bring the WonderWare system back up to date. There had been some issues with failures on the ControlNet cards; so, we brought the system backbone up to Ethernet. We then upgraded an additional 8 racks of PLC5 hardware to ControlLogix. In the 80s Allen Bradley was manufacturing mostly 8 point I/O. Hallam-ICS developed custom 2:1 wiring harnesses that worked with the rest of the conversion hardware to allow the usage of 16-point modules. Also, the PLC5 output modules handled a lot more current than the ControlLogix modules. We developed custom harnesses to use relay output modules instead of the factory recommended replacement modules. For both custom solutions, we developed a test rig to automate the testing of all new harnesses, so we did not have any field issues. The client's technicians converted all 8 racks in less than two days.
Year 3
We converted 17 Racks on a shutdown. Some of these were 8 slot racks in MCC buckets. Unfortunately, the conversion hardware required was wider and deeper than the available real estate; so, Hallam-ICS developed a custom approach to these. Our solution allowed for some pre-work; so, conversion time was not impacted. There were two very large panelboard installations on this phase, which we converted to HMIs. We abandoned hundreds of lights, pushbuttons & switches and several racks of I/O that only supported the panelboards.
Year 4
Year 4 was almost a carbon copy of year 3 with no added hurdles. At the end of the conversions, the system was again up to date – Well, at least for a while.
I provide this real-world example to illustrate that conversions and upgrades need to be a part of any systems' life cycle. If you wait too long you might get burned.
About the author
Ray is a Senior Controls Engineer. He has been with Hallam-ICS over 20 years. Ray is very active in the social mission of the company as he appreciates the opportunity to express and apply his values in his work place. He has organized our first and second Service days; and has set up our teams for meal preparation at shelter programs; painting in child service charities; yard work & house cleaning for transitional housing and building furniture for a shelters.
Read My Hallam Story
About Hallam-ICS
Hallam-ICS is an engineering and automation company that designs MEP systems for facilities and plants, engineers control and automation solutions, and ensures safety and regulatory compliance through arc flash studies, commissioning, and validation. Our offices are located in Massachusetts, Connecticut, New York, Vermont and North Carolina and our projects take us world-wide.