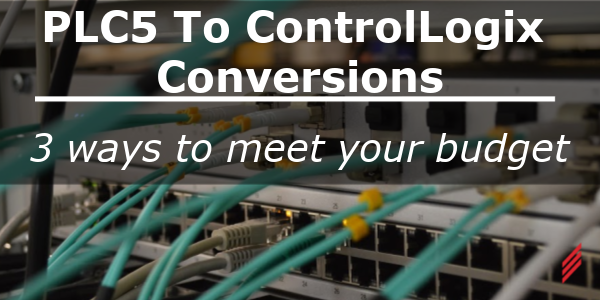 ---
PLC5 Conversion 3-Part Series detail considerations when performing a PLC5 to ControlLogix conversion.
PLC5 to ControlLogix Conversions - Part 1: Custom Solutions to Further Reduce Costs
PLC5 to ControlLogix Conversions - Part 2: 3 Ways to Meet Your Budget
PLC5 to ControlLogix Conversions - Part 3: A multi-year Conversion Case Study
In Julie Gruenholzs' blogs, "6 Questions to ask when upgrading an obsolete control system, while keeping your plant running" & "Replacing Your Obsolete Control System. Step 1 – Replace the SCADA ", she covered the preliminary assessment for converting your legacy control system & recommendations for SCADA upgrades coming first. We cannot proceed to the actual conversion without carefully considering these 6 questions. Her recommendation for executing SCADA upgrades first, is excellent. Particularly since, in most situations, you can run new and old SCADA systems side by side as operators receive training and become accustomed to the new front end.
So, now that we have committed to the conversion process, we need to find the money. Few of us live in a world of limitless funds. We all have a budget. Conversions offer the opportunity for the Generic, Mid-Scale and Gold-Plated versions. If you have a Rockwell Automation (Allen-Bradley) PLC5 installation on an ancient line that still makes money, odds are good that you will have to do a Generic, Low-Cost, conversion. If this is a high-profit line with on-going changes, you may be able to convince management that you need the Gold-Plated conversion. Many of you will land in the middle.
Once you assess the 3 points below, you can circle back and look at the duration of your project:
Can I convert the entire control system this year, or do I need to phase the conversion in over multiple budget cycles?
How do I stage conversion(s) to meet each budget?
1. What about my Down Time?
The higher your tolerance for down-time, the more latitude you have in evaluating the "How-To" of your conversion
Can you afford the time to rewire every point in the system (and then debug for mistakes)?

If you have technicians on staff, and time to work on each conversion, you can save a lot of hardware dollars over the Conversion Hardware offered by vendors
Often, your own staff budget falls into a separate budget to let you "swizzle the numbers" a bit.

OR – Do I need to cut this over ASAP with zero errors using Contract labor. If so, bring on the Conversion Hardware:

Rockwell Automation makes conversion modules for both Allen-Bradley PLC 5 and for Modicon 800 Series I/O that reduce field time by 80-90% & cut errors to near-zero
2. What about my Program(s)?
You have an existing PLC / SCADA pair that works now. Do you rewrite both the PLC & SCADA to take advantage of new system functionalities; or do you do a straight copy of old code to new PLC and new SCADA drivers to reduce project costs?
This can be a function of both technical & maintenance personnel familiarity with existing systems and budget constraints
PLC Code

A total rewrite of your code probably requires a rewrite of the Sequence of Operation – which may not exist for your legacy system. It can be a costly prospect.

That Sequence of Operation rewrite can be done by you, or contracted out as a reverse engineering of existing code.

A total rewrite of code may also mean extensive training for technical and engineering personnel responsible for on-going troubleshooting of your PLC code. They will be working in an unfamiliar setting.
Straight conversion of code saves time & money; but your brand new system feels a lot like the old one, and does not take advantage of the new features offered in new platforms. You will have to balance this with your technical group's input.
Allen-Bradley has a canned software package that upgrades your legacy PLC5 code to a Studio 5000 format compatible with their latest PLC offerings. It can take you to about 95% of the way in less than an hour.

SCADA code

Using newer SCADA products from your current vendor can offer significant savings in re-engineering, as there are often options for converting older revisions of SCADA screens and code into their newest offering.
SCADA systems often use similar database models in new and legacy versions, which can be readily converted to match new PLC drivers.
Converting to Rockwell Factory Talk View Studio from another SCADA offering may add cost; but could also give you advantages in Enterprise management.
3. What about my Panel Boards?
Old Panel Boards should be considered carefully. Often, they consume a lot of I/O modules to read or drive the myriad Push-buttons, Lights, Numeric Readouts and Numeric entry devices. In many cases, it will cost you less to network a new Touch Screen to replace the I/O, than it will to upgrade all of that I/O. This can be a place for large savings on your conversion, and should be carefully studied.
This will require writing a new program for your new HMI
It will also require modifications to existing PLC code to track down the existing I/O points and replace them with memory bits or registers accessibly by your HMI
You may consider, for very large Panel Boards, a SCADA drop with the new screen functionality added to your existing SCADA system

Saves maintenance of both SCADA and HMI programs
Consolidates functionality into a single "front end" program
Improves consistency of look & feel
In my next blog I will discuss some custom solutions to further reduce costs for a PLC5 to ControlLogix conversion.
Read the next blog in this series: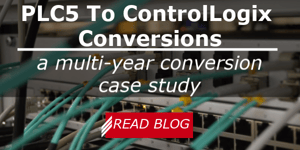 To date, Hallam-ICS has upgraded more than 100 PLC5 I/O racks on dozens of processors. We have another 25 conversions slated over the next 3 quarters. We are able to execute the physical conversions and the PLC code conversions in a very effective manner. We are also very well versed in converting existing networks to Ethernet for communications. If you have any questions on PLC5 conversion strategies and potential cost savings, please contact me. We are also well versed on several other vendors' legacy conversions; so don't hesitate to ask about other platforms. Feel free to contact us as you evaluate your conversion and your budget. We look forward to working with you on your PLC5 conversion.
About the author
Ray Racine is a Senior Controls engineer with Hallam-ICS. He has been involved in all facets of Automated Control Systems since 1985. He joined Hallam-ICS in 1995.
Read My Hallam Story
About Hallam-ICS
Hallam-ICS is an engineering and automation company that designs MEP systems for facilities and plants, engineers control and automation solutions, and ensures safety and regulatory compliance through arc flash studies, commissioning, and validation. Our offices are located in Massachusetts, Connecticut, New York, Vermont and North Carolina and our projects take us world-wide.