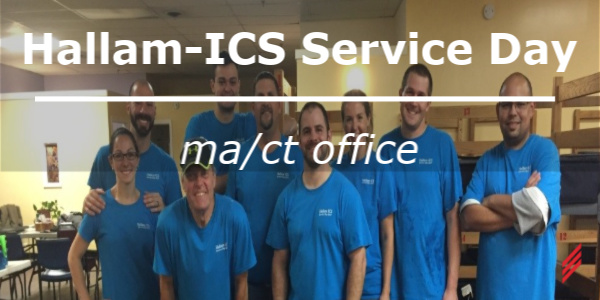 The Hallam-ICS Service Day is a part of our company's social mission and a way to be an active part of the communities in which we live and work. For 2017, the Massachusetts and Connecticut offices joined forces for a combined Service Day! When brainstorming options for an organization to support, Mechanical Engineer Jamie Spalding mentioned that he had a connection through faith with Avery Lenhart of Windham Region No Freeze Hospitality Center. The Hospitality Center provides its guests with emergency shelter during the cold New England months. Additionally, they work to facilitate the transition to permanent housing for its patrons.
Located in Willimantic Connecticut, the Center was gearing up for services during the Fall season. We discussed with the powers that be and decided this would be an excellent opportunity to support for Service Day. We met with Avery and Shelter Director Leigh Duffy to pass along the good news and develop an action plan for Service Day. The following activities were determined to be the most helpful in preparing the shelter for its guests.
Jamie and his sons graciously donated their time the weekend before Service Day for gathering supplies and completing wall patch work. Great job!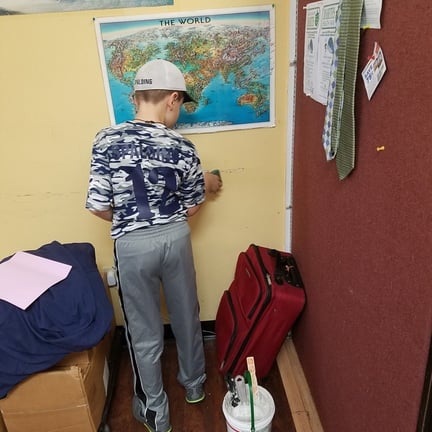 Service day commenced promptly at 8am the rainy morning of October 25th. Our volunteers for that day consisted of Shawn Costa and wife Katie, Rick Harper, Nolan Cotton, Mark Felgate, Matt Reed, Joe Baptiste, Robb Chase and fiancée Elisa. Tools and materials were unloaded and a project plan was developed. The bunk beds were moved away from the walls and the patch work was sanded. Trim was taped and we began painting all the walls in the main area.

Water damaged ceiling tiles were removed

leaks fixed and new tiles were installed

A chair rail was installed around the perimeter of the facility, preventing the bunk beds from making contact with the walls and causing damage

All the trim was painted
Additionally, were able to complete the following items with the project team:
Replaced all plastic outlet covers with metal
Installed trim board and door stops in bathroom
Replaced bathroom faucet and fix water leak issue
Replaced shower usage timers
Cleaned and remove all stickers from lockers
Installed key lock box
General cleaning and repairs as needed
End of the day - everything cleaned, organized and bunks moved back into place. The facility was ready for guests!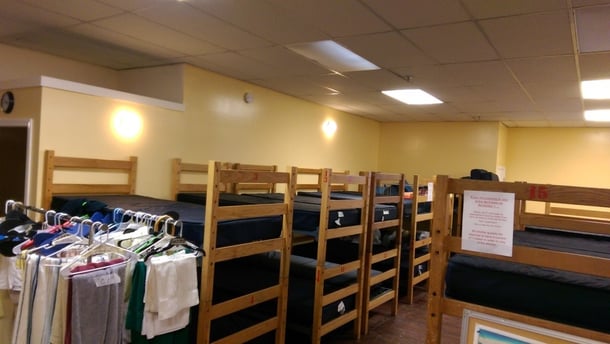 It was a pleasure for Hallam-ICS to participate in such a meaningful project within our community. A huge thank you to all of the Hallam employees and volunteers who dedicated their day to working towards this important end-goal!
Thanks to our whole team!
PS – We received a wonderful thank you letter from the Center:
"Many Thanks to the entire Hallam crew that graciously spend the day cleaning, upgrading and fixing our small shelter! What a fabulous group you are! Several of our homeless came in while you were here and were truly amazed! They spread the word about the activity going on and "Team" of workers who were here. They felt so good knowing that people cared enough about them to spend a day fixing the shelter up! We open tonight and you are all in our thoughts and hearts. We wish you all a peaceful and warm holiday season!
About the author
Robert has left Hallam-ICS to pursue other endeavors, but his contributions to the company continue to be valued.
Read My Hallam Story
About Hallam-ICS
Hallam-ICS is an engineering and automation company that designs MEP systems for facilities and plants, engineers control and automation solutions, and ensures safety and regulatory compliance through arc flash studies, commissioning, and validation. Our offices are located in Massachusetts, Connecticut, New York, Vermont and North Carolina and our projects take us world-wide.