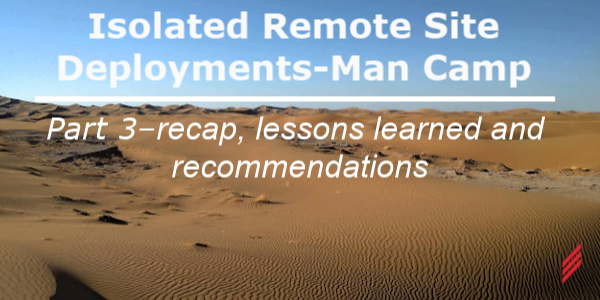 ---
In Part 1 and Part 2, I covered general preparation and site-specific preparations for Remote Site Deployments. In part 3, I would like to briefly recap that information and share with you some lessons learned from my own Man Camp experiences.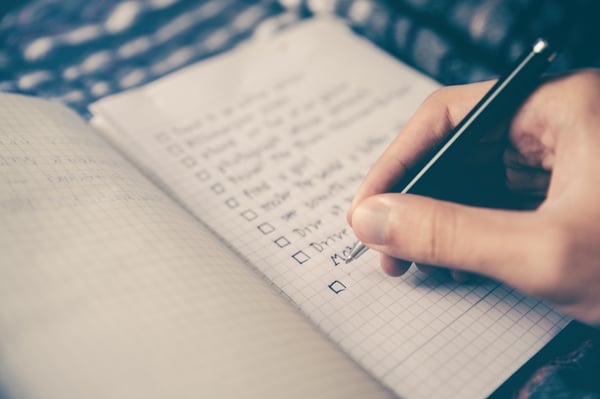 Remote and isolated job sites provide opportunities and difficulties. Not every team member is going to jump at the chance to go to such an "exotic" destination. If you are going to entertain taking on these types of projects, I strongly recommend the following:
Get ready early

Depending on the destination, there may be a lot of up front work

Don't underestimate the extra effort – it can be significant
Don't overestimate the extra effort – there are people out there doing this – it can be done
Don't send the wrong person(s) – if you don't think this person is a fit, it might be better to forego the project
A whiner or someone who is slow to adapt might not be the best pick for this type of work
Consider both billing and compensation rates – this work carries more costs, risks and discomforts than you normal project.
Consider Rotations
Solo travelers may last a shorter duration than group travelers just due to being cut off from their social circles – it can be tough to connect socially on a site with multiple-languages, different cultures, and no real recreational opportunities.
These isolated work sites can be emotionally difficult
If your project includes multiple people, stagger the start dates
Your first traveler will go through all the hard learning about the site & practices
They can help orient the new arrival(s)
Arrange to rotate them out for a couple of weeks every so many weeks
For single traveler jobs – you may have to rotate coverage back in
This is costly but necessary
Bill the prep work
In addition to normal hotel / per diem / travel costs – bill for time spent, vaccinations, visas…
The preparation and administrative load can be significant.
Share the story
If this is your first foray into this kind of work, have your traveler(s) share the good the bad and the ugly parts of their story within your company. It should be instructive to peers and managers to know what this work really entails.
Enjoy what you can
Even the most difficult sites may expose you to new cultures, technologies, and ways of thinking, which you may not have encountered before. No matter how tough the deployment, your traveler will come home with new perspectives and a backlog of stories.
About the author
Ray is a Senior Controls Engineer. He has been with Hallam-ICS over 20 years. Ray is very active in the social mission of the company as he appreciates the opportunity to express and apply his values in his work place. He has organized our first and second Service days; and has set up our teams for meal preparation at shelter programs; painting in child service charities; yard work & house cleaning for transitional housing and building furniture for a shelters.
Read My Hallam Story
About Hallam-ICS
Hallam-ICS is an engineering and automation company that designs MEP systems for facilities and plants, engineers control and automation solutions, and ensures safety and regulatory compliance through arc flash studies, commissioning, and validation. Our offices are located in Massachusetts, Connecticut, New York, Vermont and North Carolina and our projects take us world-wide.