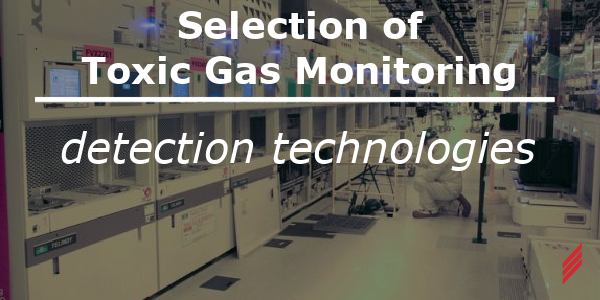 From the Author
My friend and colleague, Jim Blais, originally wrote the contents of this blog as part of a White Paper. I have decided to break up the original White Paper into four separate blogs that are detailed below. Hallam-ICS will publish one blog per month, for four months. I wanted to get this valuable information back to the forefront of our clients and potential clients.
As Jim Blais originally wrote: Hallam's controls experience has evolved into a more dedicated passion and focus – for the integrity of safety control system platforms, as they apply to hazardous gas and chemical monitoring; to ensure the safe storage, handling and use of hazardous materials used in research laboratories and semiconductor manufacturing facilities. A small client sample includes Applied Materials, Akoustis, ASML, Boston University, Cornell University, Global Foundries, IBM, MIT, MIT -Lincoln Laboratories, and many others.
Introduction
Jim Blais originally developed this section of his white paper to provide best practices through years of studying codes, attending (SESHA) seminars and meeting with other safety professionals. All of us at Hallam-ICS hope that this will serve to answer questions you may have or stir thought that will lead to creative approaches to TGMS' in the future. This blog will cover only the third topic below. (The first two topics were published in previous months) Hallam-ICS will publish the remaining topic in next month.
Selection of Toxic Gas Monitoring Detection Technologies
Selection of an "ideal gas detection technology" will vary depending upon the individual gas targets involved. The key point is providing continuous safe and reliable detection for every toxic gas target – with safety actions (shutdown and notifications) performed in conformance with required codes and best practices within the individual TWA-TLVs and % LEL limits for each specific gas target.
As a Life Safety System, gas detection sensor selection requires an absolute sensor and safety control platform that provides "availability and reliability" to ensure that all safety aspects of the system are operational and available at all times. No "covert" or "fail-danger" faults are permitted. All gas sensors and gas detection instruments must be continuously supervised via diagnostics to ensure continuous gas monitoring availability.
Selecting and applying the ideal gas detection technology and approach for each gas target begins by gathering all of the available characteristics and properties of each gas. Hazardous gas detection systems will almost always require at least two different detection technologies, depending upon the specific gas targets. Gathering and listing gas targets by gas family (e.g., hydrides, mineral acids, halogens, flammables, inerts, etc) with their chemical formulas, synonyms, Chemical Abstract System #, and Safety Data Sheets (SDS) is a required starting point.
SDS' are essential and provide comprehensive information about a substance or mixture – providing helpful safety information for all – including critical "gas property" data for the target gas or gas mixture. Accidental releases of oxygen deficient (inert) gas sources should also be considered as potential hazards – given their lack of warning properties and immediate risk of asphyxiation.
Hazardous gas detection technology selection is then best determined by a gas detection "supplier assessment."
Assessment parameters for each gas target technology, requires understanding the following:
Identifying and confirming the most recently adopted chemical substance alarm levels for each gas target as may be applicable:

Time-Weighted Average - Threshold Limit Values, (TWA-TLV)
Permissible Exposure Limit (PEL)
Short Term Exposure Limit (STEL)
Ceiling
Lethal Concentration 50 (LC50)
Lower Explosion Limit (LEL) or Lower Flammability Limit (LFL)

Gas sample detection method (diffusion or extractive):

Diffusion sensor mounting options – (filters, remote sensor, exhaust duct adapter requirements)
Extractive tubing mounting options – (filters, tubing types, maximum tubing lengths by gas family, exhaust duct adapter requirements, gas sample transport time)

Sensor / Detection type:

Chemcassette (paper tape)
Electrochemical
Catalytic bead
IR
FTIR
others

Calibration and calibration frequency
Cross sensitivities (multiple gas responses within gas families)
Known Interferences (negative sensor response, sensor poisoning)
Full measuring range
Lower Detection Limit
Lowest Alarm Level
Sensor drift and span over a time period
Sensor response time to T90
Sensor / Transmitter / Instrument – Diagnostic features and capabilities
Cost and frequency of consumable replacements (sensors, paper tape, etc.)
Power / Utility – UPS Requirements
Integration choices (Ethernet/IP, Analog, relays, etc.)
Hazardous Gas Mixtures
It is also necessary to evaluate if binary gas mixtures (where the hazardous component is diluted with a non-hazardous component) remain toxic or flammable.
Toxic Mixtures
"Lethal concentration fifty" (LC50): Is the concentration of a substance in air; exposure to which, for a specified length of time is expected to cause the death of 50% of the entire defined experimental animal population. Toxic and highly toxic gases include those gases that have a LC50 of 2,000 parts per million (ppm) or less when rats are exposed for a period of 1 hour or less.
For binary mixtures where the hazardous component is diluted with a nontoxic gas such as an inert gas, the LC50 of the mixture is estimated by use of the methodology contained in CGA P-20. Using CGA P-204 – 2009 "Standard for Classification of Toxic Gas Mixtures" – for determining gas mixture toxicity:
Flammable Mixtures
To evaluate the flammability of gas mixtures, CGA P23 – 2015 "Standard for Categorizing Gas Mixtures Containing Flammable and Nonflammable Components" provides a table of the common flammable component concentrations (%) in various nonflammable inert mixture types, along with supporting methods, calculations and examples.
Conclusion
We have tried to provide you in a few pages with a sound foundation based upon some basic fundamental elements when designing a Toxic Gas Monitoring system; with this blog looking at choosing appropriate gas detection technology. We are very passionate about this topic and take a great deal of satisfaction in the work that we do, to help others keep workplaces safe for their employees!
What's Next?
I hope this white paper has helped you to take your first steps towards designing or improving the hazardous gas monitoring system at your facility.
Please contact us if you have any questions or are looking for help on how to design, install, program, commission and maintain a Toxic Gas Monitoring System.
About the Author
John has a B.S. in Chemical Engineering from Penn State and a M.S. in Manufacturing Engineering from RPI. Prior to coming to Hallam-ICS, John had 30 years of experience working in Manufacturing/Process/Facilities Engineering for printed circuit board and semiconductor manufacturing. As a Senior Engineer at Hallam-ICS, John is responsible for the design and specification of Toxic Gas Monitoring Systems. He participates in all project design phases from concept through construction documents.
Read My Hallam Story
About Hallam-ICS
Hallam-ICS is an engineering and automation company that designs MEP systems for facilities and plants, engineers control and automation solutions, and ensures safety and regulatory compliance through arc flash studies, commissioning, and validation. Our offices are located in Massachusetts, Connecticut, New York, Vermont and North Carolina and our projects take us world-wide.