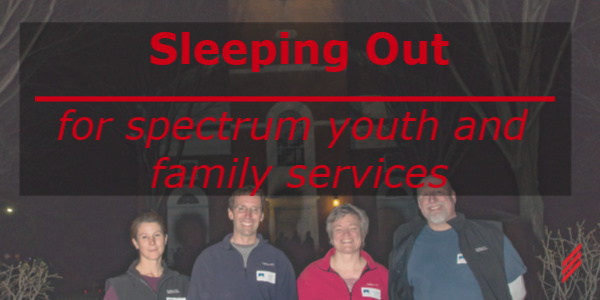 ---
Hallam-ICS is a 100% employee owned company that actively supports our local communities as part of our Social Mission with our time, talents and finances. On March 31st, Hallam-ICS participated in the 5th annual Spectrum Sleep Out to support Spectrum Youth and Family Services. Learn more about the Spectrum Sleep Out.
Getting involved
In early March, during a visit to Spectrum Youth and Family Services, Mark Redmond (Spectrum's Executive Director) pitched the idea of Hallam-ICS putting together a team for their annual Sleep Out to be held on March 31st. It was a great idea, and we were able to pull together a team of 4 to represent Hallam-ICS in our first year at the Sleep Out. Keith set for us what we thought might be an unreachable goal given the short time frame, but not only did we make the $5,000 goal… we passed it! Spectrum received $7,880 from our efforts toward their goal of $250,000.
March 31st, 2016– The Spectrum Sleep Out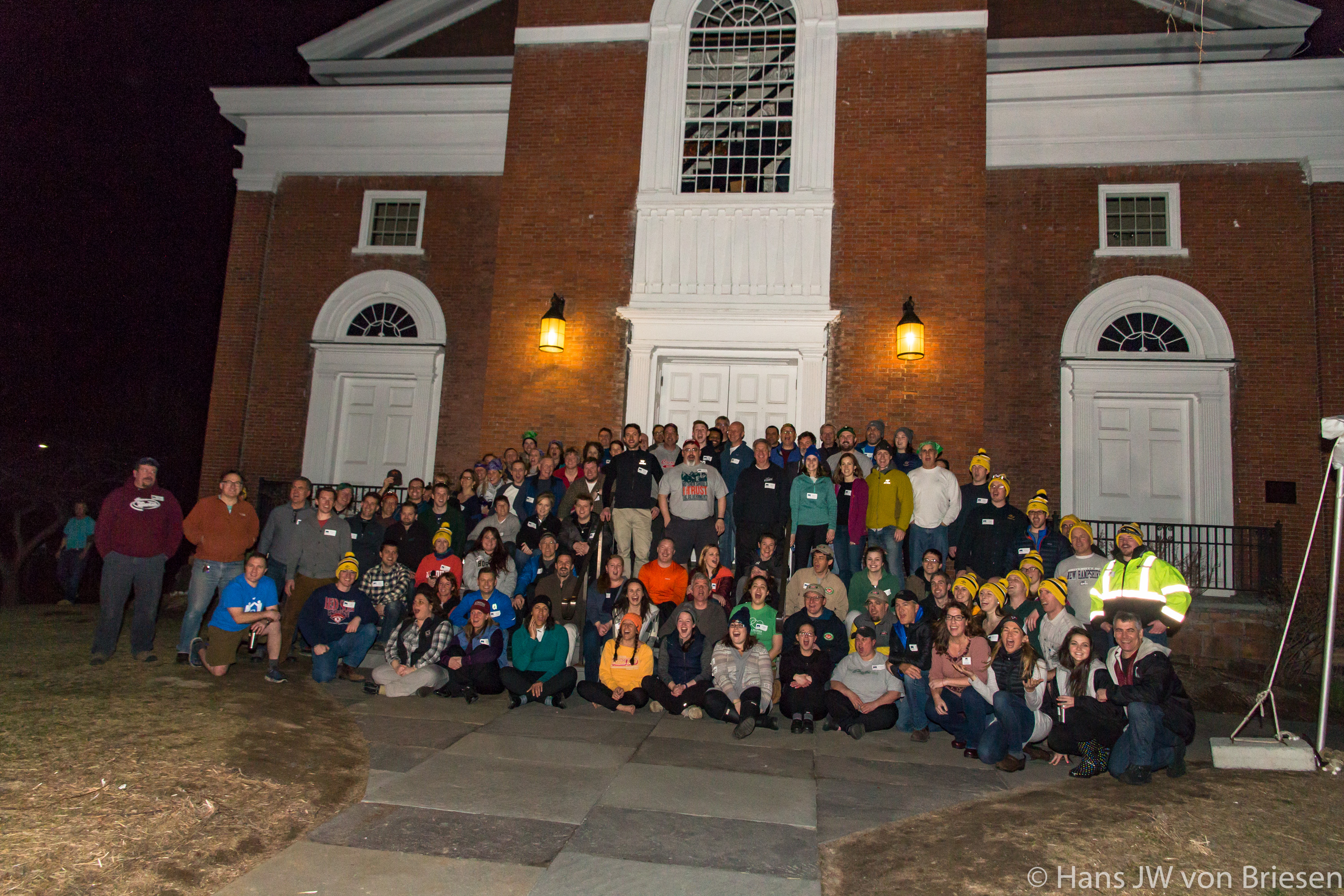 Over 100 community members representing about 3 dozen groups joined together for this great cause. The evening began with pizza (lulled us into a sense of complacency). Then Mark Redmond introduced all the groups and individuals. The pre-sleep session ended with a presentation from a wonderful 22 year old young woman who has been in various stages of the Spectrum programs since age 16. Unstable home, drug abuse, felony accident resulting in injury….. not exactly a happy young life. She is now working in her dream job, steadily and has been substance free for years. While she admits that not all kids make it out who seek services from Spectrum, she is absolutely certain that if left on her own she never could have done it.
We then headed outside for the evening where as it turns out, the hardship factor was pretty low with temperatures in the low 60's. You would have thought you could sleep out there in your jeans and t-shirts. And that actually was the way it started out. There was lots of chatting over the make shift rolled up clothes used for pillows and talk of how lucky we were it wasn't a cold night. But it became an eye-opening experience once the 20-35 MPH gusts of wind off of Lake Champlain added a little excitement under the big tents. And how lucky we really were became a reality to all of us as the winds blew harder and colder. People added layers of clothing and hunkered down in their sleeping bags for the night.
"I woke up at one point and wondered…how I might really feel if I were half the age I am now, out in even colder weather than this, without my Coleman sleeping bag or my co-workers/friends around me and no one to call on my cell for help…if I actually had a cell."
Spectrum has an annual budget of $1,400,000, which might sound huge, until you figure that it would cost more than that to imprison just four of these kids a year, if they continue down the wrong path. These folks have a proven record of moving kids from the shelter to the work force. As a project manager, that is a pretty solid Return on Investment. They start by just simply getting them off the street and feeding them, then incrementally dig into the issues and solutions in partnership with these kids.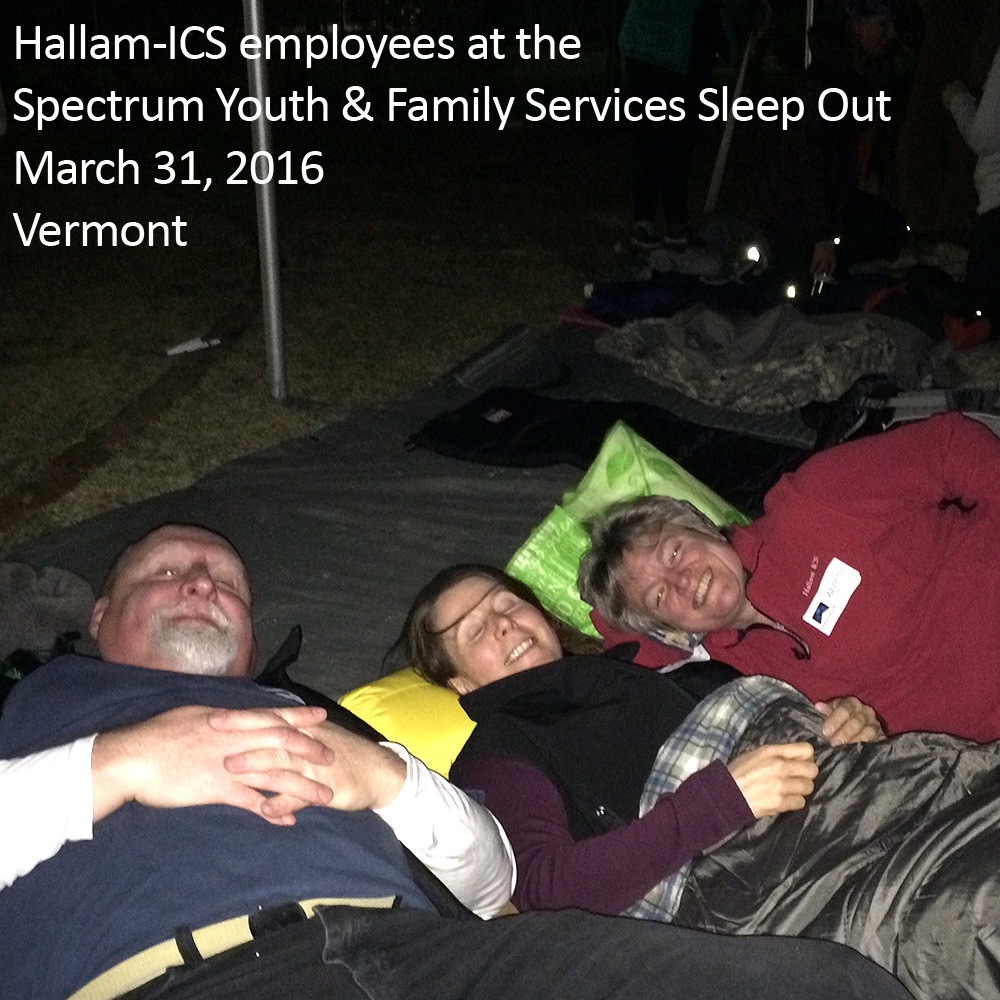 About the author
Ray is a Senior Controls Engineer. He has been with Hallam-ICS over 20 years. Ray is very active in the social mission of the company as he appreciates the opportunity to express and apply his values in his work place. He has organized our first and second Service days; and has set up our teams for meal preparation at shelter programs; painting in child service charities; yard work & house cleaning for transitional housing and building furniture for a shelters.
Read My Hallam Story
About Hallam-ICS
Hallam-ICS is an engineering and automation company that designs MEP systems for facilities and plants, engineers control and automation solutions, and ensures safety and regulatory compliance through arc flash studies, commissioning, and validation. Our offices are located in Massachusetts, Connecticut, New York, Vermont and North Carolina and our projects take us world-wide.