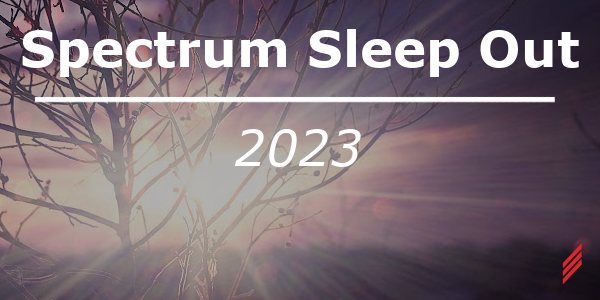 ---
Keith checked back on his notes and marks this as our 8th Sleep Out as a company. Back in 2016, Mark Redmond, the very enthusiastic director of Spectrum, had invited us to see their operation. At the end of our meeting with him, he pretty much recruited us to participate in one of the early sleep outs.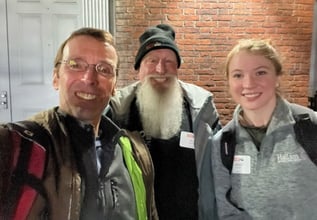 Since then, we have participated in every one of them. Different people, different weather, but always Hallam-ICS in the house. This year we sponsored the event, and raised another $6000+ for this great cause.
The format of the sleep out is, generally, as follows. Spectrum has VT Tent put up a couple of their large party tents. People gather and listen to a short program, which usually features one of the kids who has benefitted from the programs at Spectrum. Then we head out to the tents. This year, Shawna Winters decided to throw in with Keith Flaherty and I for the Sleepout. She brought a great attitude and tons of enthusiasm. Thanks Shawna.
One of the first timers was chatting with Mark Redmond in the evening. He said he camped out a lot and wasn't too worried about it. The next morning, he was talking with Mark again and said he had no idea how much noise there was in Burlington all night long.
It starts with the general traffic noise. Then you get the punctuation of the church bells (which are really loud when you are sleeping next to the tower) every hour on the hour. You get the snoring of fellow participants, among whom I am told I am a leader. Drunks leaving the bars at closing time add to the music, as do screeching tires, car horns, and maybe a car alarm that sounded like an alien ray gun. Not a lot of rest gets had if you are sleeping out, which is part of the point. These homeless kids don't exactly have a glamorous lifestyle.
Since inception, where Spectrum tried to get some food and shelter for these kids, their mission has grown. They now are able to offer counseling, medical care, mentoring and job training. I find it to be a privilege to sleep out for these kids and I am grateful to our Hallam-ICS family for the monetary support. Not sure how many more years these old bones are going to be sleeping on the ground; but you will hear from me next year. Peace.
About the author
Ray is a Senior Controls Engineer. He has been with Hallam-ICS over 20 years. Ray is very active in the social mission of the company as he appreciates the opportunity to express and apply his values in his work place. He has organized our first and second Service days; and has set up our teams for meal preparation at shelter programs; painting in child service charities; yard work & house cleaning for transitional housing and building furniture for a shelters.
Read My Hallam Story
About Hallam-ICS
Hallam-ICS is an engineering and automation company that designs MEP systems for facilities and plants, engineers control and automation solutions, and ensures safety and regulatory compliance through arc flash studies, commissioning, and validation. Our offices are located in Massachusetts, Connecticut, New York, Vermont and North Carolina and our projects take us world-wide.