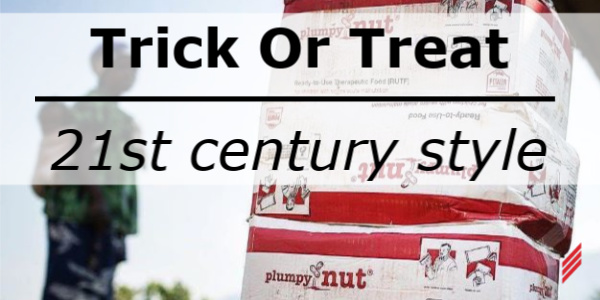 I grew up in the 1960's & 70's. With Halloween looming just around the corner, I was thinking about those orange cardboard cartons, about the size of a pint of cream, that we took out Trick or Treating, collecting pennies for Unicef. As kids it was our introduction to world hunger and malnutrition. In many cases it was all we really knew about countries like Bangladesh, India and probably all of Africa. In high school there was the famine in Ethiopia and we fasted to raise money.
In truth though, it's not a topic that I've thought much about as an adult. In a wealthy country like ours, I suspect that may be true for a lot of us. For me, that changed in 2013 when I met a company called Edesia Global Nutrition www.edesianutrition.org. A non-profit, manufacturer of Ready to Use Therapeutic Foods (RUTF), Edesia's mission is to treat and prevent malnutrition among the world's most vulnerable populations, that is, children suffering from severe acute malnutrition (SAM).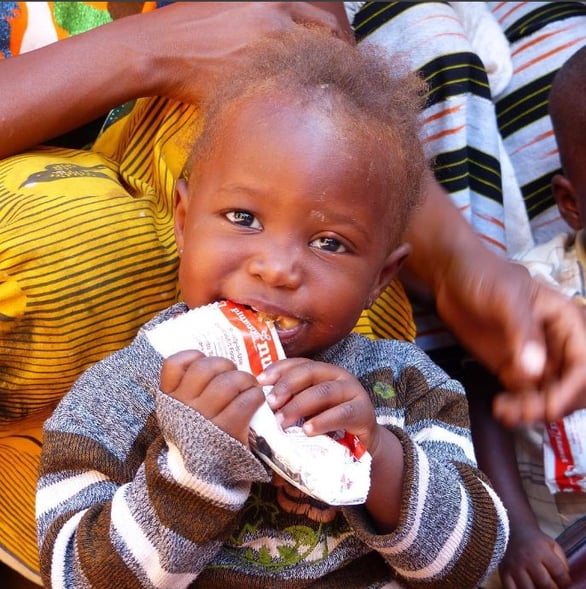 Entering the lobby at Edesia's factory in Providence, RI, for the first time, poster sized photographs of brown-eyed children returned my gaze with an intensity that was as beautiful as it was haunting. Edesia's signature product, Plumpy'Nut, overflowed a bowl on the coffee table, glossy magazines on hunger (who knew?) casually scattered, the aroma of peanuts and hot oil in the air. There was a sense of purpose in the staff. That first day I met Ekk from Thailand, Lou from the Dominican Republic and Ron from good ol' Rhode Island. Soon after I met Navyn and Maria and Tom, and all of the good people who make Edesia go. The factory was operating at capacity, barely space for the supplies, the products or even the people. Over the next several years, together with them, and many others, we built a new factory in North Kingstown, RI.
This past July Edesia completed their USDA audit and the new factory went into operation. It employs fully modern manufacturing and packaging equipment and most importantly, cheerful staff from around the world. It is sized for 50% greater production throughput, than the old factory and currently produces the same amount of product in two shifts as the old one produced in three. I was there today. The warehouse is full to the ceiling with cartons of Plumpy'Nut, each one a six week treatment for a child, a human life, wow . . .!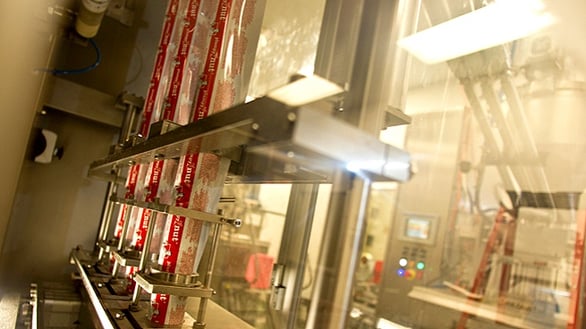 The engine behind the production equipment is a custom built process automation system (PAS) developed by Hallam-ICS, utilizing Rockwell Automation's PlantPAx system for batch process control.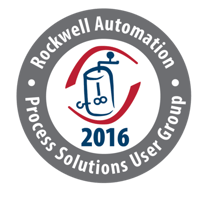 Edesia and Hallam-ICS teamed up at Rockwell Automation's Process Systems Users Group (PSUG) in 2016 to present the story of Edesia and how they are using this state of the art automation to solve one of the world's oldest problems. If you are interested in learning more about Edesia, and how you can help, please visit their website and consider making a donation at www.edesianutrition.org. Just think of it as the 21st Century's version of those orange Unicef cartons!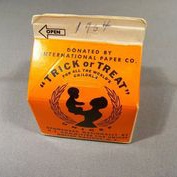 For more information please contact Jeff directly at jsilcox@Hallam-ICS.com or visit our
About the Author
Jeff has retired from Hallam-ICS, but his contributions to the company continue to be valued.
Read My Hallam Story
About Hallam-ICS
Hallam-ICS is an engineering and automation company that designs MEP systems for facilities and plants, engineers control and automation solutions, and ensures safety and regulatory compliance through arc flash studies, commissioning, and validation. Our offices are located in Massachusetts, Connecticut, New York, Vermont and North Carolina and our projects take us world-wide.