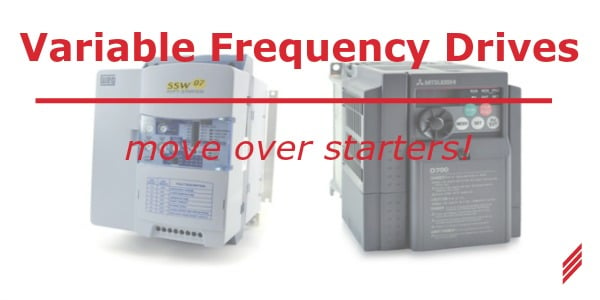 It has long been an industry standard to use the common starter/disconnect switch for service to a three phase motor. Since being introduced in the mid to late 1980's, variable frequency drives, or VFD's have been gaining popularity.On the heels of the current green movement in the US and across the world, the VFD has become a ubiquitous fixture for fans and pumps in variable flow systems; saving virtually billions of kilowatt-hours since their introduction. But why not put them on all three phase motors?
The primary obvious objection is cost. Why spend additional money for a VFD when an inexpensive starter will do? Let us make the assumption that most instances where a powered fan or pump doesn't already have a VFD will be in cases where the motor size range up to 10 HP. We will assume, for the sake of this argument that a combination starter/fused disconnect would be used in-sight of the motor.
The cost for three typical sizes of these units is as follows: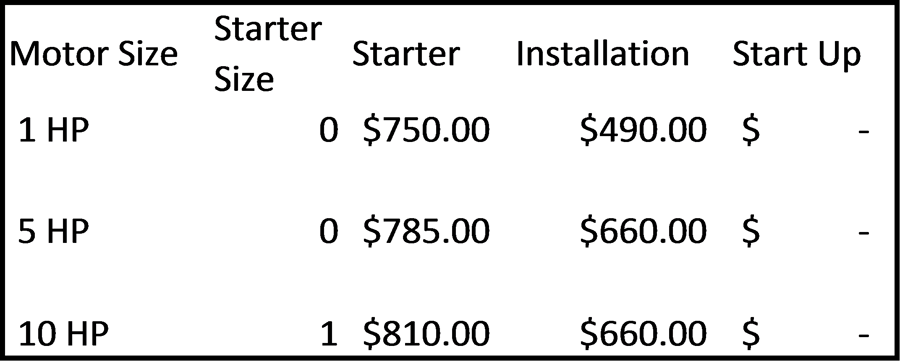 Table 1 - Cost of Installed Starter/Disconnect
Instead of using the traditional starter, a VFD could be used for the motor even though a constant operating speed is desired. The VFD will add balancing capabilities, ease of adjustment over the life of the motor as well as some energy efficiency. Accounting for the cost of the drive, installation and start-up service, we find the following cost structure for 3 drive sizes:

Table 2 – Installed Cost of a VFD2
Utilizing a savings calculator 1 with $0.11 per KWH and 5 days, 16 hours per day run time, annual energy savings can be calculated given that the typical fan is oversized and can run at 70% to 90% of full load. Table 3 shows the annual energy savings at 70% speed, 80% speed and 90% speed, and the straight-line payback.

Table 3 - VFD Payback
The overall average of payback for fan operation in Table 3 is 3.6 years, which is well within the typical 5 year horizon. And the larger the motor, the better payback will be. However, even the 1 HP motor has reasonable paybacks at 70% and 80%. These are costs for a single drive; projects with multiple drives will have economies on cost, installation and even start up making payback even better. Systems that have fans running 24/5 or 24/7 will improve paybacks by 50% and 110% respectively.
Based on the payback alone, traditional starters for three phase motors should be a thing of the past. When adding a drive gives benefits in balancing, soft starting and operational flexibility, we offer our clients an improved system and less wear on motors with minimal added cost. Should the industry begin the move to drives on all three phase motors and eliminate the traditional starter? I believe the answer is yes.
Honeywell Building Control Systems, Variable Frequency Drive Analysis Sheet; Honeywell SmartVFD HVAC.

Data is courtesy of APA HVAC Technologies, Canton, MA utilizing data for ABB Drives.
About the author
Dan has been in the building industry since 1984 and has engineered mechanical and electrical systems ranging from homes and retail to laboratory and clean manufacturing. His projects range from a few hundred square feet to nearly a million. He prides himself in providing detailed design solutions and explicit problem solving that fit each of his clients' specific needs. In his role as a leader, he institutes systems that allow projects to run more smoothly with fewer field issues and on-time delivery.
Read My Hallam Story
About Hallam-ICS
Hallam-ICS is an engineering and automation company that designs MEP systems for facilities and plants, engineers control and automation solutions, and ensures safety and regulatory compliance through arc flash studies, commissioning, and validation. Our offices are located in Massachusetts, Connecticut, New York, Vermont and North Carolina and our projects take us world-wide.