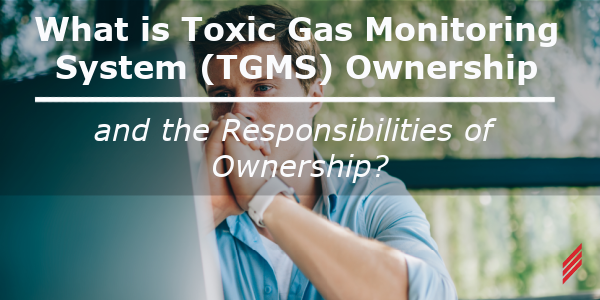 What is TGMS ownership?
A Toxic Gas Monitoring System (TGMS) owner is the person who has overall responsibility for the TGMS within a company or organization. A TGMS is a critical life safety system that alerts personnel of a potential leak or exposure to toxic gas in a monitored space. Or, in some cases the TGMS also detects a significant decrease or increase in available oxygen in a monitored space or location. A TGMS owner can be an Health, Safety & Environmental (HSE) manager, safety coordinator, building manager, laboratory department head, or any other assigned person within an organization.
What are the responsibilities of ownership?
First and foremost, ensuring the system is functioning properly and doing its job as a critical life safety system.
Integrating it into existing organizational administrative and HSE policies.
Identifying emergency action protocols in the event an alarm is triggered.
Providing system training for employees on system functions and alarm events.
Creating maintenance and service plans, along with annual system recertification (including gas challenging).
Ensuring security integrity for the system. This is important to avoid malicious system manipulation which can be hazardous to personnel.
Responsibilities expanded:
A proper functioning TGMS can be compared to a well-oiled machine with respect to periodic maintenance which should be done by a competent person or persons. See maintenance responsibilities below.
Integration of a TGMS into an organizations administrative system will help define the criticality of the life safety system. The most important is HSE, from which will set the standards for a TGMS's role in an organization. Example, but not limited to the following: responsibility of TGMS and roles, safety aspects of toxic gases detected and SDS (safety data sheets), procedures for hazardous situations for toxic gases and how the organization will react, determine and define regulatory requirements for atmosphere discharge of toxic gases.
Determine and define the emergency action protocols for your organization regarding toxic gas detection. These can include different levels of action depending on the amount of toxic gas detected by a TGMS in ppm (parts per million) or ppb (parts per billion). At Hallam-ICS, these actions are part of the Safety Requirement Specification (SRS) and defines levels, severities, and system actions. To learn more about what an SRS can do, read this

blog

.
Training on the TGMS given to all employees at least at a basic level but not limited to the following: types and severity of alarms, areas to monitored and toxic gas types, emergency shutdown equipment locations, what to do and where to go in the event of a toxic gas emergency, basic TGMS familiarity like general operation, system status, and display functions. This can be done using in person training or a web-based training presentation created by Hallam-ICS tailored to your specific TGMS.
The vast majority of TGMS have maintenance items that are required to be performed on a quarterly, semi-annual, and annual basis. Some of those items include, but are not limited to: air sample inlet and outlet filter changes, chemical tapes (every 30, 60, or 90 days) or electro-chemical cartridge changes (24- 48 months), system inspections which can range from a basic walk through weekly to more in depth system critiquing inspections quarterly and annually, and at a minimum annual system gas challenging of all sensors.
Security of a TGMS can include password protecting the TGMS HMI (Human Machine Interface) to cybersecurity of the TGMS network if integrated into an organizations network infrastructure. Example: If a system is unprotected someone could maliciously manipulate the TGMS by inhibiting sensors or alarms which could leave personnel or employees at risk for toxic gas exposure which could be fatal!
Conclusion:
TGMS ownership is an important responsibility and Hallam-ICS can guide and equip new TGMS owners with the safety tools for successful mitigation of possible toxic gas related events.
How can Hallam-ICS be a valuable resource to fulfill your TGMS ownership responsibilities?
We have several decades worth of experience and best practices with TGMS, to include the following:
System design, integration, and commissioning.
Integration into other existing systems. Examples: Fire alarm, safety equipment shutdowns, Etc.
Safety integration into existing organizational administration policies including system emergency protocols.
Cost effective system maintenance programs and schedules tailored to fit your needs, (we also offer Maintenance Service Contracts by experienced Technicians).
Tailored organizational TGMS training solutions for employees and owners.
System security measures.
For additional information or a consultation please contact us at Hallam-ICS.
About the Author
Jeff is a Senior Instrumentation & Controls Technician Supervisor from Louisiana with 20 years' experience. From humble beginnings while serving in the U.S. Naval Submarine force, to honing his technical skills in the offshore oil drilling industry while refining cutting edge prototype equipment. Areas of expertise include safety, training, electrical, electronics, mechanics, root cause failure analysis troubleshooting, maintenance, technical writing, and training development.
Read My Hallam Story
About Hallam-ICS
Hallam-ICS is an engineering and automation company that designs MEP systems for facilities and plants, engineers control and automation solutions, and ensures safety and regulatory compliance through arc flash studies, commissioning, and validation. Our offices are located in Massachusetts, Connecticut, New York, Vermont and North Carolina and our projects take us world-wide.