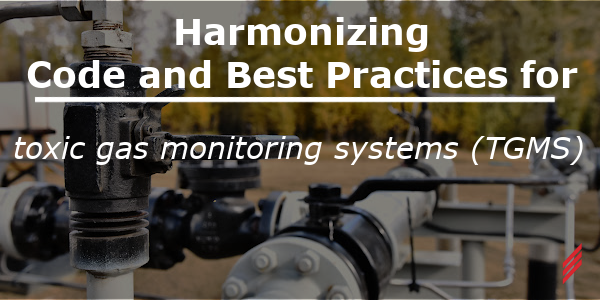 From the Author
My friend and colleague, Jim Blais, originally wrote the contents of this blog as part of a White Paper. I have decided to break up the original White Paper into four separate blogs that are detailed below. Hallam-ICS will publish one blog per month, for four months. I wanted to get this valuable information back to the forefront of our clients and potential clients.
As Jim Blais originally wrote: Hallam's controls experience has evolved into a more dedicated passion and focus – for the integrity of safety control system platforms, as they apply to hazardous gas and chemical monitoring; to ensure the safe storage, handling and use of hazardous materials used in research laboratories and semiconductor manufacturing facilities. A small client sample includes Applied Materials, Akoustis, ASML, Boston University, Cornell University, Global Foundries, IBM, MIT, MIT -Lincoln Laboratories, and many others.
Introduction
Jim Blais originally developed this section of his white paper to provide best practices through years of studying codes, attending (SESHA) seminars and meeting with other safety professionals. All of us at Hallam-ICS hope that this will serve to answer questions you may have or stir thought that will lead to creative approaches to TGMS' in the future. This blog will cover only the first topic below. Hallam-ICS will publish the remaining three topics in subsequent months.
Harmonizing Code Requirements and Best Practices
As safety professionals, we cannot assume that others understand the potential dangers of working around toxic and hazardous gases. It is incumbent upon all of us to thoroughly understand both the relevant codes and industry best practices. In many cases, the pertinent codes only represent the minimum by which we should design our systems. In practice, most designs "must" go above and beyond the requirements identified by code.
The way a "toxic gas monitoring, safety shutdown system" is designed, configured (hardware and software), validated and maintained will determine its ability to detect risks and automatically activate safety measures to avoid extremely dangerous situations.
For gas detection systems, which first need to accurately detect target gas hazards and then activate relevant safety countermeasures when pre-defined gas concentrations are exceeded, an important question comes up:
What is the probability of failing to perform the required countermeasure (safety function) in the event that pre-defined gas alarm level concentrations have been exceeded if an undetectable system failure has occurred?
"Freedom from unacceptable hazardous gas risks" is the ultimate goal and using every available resource – not only the "mandated codes" – but also considering and applying "best industry practices and experience" (harmonizing every resource) is the requirement.
Code Requirements
Caution is advised when determining or being directed to "follow and apply" mandated code requirements for a TGMS. This "caution" pertains to applying only toxic gas monitoring safety features that are mandated and required by codes and going no further.
For example, some mandated codes (NFPA example) include the following or similar statements:
"Nothing in this standard is intended to prevent the use of systems, methods, or devices of equivalent or superior quality, strength, fire resistance, effectiveness, durability, and safety over those prescribed by this standard."
"Alternative systems, methods, or devices approved as equivalent by the authority having jurisdiction shall be recognized as being in compliance with this standard."
Most codes recognize that their standards are intended to be the "minimum requirements".
Codes are developed by committee; follow technology and they may not be immediately adopted by the local authority having jurisdiction for "years" and they may be locally amended.
Considering many mandated codes do not adequately or completely address all the potential and frequently changing complex hazards associated with the materials used in SEMI / Nano research or high technology manufacturing facilities; we recommend an approach that will inform and consider the best practices and experience gained and applied in similar facilities.
Mandated Codes should never be used "alone" as the TGMS design specification. The best approach is to incorporate all the necessary design features required that will promote life safety and minimize any potential gas hazard. Attention to detail is critical throughout the entire design, installation, integration and validation process.
Best Practice (Harmonizing) Resources
In addition to the typically mandated codes (for example, the National Fire Protection Association and/or the International Code Council), there are many excellent best practice resources available for review and consideration. The following is only a very small sampling:
SEMIViews
http://www.semi.org/en/products-services/standards/semiviews
"SEMI" is the global industry association serving the manufacturing supply chain for the micro- and nano-electronics industries.
"SEMIViews" is an annual subscription-based product for online access to SEMI Standards. This resource provides password-protected access to over nine hundred Standards. Standards are arranged in "volumes" including those best practices focused on: Facilities, Gases, Process Chemicals and Safety Guidelines. New and revised Standards are available through the system ensuring access to the latest documents. A small sampling includes:
SEMI F6- Guide for Secondary Containment of Hazardous Gas Piping Systems

Containment application, piping annulus monitoring (pressure decay or vacuum), etc.

SEMI S2- Environmental, Health and Safety Guideline for Semiconductor Manufacturing Equipment

Safety philosophy, Safety interlocks, Emergency shutdown, etc.

SEMI S6- EHS Guideline for Exhaust Ventilation of Semiconductor Manufacturing Equipment

Safety performance criteria for exhaust ventilation, validation methods, etc.

SEMI S18- Environmental, Health and Safety Guideline for Silicon Compounds

Disilane, monomethylsilane, dimethylsilane, dichlorosilane, etc.
Compressed Gas Association (CGA)
http://www.cganet.com/customer/Publication.aspx
The mission of the CGA includes developing, publishing, and globalizing technical information as standards and practices for the safe, environmentally responsible, and efficient practices in the transportation, storage, and disposal of industrial and medical gases and their containers.
This includes standards focused on protection and safe handling of hazardous gases. CGA Standards include those referenced and required by National and International Codes such as:
G-13 "Storage and Handling of Silane and Silane Mixtures"
P-20 "Standard for Classification of Toxic Gas Mixtures"
P-23 "Standard for Categorizing Gas Mixtures Containing Flammable and Nonflammable Components"
FM Global
https://www.fmglobal.com/research-and-resources/fm-global-data-sheets
FM Global provides free access to their "Property Loss Prevention Data Sheets".
These data sheets provide another resource focused on helping to reduce the risk of property loss due to fire, weather conditions, and failure of electrical or mechanical equipment. They incorporate nearly 200 years of property loss experience, research and engineering results, as well as input from consensus standards committees, equipment manufacturers and others. Examples include:
7-7 Semiconductor Fabrication Facilities
7-45 Safety Controls, Alarms, and Interlocks
7-91 Hydrogen
American Conference of Governmental Industrial Hygienist
http://www.acgih.org/science/tlv-bei-guidelines/documentation-publications-and-data/
The American Conference of Governmental Industrial Hygienist (ACGIH®) is a member-based organization that advances occupational and environmental health.
A primary example is the "annual" edition of the TLVs® and BEIs® book and work practice guides in ACGIH®'s Signature Publications.
Considering and applying toxic gas monitoring alarm levels in accordance with the most recently adopted (and applicable) ACGIH… TWA-TLVs, STELs and Ceilings are highly recommended.
NIOSH
The NIOSH Pocket Guide to Chemical Hazards is another source of general industrial hygiene information on several hundred chemicals/classes for workers, employers, and occupational health professionals.
The NIOSH Pocket Guide does not contain an analysis of all pertinent data, rather it presents key information and data in abbreviated or tabular form for chemicals or substance groupings (e.g. cyanides, fluorides, manganese compounds) that are found in the work environment. The information found in the NIOSH Pocket Guide should help users recognize and control occupational chemical hazards.
OSHA - PELs
https://www.osha.gov/annotated-pels
Note: The annotated tables below – only include occupational exposure limits (OELs) for substances listed in the OSHA Z-1, Z-2, Z-3 Tables.
OELs for hundreds of additional substances have been adopted by Cal/OSHA, NIOSH, and ACGIH. These organizations periodically make revisions to their OELs and so they should be consulted directly for their most current values and substances, as well as special notations such as for skin absorption. The TLVs® and BEIs® are copyrighted by ACGIH® and are not publicly available. However, they can be purchased in their entirety on the ACGIH® website. Permission must be requested from ACGIH® to reproduce the TLVs® and BEIs®.
https://www.osha.gov/annotated-pels/table-z-1
https://www.osha.gov/annotated-pels/table-z-2
https://www.osha.gov/annotated-pels/table-z-3
With clarity and agreement around codes and best practices, the design team can proceed with understanding the goals, challenges and objectives of the project.
About the Author
John has a B.S. in Chemical Engineering from Penn State and a M.S. in Manufacturing Engineering from RPI. Prior to coming to Hallam-ICS, John had 30 years of experience working in Manufacturing/Process/Facilities Engineering for printed circuit board and semiconductor manufacturing. As a Senior Engineer at Hallam-ICS, John is responsible for the design and specification of Toxic Gas Monitoring Systems. He participates in all project design phases from concept through construction documents.
Read My Hallam Story
About Hallam-ICS
Hallam-ICS is an engineering and automation company that designs MEP systems for facilities and plants, engineers control and automation solutions, and ensures safety and regulatory compliance through arc flash studies, commissioning, and validation. Our offices are located in Massachusetts, Connecticut, New York, Vermont and North Carolina and our projects take us world-wide.