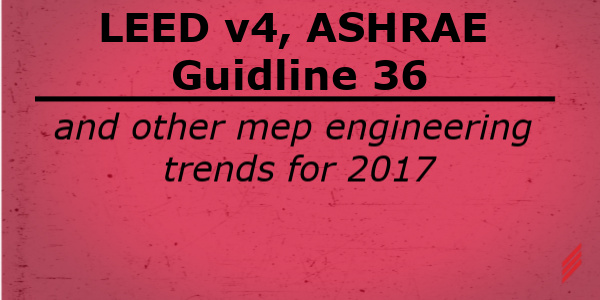 ---
2017 Trends is a 5-part blog series that takes a look at how the latest technology, economic developments, evolving user expectations and changing industry standards might affect the way we all do business.
Introduction:
At the beginning of 2017, MEP engineering firms find themselves in the midst of significant change in the design and construction industries. The current wave of change includes the expanded scope and requirements of building codes, the evolution of LEED, and new capabilities and practices for building controls. Here are a few that I think are going to impact the way we think and approach our designs in 2017:
LEED v4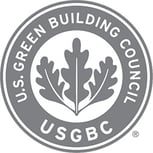 The roll-out of LEED v4 in the fall of 2016 has brought new challenges to the world of high performance building projects. Notably, LEED v4 raises the bar for the energy performance of MEP designs. For the "Optimize Energy Performance" Credit (the credit that many project teams focus on for a significant proportion of LEED points), the baseline has been raised to ASHRAE Standard 90.1-2010. ASHRAE Standard 90.1-2010 represents an improvement of approximately 15-30% in baseline efficiency relative to the previous baseline, ASHRAE Standard 90.1-2007, depending on building type and climate zone. This means that project design teams will have to increase the energy performance of their proposed designs in order to achieve LEED certification. In cold climates, this will translate to higher performance fenestration systems to reduce heating loads, and HVAC systems and controls to increase economizer (i.e. "free") cooling. In warm climates, design teams will likely need to incorporate more ground source heat pump systems for efficient heat rejection and balanced heat extraction. Design teams everywhere will need take advantage of high efficiency LED light fixtures for lower lighting power densities and lower cooling loads.
Integrated HVAC and Lighting Controls
The commercial building controls industry (e.g. Acuity/Distech and Siemens) is beginning to offer comprehensive, integrated HVAC and lighting controls systems (finally!). As a commissioning engineer, I have worked with advanced HVAC and lighting control systems that duplicated scheduling, occupancy, and trending functions via separate hardware and user interfaces. The unfortunate result for building owners, operators, and occupants is unnecessary layers of complexity and cost. Recent innovations in home automation with smartphones/tablets seem to have raised expectations for elegant, integrated controls in commercial buildings. Integrated HVAC and lighting controls in commercial buildings offer significant opportunity for achieving, measuring, and verifying improved energy performance, and can contribute to the success of both code-compliant and high performance LEED certified buildings. I am excited by the opportunity to work with design consultants, vendors, and efficiency program managers to implement more integrated, streamlined, and effective commercial building controls.
ASHRAE Guideline 36 - High Performance Sequences of Operation for HVAC Systems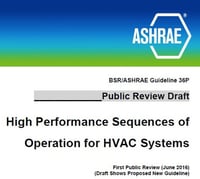 ASHRAE Guideline 36 is not yet a published standard, but it offers a promising foundation for uniform sequences of operation, control points, and PID (proportional-integral-derivative) control loop implementation. ASHRAE Guideline 36 will initially be limited to the scope of VAV air handler systems. Nonetheless, former colleagues of mine have recently used the draft ASHRAE Guideline 36 as a guide to upgrade the controls system for a healthcare facility. Guideline 36 will help design engineers and controls contractors deliver control systems that achieve a uniform standard of functional effectiveness and efficiency.
2017 NEC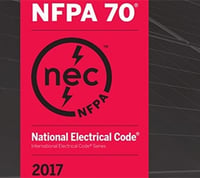 The 2017 National Electric Code® (NEC) has been published and has already been adopted by one state (way to be a leader Massachusetts!). The remaining New England states, North Carolina, Georgia, and other states across the country are in the process of adopting the 2017 NEC. One of the notable new requirements of the 2017 NEC is the use of a calibrated torque tool "where a tightening torque is indicated as a numeric value on equipment or in installation instructions provided by the manufacturer." Both under-tightening and over-tightening of electrical connections present a safety concern. Electrical engineers can help address this issue in their design specifications by requiring submittal information on tightening torque values from manufacturers.
VT CBES 2015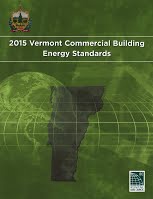 For those of you in Vermont, the 2015 Vermont Commercial Building Energy Standard (CBES) took effect almost two years ago, and building design, construction, management, and efficiency professionals have been learning how to align their services and practices with the requirements of the standard. The VT CBES 2015 has not only increased the minimum efficiency of code-compliant building design and construction, but has also expanded the standard's applicable scope to include "New equipment or building systems specifically identified in the standard that are part of industrial or manufacturing process." The expanded scope of industrial and manufacturing processes is particularly relevant for heating and cooling plants (e.g. boilers, chillers, and associated pumps). Fortunately, engineering consultants and construction contractors experienced in high performance buildings (e.g. LEED certified projects) can help industrial facility managers meet and exceed the requirements of the VT CBES.
It is both exciting and reassuring to see positive changes in our industry, and I look forward to the many opportunities in 2017 to be an agent of change for our clients and partners.

About the author
Brent Weigel has left Hallam-ICS to pursue other endeavors, but his contributions to the company continue to be valued.
Read My Hallam Story
About Hallam-ICS
Hallam-ICS is an engineering and automation company that designs MEP systems for facilities and plants, engineers control and automation solutions, and ensures safety and regulatory compliance through arc flash studies, commissioning, and validation. Our offices are located in Massachusetts, Connecticut, New York, Vermont and North Carolina and our projects take us world-wide.