Reliable Systems From A Trusted Partner
Patients and their family members place their trust in medical professionals to provide the best possible care available. Creating a healing environment that is continuous and reliable is a core requirement in the treatment process. Hallam-ICS has been selected by many healthcare firms because of our understanding and compassion for the human element for the facilities that we design.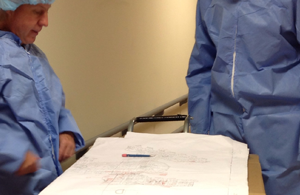 Healthcare facility directors are charged with designing, operating and maintaining MEP building systems with demanding performance requirements while controlling costs and being environmentally friendly. Working closely with your team, Hallam-ICS engineers ask questions, thoroughly survey existing conditions and offer recommendations for consideration. This shared approach to owner's project requirements definition and solution development is central to our approach.
The Hallam-ICS Healthcare team understands the specific requirements of your facilities and is able to utilize their experience to design building systems that are integrated into your facility to provide continuous, reliable operation.
Areas of Expertise
Laboratory and Research Facilities
Facility Systems
Utility Systems
Arc Flash Study and Electrical Safety
Risk Based Commissioning