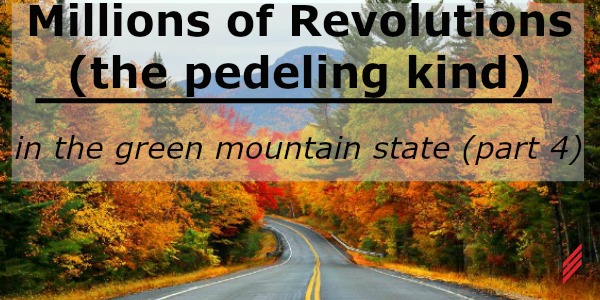 Continuing from my previous blog, the second day of riding on May 8th took us to Bennington County where I completed the roads of Sandgate, Arlington, Sunderland, Winhall and Manchester except for the Mount Equinox toll road. This road, like the Mt. Ascutney State Park road, is represented on the Official Road Map with a light green line type denoting a paved recreational highway. The days riding totaled 83 miles and over 5,000 feet of climbing.
The first of three launches on this day was at the start of pavement at "The Notch" with its single switchback through what appeared like a natural rock formation on the West Sandgate Road in Sandgate. The morning riding took me once again back to the border of New York, this time on Route 313 in Arlington.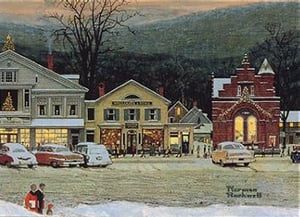 Author, painter and illustrator Norman Rockwell called Arlington home from 1939 to 1953 and used some of its citizens as models in his works which included 321 covers for the Saturday Evening Post. Later in the morning I biked across another covered bridge, this one the Chiselville Bridge in Sunderland which dates back to 1870 and is also of the Town Lattice design but with some modern- day steel beam and concrete pier reinforcements. Signs over the entrances amusingly warn "ONE DOLLAR FINE FOR DRIVING FASTER THAN A WALK ON THIS BRIDGE".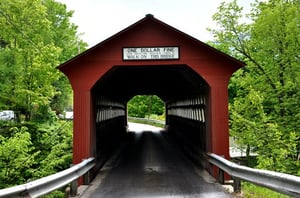 This bridge was featured in a 1987 film titled "Baby Boom" with Diane Keaton; not a movie that I recall but perhaps you do. Heading back towards Manchester for lunch I rode on River Road which has flanking mortared stone walls for quite a distance that impressed me for the manual labor that must have been required to construct them.
For lunch I met Cindy at the outdoor patio of the Seasons Restaurant in Manchester where we had eaten once on a prior biking trip. The big meal and the morning miles induced me into a 20-minute siesta while reclined in our car in the parking lot.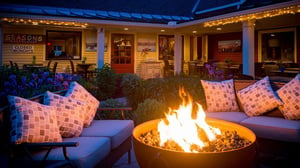 With my fuel tank topped off and my batteries recharged I resumed with the afternoon and early evening riding in Manchester, Winhall and Stratton. The +2 hour drive each way, and a little over 6 hours on the bike saddle made for a long day but I remember it as a particularly good one where I had finished a handful of towns and could have continued riding if not for the need to get back home and get ready for work the next day.
I left that day thinking I would need to make one more return visit to Manchester to ride the toll road since it's paved and appears on the map but an email exchange confirmed what I read online that bicycles are not permitted on this road. That confirmation did not actually disappoint me as the road is 5.4 miles long and ascends 3,173' for an average gradient of 12%. Bicycles are permitted only one day a year when the Annual Hill Climb Race is held there. The road is the longest privately owned paved toll road in the U.S. Someday I need to return and experience the advertised great panoramic views by vehicle or maybe by bike if the crazy idea of racing up it ever takes hold.
The third day of riding on May 13, Mother's Day, took us to Rutland County to complete the roads of Killington, Mendon and Pittsford and a previously missed road in Tinmouth. My Garmin computer tallied 58 miles and 4,700 feet of climbing for the day, more climbing than average for that distance but no surprise given the terrain of the Green Mountain spine. Riding the Killington Road out to the ski area, a healthy number of spring skiers were out on the slopes enjoying the sun and temperatures in the 70's. Cindy's small reward for supporting my riding on "her" day was a late breakfast at the Sugar & Spice Restaurant on Route 4 in Mendon, well worth a stop if you are ever that way and hungry. Cindy by the way has taken all this traveling around the state as her opportunity to visit some part of each of the 251 towns and cities and track her own progress to join that club.
The final two riding days in May were on the 25th and 26th, a Friday/Saturday combo to the southernmost counties of Bennington and Windham with an overnight stay in Brattleboro. Friday's 56-mile effort led to wrapping up Bennington and Shaftsbury and parts of Wilmington and Whitingham. It included following Kentfield Road to the border of Rowe, MA and Route 8A to the border of Heath, MA. Saturday's 55-mile effort led to completing bits of roads in a record seven towns including Marlboro, Halifax, Whitingham, Wilmington, Dover, Brookline and Newfane with another trip out to the southern border, this time on Route 112 in Halifax where it borders Colrain, MA.
Friday morning's riding also included Glastenbury which is not on my list of towns with paved roads to ride but was one of two remaining towns on my original quest to ride some part of the 251 towns and cities. Glastenbury like Baltimore and a couple of other towns has no paved roads. The town has a total of 1.61 miles of town roads of which I rode about half in order to say I had ridden some part of this town. U.S Route 7 just barely clips through the western edge of the town and my riding commenced and ended at the overpass of this route to the only road into Glastenbury. Glastenbury became an unincorporated town in 1937 when the legislature took that action due to a dwindling population. The 2010 Census reported a population of 8. Today its 44.4 square miles is almost entirely forested but by the late 1880's Glastenbury Mountain had been cleared of nearly all its mature trees for the timber resource. Today I think it's safe to say this town sees many more visitors arriving on foot, those hiking the Long Trail/Appalachian Trail which runs end to end through the town, than those arriving by all other means combined.
Near the end of Saturday's riding in the Town of Newfane, while heading west and ascending on the South Wardsboro Road, I came a across an official looking road warning sign but with a never before seen warning of "CYCLIST USE EXTREME CAUTION".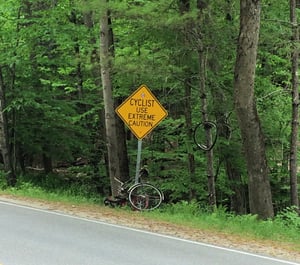 The hill was not terribly steep but certainly steep enough to generate a high speed if that was a cyclists' objective. Someone had incorporated a couple of destroyed bikes wrapped around the sign post and a bent bicycle wheel hung from a nearby broken tree limb. Hopefully the sign was not the result of a serious or tragic accident. I'm guessing a private citizen but maybe someone working for the Town, was concerned enough to place this safety reminder with some added props for emphasis.
In my next blog, I'll fill you in on my summer progress with my quest. The light at the end of the long tunnel is getting ever brighter!!!
You can read more about biking in the Green Mountain State here:
About the Author
Chuck has retired from Hallam-ICS, but his contributions to the company continue to be valued.
Read My Hallam Story
About Hallam-ICS
Hallam-ICS is an engineering and automation company that designs MEP systems for facilities and plants, engineers control and automation solutions, and ensures safety and regulatory compliance through arc flash studies, commissioning, and validation. Our offices are located in Massachusetts, Connecticut, New York, Vermont and North Carolina and our projects take us world-wide.