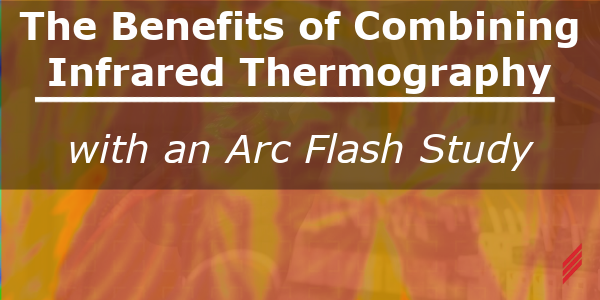 ---
Hallam-ICS provides electrical safety, design, and mitigation services to our clients. We also try to share our knowledge through blogs, white papers, and webinars to help educate electrical and safety professionals. I have written this series of blogs to provide more information about Infrared Thermography. The four blogs in this series are:
In my last Blog we discussed "Electrical Equipment and Challenges with Infrared Thermography." This blog will discuss the Benefits of Combining Infrared Thermography with an Arc Flash Study. Have you ever thought about combining the two services? You may want to consider doing just that because you can improve the value of each and save a good chunk of change if you do.
Why should I combine Infrared thermography with an arc flash study?
As a cost saving measure to your organization (could be 25% or higher), you may want to combine both services. Infrared thermography is typically an annual requirement to maintain reliability whereas an arc flash analysis is required every 5 years. There is a benefit to utilizing the same firm to complete both efforts.
We offer both services because the equipment covers need to be removed to acquire the needed data for the arc flash study and to take the IR images. Doing both at the same time reduces the labor cost of doing them separately and gets or keeps your facility in compliance with OSHA and NFPA 70E/70B.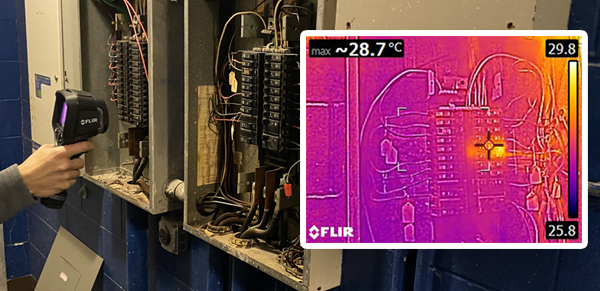 Many companies do not include IR Thermography as part of their Arc Flash study. When we perform the arc flash study and IR Thermography together, the benefits to the client are two-fold. We not only look at the incident energy levels at the equipment to provide your staff with the proper level of personal protective equipment (PPE) to protect them from a shock or arc flash event. We are also conducting "predictive maintenance" of the electrical components to monitor potential failures.
Performing the predictive maintenance of IR Thermography and completing an arc flash study are considered best practices for maintaining a safe workplace environment. If you look at the potential financial impact an organization could face if your personnel are not wearing the correct level of PPE and they are exposed to an arc flash incident. The cost could be detrimental to the organization. Not only did the person get severely burned and will require immediate medical attention, the equipment where the event occurred most likely is destroyed and will require replacement.
If so, what was the equipment providing power to? Was it one of your production lines that produces $1 million an hour in "widgets"? What about the medical costs? OSHA fines? The family seeking restitution? Insurance company raising your rates?
The table below provides two examples of potential costs by not wearing proper PPE and wearing the correct level of PPE.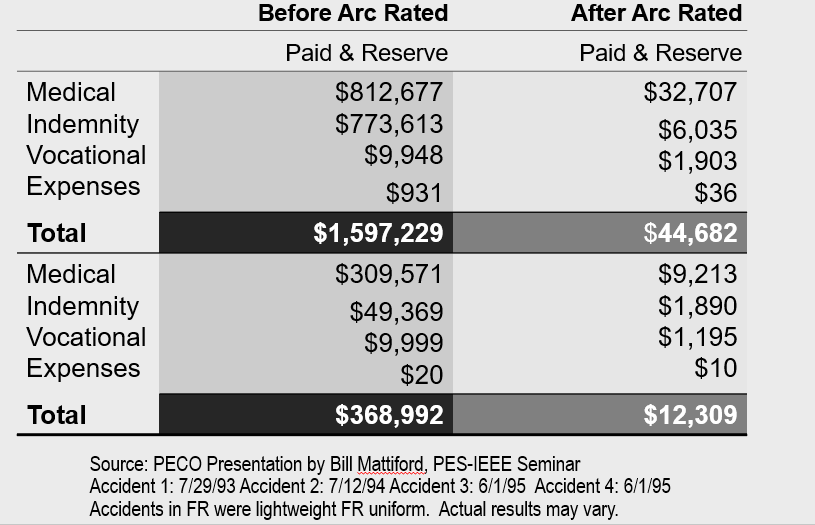 A serious incident or failure of your electrical equipment can be extremely costly to the organization. It's not unlikely that the costs could be well into the millions. Therefore, by combining the two services, you are getting the insurance that all aspects of a possible incident are being reviewed, dealt with, monitored and hopefully, your staff getting the proper training.
About the Author:
Scott King is the VP & National Director of Electrical Safety Services. Scott has been with Hallam-ICS for over 30 years. Scott and his team have been conducting power system studies for over 15 years.
Read My Hallam Story
About Hallam-ICS:
Hallam-ICS is an engineering and automation company that designs MEP systems for facilities and plants, engineers control and automation solutions, and ensures safety and regulatory compliance through arc flash studies, commissioning, and validation. Our offices are located in Massachusetts, Connecticut, New York, Vermont and North Carolina and our projects take us world-wide.