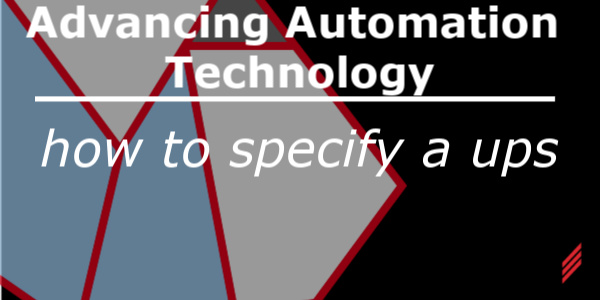 Advancing Automation Technology series will take an in-depth look into how the latest technology is being used to develop state-of-the-art control systems. We will select various software and hardware packages being used today, and provide you with the best practice techniques on how to apply them, and when you should consider applying each topic.
How to Specify a UPS
An uninterruptable power supply (UPS) is really just a bank of batteries that will keep your equipment powered in the event there is a power outage. Many times the UPS will be designed into the primary power distribution for the FactoryTalk Batch process control system. When this approach is taken, the UPS will be put in line with the primary power from the power provider. UPS circuits are installed from the circuit breaker panel out to the necessary locations. So when power is lost, the UPS will keep everything running until a back up generator can take over.
Sometimes, however, there isn't a system-wide UPS available and you will need to specify local a UPS for each sub-system. This post will describe a UPS that can be mounted in the server rack to provide temporary emergency power to your servers and networking equipment.
The UPS will not keep everything up and running for long. Typically you are looking to make sure everything stays powered for 30 to 60 minutes. The UPS is to help carry the equipment through the drop in power while a back-up generator comes on line, or if the primary power drops for a short period of time. If it looks like the power will be out for an extended period of time, then it will give you an opportunity to power down the equipment in a controlled manner.
Hardware Requirements
As I mentioned earlier, UPS systems are really a collection of batteries with a built-in inverter to convert the DC power to AC power suitable to be used with the equipment in the rack. To properly size your UPS system, you need to calculate the electrical load the UPS will need to support. APC has a great tool to help you size your UPS system (APC-tool). You need to know the equipment you are going to use or the total electrical load required. You then enter how much time you need the UPS to support your equipment and how much you want to include for growth. You can also find the electrical load parameters from the datasheet that comes with the device. After you have calculated the total load. I generally like to add 50% to the load calculation to accommodate future expansion.
The calculator will provide you with some options that will suite your requirements. If you don't like those particular options, you can use the capacities of the selected UPS devices and shop around.
Summary
The UPS is an important aspect of business continuity. The last thing anybody wants is to have their whole production line go down for an hour because of a 30 second power loss that caused the whole control system to shut down. A UPS will help alleviate the problem with lost power. If you have a plant-wide UPS or a server rack mounted UPS, the steps to specify that device are the same. A properly sized UPS will help to keep your system up and running through short periods of lost power or at worst give your engineers the opportunity to cleanly shut down the computer equipment in a controlled manner.
Click here to return to Part I of What Do You Need to Implement a FactoryTalk Batch Solution.
Click here to see my previous post discussing difference between a FactoryTalk Batch solution and a traditional PLC project.
If you have any questions concerning your process control system or require some assistance, please feel free to reach out to our Controls and Automation experts through our
About the Author:
Jamie has left Hallam-ICS to pursue other endeavors. If you have questions about this article or other Ignition questions, contact Tom Toppin, Process Controls Engineer.
About Hallam-ICS:
Hallam-ICS is an engineering and automation company that designs MEP systems for facilities and plants, engineers control and automation solutions, and ensures safety and regulatory compliance through arc flash studies, commissioning, and validation. Our offices are located in Massachusetts, Connecticut, New York, Vermont and North Carolina and our projects take us world-wide.