Advancing Automation Technology series will take an in-depth look into how the latest technology is being used to develop state-of-the-art control systems. We will select various software and hardware packages being used today, and provide you with the best practice techniques on how to apply them, and when you should consider applying each topic.
How to Specify a KVM Console
Most likely you will have a few servers in your rack and you will need some way to access those servers directly. You can carry over a keyboard, mouse, and monitor; plug them into the server and manage it that way. However, this isn't very professional, and it gets to be a pain if you have to get to the server quickly for some reason. I prefer to specify a KVM console whenever I deploy a new rack. The KVM console will connect to the keyboard-video-mouse connectors of each server and then into the back of the console. The console will then let you switch between each server using some sort of macro, Ctrl-Ctrl for example. This is a very efficient way to directly access each server in the rack. When the console isn't needed, it easily folds up and slides into the server rack occupying only 1U of space.
Hardware Requirements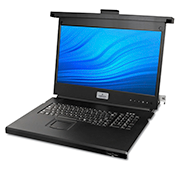 The only hardware requirements you will need to address regarding the KVM console is the number of devices you need to connect. I use the APC console with integrated switch (AP5808 ), which comes in two flavors (16 and 8 port KVM switch). Generally, the 8 port switch is sufficient for a plant-wide control system, but there are times when the rack will be shared with other systems, then it may make sense to upgrade to the 16 port switch.
I have also used KVM consoles from Avocent with a great deal of success. The feature I like most about Avocent consoles is that the connection in the back of the console is made with a standard Ethernet cable and is routed to an adaptor attached to the server. This is really convenient because I can cut the cable to the appropriate size without having to deal with a lot of extra cable that needs to be looped, secured, and tucked away. I also have the option of running the cable through a standard RJ45 patch panel, which makes reconfiguration easier and I can route all of the ports on the console to the patch panel and patch them in as they are needed.
Summary
The KVM console is necessary to manage and access the device in the server rack. The integrated KVM switch is very convenient because it doesn't take up extra space for a separate device, and the whole thing tucks away when not in use.
Another option would be to use a basic LCD console without the KVM switch and if you only had one device this might make sense. If you did have more servers, then you may need to get a separate KVM switch to share the keyboard, mouse, and monitor between all of the servers.
Click here to return to Part I of What Do You Need to Implement a FactoryTalk Batch Solution.
Click here to see my previous post discussing difference between a FactoryTalk Batch solution and a traditional PLC project.
If you have any questions concerning your process control system or require some assistance, please feel free to reach out to our Controls and Automation experts through our
About the Author:
Jamie has left Hallam-ICS to pursue other endeavors. If you have questions about this article or other Ignition questions, contact Tom Toppin, Process Controls Engineer.
About Hallam-ICS:
Hallam-ICS is an engineering and automation company that designs MEP systems for facilities and plants, engineers control and automation solutions, and ensures safety and regulatory compliance through arc flash studies, commissioning, and validation. Our offices are located in Massachusetts, Connecticut, New York, Vermont and North Carolina and our projects take us world-wide.