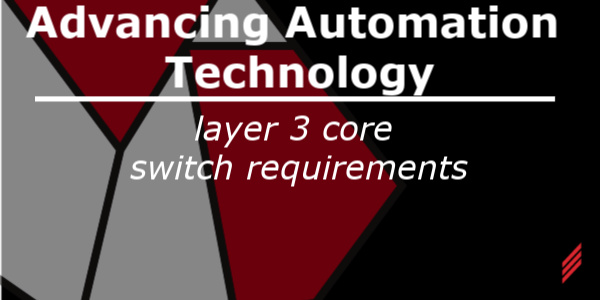 Advancing Automation Technology series will take an in-depth look into how the latest technology is being used to develop state-of-the-art control systems. We will select various software and hardware packages being used today, and provide you with the best practice techniques on how to apply them, and when you should consider applying each topic.
The network architecture of a properly implemented FactoryTalk Batch process control system solution should be segmented into several VLANs. Network segmentation not only improves system performance but it also enhances network security. If an authorized person were to gain access to one particular VLAN that person would only be able to access the devices on that VLAN. Other aspects of the system would be hidden from that user by the segmentation.
However, for information to travel from one VLAN to another that traffic must be routed to a Layer 3 switch. In the process we are describing, that layer 3 switch will be referred to as the core switch.
There are plenty of options on the market to choose from, however, my preference is to go with a Cisco switch that is stackable and has gigabit ports throughout.
Gigabit Ports
New switches are coming on the market with 10G ports but anything over 1G for a control system is unnecessary. I generally like to have the option to include a fiber uplink port, but that is optional.
Stackable
A switch stack will contain more than one switch with a special module installed in the rear of the switch. The switches appear as a single switch on the network, and if one switch should lose power, or fail, another switch in the stack would be available as a hot backup. Stacking switches provide a great way to design redundancy and fault tolerance into your network architecture.
Managed
The switch must be managed. You should never include an unmanaged switch anywhere in your network architecture. Unmanaged switches are like little gremlins and will cause intermittent havoc on your communications.
48 or 24 Ports
When specifying a switch, I tend to recommend a 48 port switch over a 24 port switch because I like to leave room for expansion. Truth be told however, you can easily get by with a 24 port switch as your core switch and save a few dollars.
Management
One reason I prefer Cisco switches is that Cisco provides a great network management tool. You can manage all of your Cisco switches and firewall from a single application. If you prefer another brand of switch, find one that has a central management tool as well.
Recommendation
A great switch to select as your primary core switch is the Cisco Catalyst 3650-24TS-S-24 port Gigabit Ethernet Switch or Cisco Catalyst 3650-48TS-S-48 port Gigabit Ethernet Switch.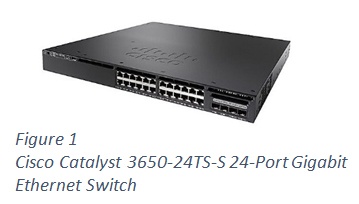 This switch meets all of the above criteria and will serve you well for many years. You can expect to pay about $2,598 (24 port) / $4,770 (48 port) for this switch, not including the stacking modules or cable. If you need to stack the switches you will need at least two switches to create the necessary stack.
Alternative Recommendation
An alternative to the top of the line Cisco switch described above is the Cisco Small Business SG500XZ-24 or SG500X-48 Stackable Managed Switch.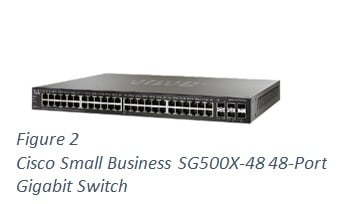 These switches do not have the horsepower of the Catalyst switches, but for the purpose of a process control system they can get the job done, at a lower price point. You can expect to pay $1,300 (24 port) to $2,000 (48 port) for this switch. Both switches meet the minimum specifications described above, and are completely stackable.
Summary
By all means the two switches mentioned here are not the only switches that will be compatible with your process control system. There are plenty of vendors that will provide you with the necessary hardware and as long as you abide by the specification recommendations above you will be in good shape.
It is also possible to build a segmented network architecture without using a layer 3 switch, and you can use layer 2 switches which generally are less expensive. However, you will need to provide an NIC port for each computer that must communicate on each VLAN. For example, if a server needs to communicate on VLAN 10 and VLAN 20 then it will require a port for network, and a unique IP address for each port. If your system is virtualized this isn't much of a problem, since you can very easily create virtual switches and virtual Ethernet ports for each virtual machine.
Click here to return to Part I of What Do You Need to Implement a FactoryTalk Batch Solution.
Click here to see my previous post discussing difference between a FactoryTalk Batch solution and a traditional PLC project.
If you have any questions concerning your process control system or require some assistance, please feel free to reach out to our Controls and Automation experts through our
About the Author:
Jamie has left Hallam-ICS to pursue other endeavors. If you have questions about this article or other Ignition questions, contact Tom Toppin, Process Controls Engineer.
About Hallam-ICS:
Hallam-ICS is an engineering and automation company that designs MEP systems for facilities and plants, engineers control and automation solutions, and ensures safety and regulatory compliance through arc flash studies, commissioning, and validation. Our offices are located in Massachusetts, Connecticut, New York, Vermont and North Carolina and our projects take us world-wide.