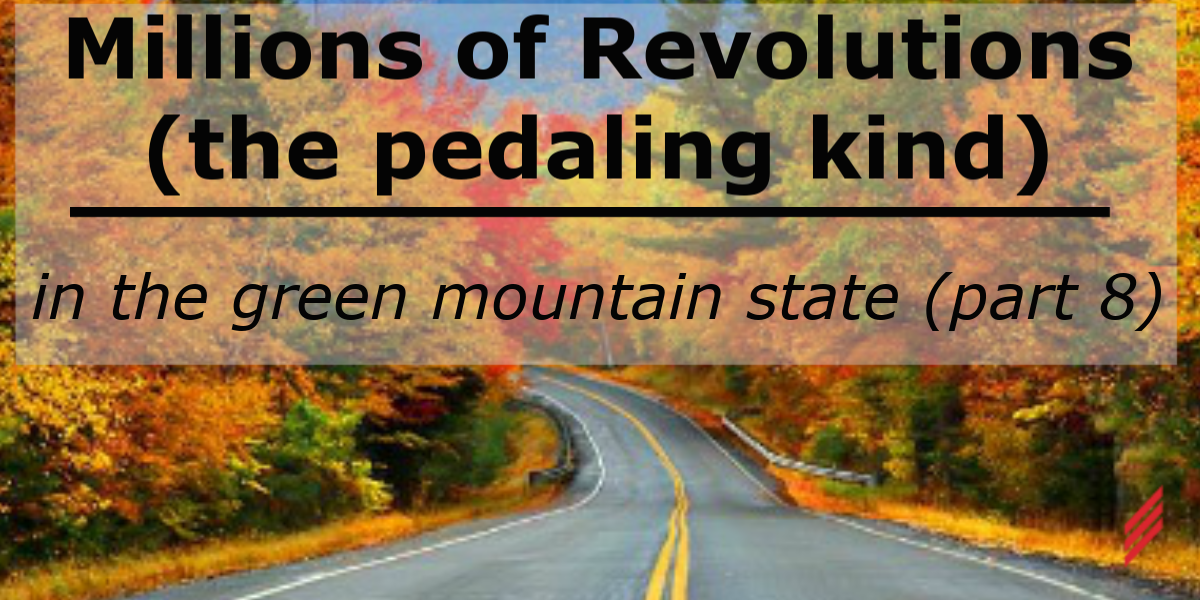 With only the Lincoln Gap Road in the town of Warren remaining before finishing my quest for riding all the paved roads on the Vermont Official Road Map, my attention turned to my options for a necessary lower gearing on my bike. The Internet offers that the steepest paved mile of road in the U.S. is a 1 mile portion of this Gap road with a gradient ranging between 20 and 24%. Riding this road has been in the back of my mind for the past 40 years going back to when my first job out of college took me to Waitsfield and the Mad River Valley and I first learned of and experienced this road by vehicle.
Gear Inches
My first and only prior attempt at riding up this Gap was in 2014 and it culminated in my walking the final portions, thus it was not a road I would count as having completed. That attempt was with a lowest gear tooth combination of 34-28 which has a gear inches value of 32.7. With one pedal revolution of that gear combination the distance covered would be equivalent to the distance that would be traveled with one revolution of a high wheel penny-farthing type bike with a 32.7" wheel diameter. My highest gear combination of 50-11 would be the equivalent of a high wheeler with a 122.7" diameter wheel. Think of the running start and inseam measurement you would need to ride that!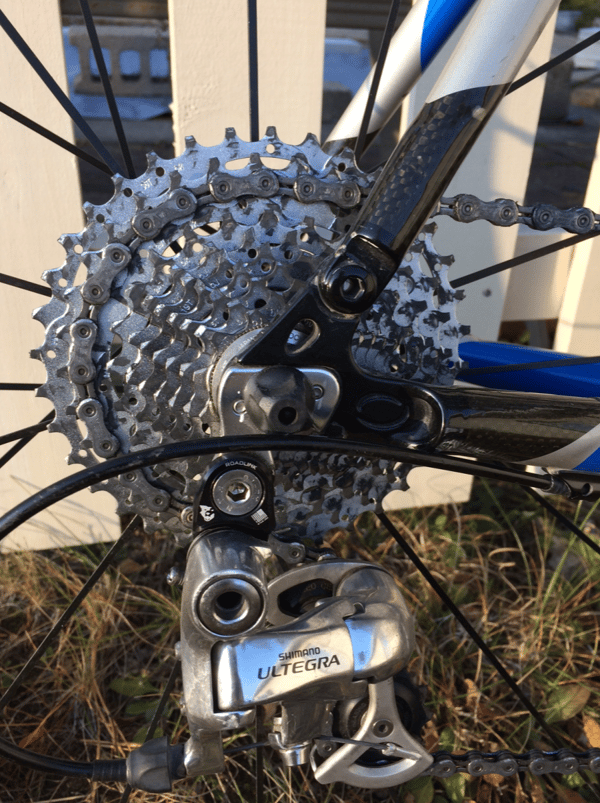 I gave considerable thought to attempting this climb with my previous road bike which has a granny gear combination of 26-24 for a gear inches of 29. I wasn't convinced that would be enough and I also preferred to make this concluding ride on the same bike that reliably accompanied me over the many roads throughout the State. After discussing my options with the service techs at Earl's Cyclery, I settled on a derailleur extender made by Wolf Tooth to accommodate a new larger 10 speed cassette with a range of 11-36. With this setup my new lowest gear combination of 34-36 provided a gear inches value of 25.5; only 8 more teeth but a 22% reduction from my 34-28 setup. With one test ride on the Bolton Notch Road, which has one short pitch that I believe is the steepest I have encountered anywhere in the State, I set my sights on an early October trip to Warren to conquer this final road and complete my quest.
The Grand Finale Ride
On October 5th, a clear crisp blue-sky autumn Friday with temps in the 50's and fall foliage at near peak color, Cindy, friend Eric and I drove to Warren and began the ride on Route 100 about 2 miles north of the westward turn for the Lincoln Gap Road. Eric had recently ridden this gap along with the three other gaps that make the epic LAMB ride mentioned in my earlier blog. Cindy proceeded up the mountain to meet us at the top where many Long Trail hikers had amassed their vehicles and set off to enjoy the great day on the Trail.
My goal was to ascend without rest stops and with some doubt about whether I could pull that off we set off with a casual pace. The Gap road is 4.1 miles long from the Route 100 turn to the summit with the notorious mile being pretty much the last one. The road commences as paved, turns to gravel for a short distance then returns to pavement for maybe the final two miles. This upper section had been recently repaved and fresh pavement free of cracks and potholes is always a welcomed sight and gift for a Vermont road cyclist.
Once we got into the steep section Eric slowly began to pull ahead of me and I strove to keep him in my sight as he provided me with added motivation and the visual proof that it is possible to ride up this beast. Though stopping to rest and resuming was always an option I was determined not to make that concession if at all possible. It's also rather difficult to resume riding on such steep grades and essentially requires a perpendicular start across the road to get clipped in before turning up into immediate exertion.
Beyond the cardio challenge I was also having the other challenges that come with these steepest of climbs. One was the rearward shifting of my center of gravity which with each pedal down-stroke caused my front wheel to lift slightly off the pavement and dance side to side of the line I was trying to hold. Not such a good thing particularly when vehicles were overtaking me on the narrow, shoulder-less road. Compensating for this required a forward shifting on the seat at the cost of increased strain in my low back where a testy conversation about a revolt was already going on. Another challenge was simply staying upright moving at such slow speeds. The ideal smooth and high cadence pedal revolutions became slow, strained-to-the-limit piston strokes with forward momentum quickly lost between each and with only a fraction of a second available if it became necessary to unclip, plant a foot on the ground and brake without spilling bike and body back down the hill. I was glad to have had every extra tooth of the new cluster and likely could not have spared any of them.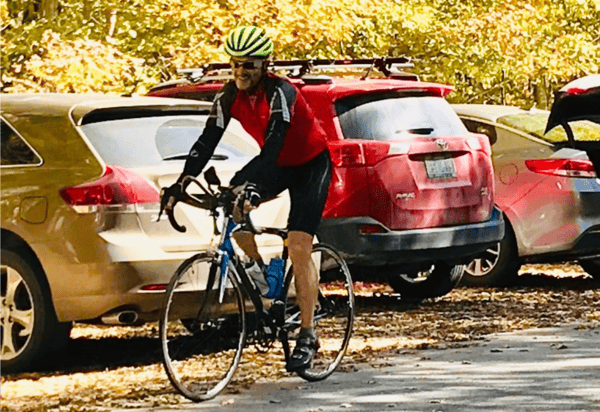 About 40 minutes after leaving Route 100 I successfully summited, where Cindy and Eric were waiting, with my heart thrashing at 170 bpm and full satisfaction with my day and multi-year achievement. After a little time at the top to soak in the day and accomplishments, Eric and I continued on riding west down the Lincoln side of the Gap and then north back to South Burlington for 50 color-filled miles of riding on this classic Vermont Fall day.
Reflection
What began in 2010 as a mere tallying of the number of towns in Vermont that I had biked some portion of, 120 at that time, led to an initial quest to ride some part of each of the 251 cities and towns in Vermont. From this initial quest sprang a second quest that began in 2015.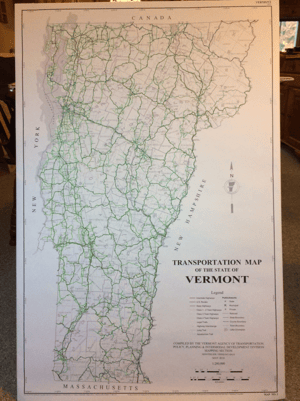 This one was to ride the entirety of the paved roads depicted on the Vermont Official Road Map that are not of the limited access type, around 6,000 miles of roads by my estimate, and to my knowledge completed by just one person before me. Completing these quests was a very enjoyable and rewarding way for discovering the many parts of my home state that I had never visited and making new connections with these places. What seemed like an unreachable goal at the outset became a reality. With planning and persistence required for any large undertaking, success came mile by mile, ride by ride, and year by year and it only required a couple million pedal revolutions in the process.
You can read more about biking in the Green Mountain State here:
About the Author
Chuck has retired from Hallam-ICS, but his contributions to the company continue to be valued.
Read My Hallam Story
About Hallam-ICS
Hallam-ICS is an engineering and automation company that designs MEP systems for facilities and plants, engineers control and automation solutions, and ensures safety and regulatory compliance through arc flash studies, commissioning, and validation. Our offices are located in Massachusetts, Connecticut, New York, Vermont and North Carolina and our projects take us world-wide.