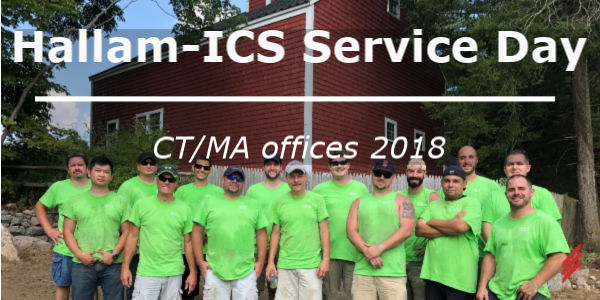 Proud-the first word that comes to mind to describe my feelings about working for a company that pays its employees to volunteer a day of service at a local organization that betters the community in which we live and work. It's part of our company's Social Mission, and we call it Hallam-ICS's Service Day. For 2018, Hallam-ICS's Connecticut and Massachusetts offices once again joined together as the "Southern New England –Team Hallam" and visited Gilly's House; an amazing local organization whose mission is to provide a safe and sober environment for young men recovering from drug and alcohol addiction, fostering the life skills necessary to successfully re-enter society.
The day we chose for our day of service was Wednesday, August the 28th, 2018. It just so happened to be the last day of a three-day heat wave here at Hallam-ICS' Mansfield, MA office and in the neighboring town of Wrentham, MA where Gilly's House is located. The forecast was calling for the day to be seriously hot, and we debated whether-or-not to postpone and wait for cooler weather. Since the weather was not calling for rain, and most of our activities were scheduled to take place outdoors, we decided to continue as planned and work through the heat.
We started out the day by arriving at our Mansfield office for a quick breakfast (generously provided by Joe Baptiste) and a coordination meeting to divide up the tasks for the day between the 15 of us. We grabbed our 2018 Service Day T-Shirts and then carpooled to Gilly's House, located 15 minutes away from our office.
By the time we arrived at Gilly's House, it was 8 am and already hot out. Hallam-ICS's Robb Chase and Gilly's House's Barbara Gillmeister saved-the-day by providing coolers full of water and sports drinks as well as a shade canopy.
Once our vehicles were unloaded of tools and supplies, we quickly dispersed to our assigned task areas and went to work.
Daryl George, Joe Baptiste and Shawn Costa quickly got to work and turned what was previously part of Gilly's House's lawn into a rich bed of soil and fertilizer; ready for other volunteer groups to plant a new serenity garden. Our garden crew made effective use of Jeff Silcox's roto-tiller as well as many other Hallam-ICS volunteer-supplied garden tools while accomplishing this task.

Daryl, Joe, and Shawn –Tilling the Patch of Dead Grass into A New Serenity Garden (before and after)
Nearby, Rick Harper created a privacy fence for the new serenity garden by fastening lengths of bamboo to pieces of dimensional lumber. What was thought to be a simple task during the planning phase of this service day turned out to be a serious ordeal due to the cross-sectional irregularities inherent among bamboo stalks.

Rick – Constructing the Bamboo Privacy Fence (before and after)
Inside Gilly's House, on the second floor, Jamie Spalding painted both a small "phonebooth" shower room, and a soon-to-be bedroom. Jamie was able to find some shade indoors, but unfortunately was not able to escape the heat.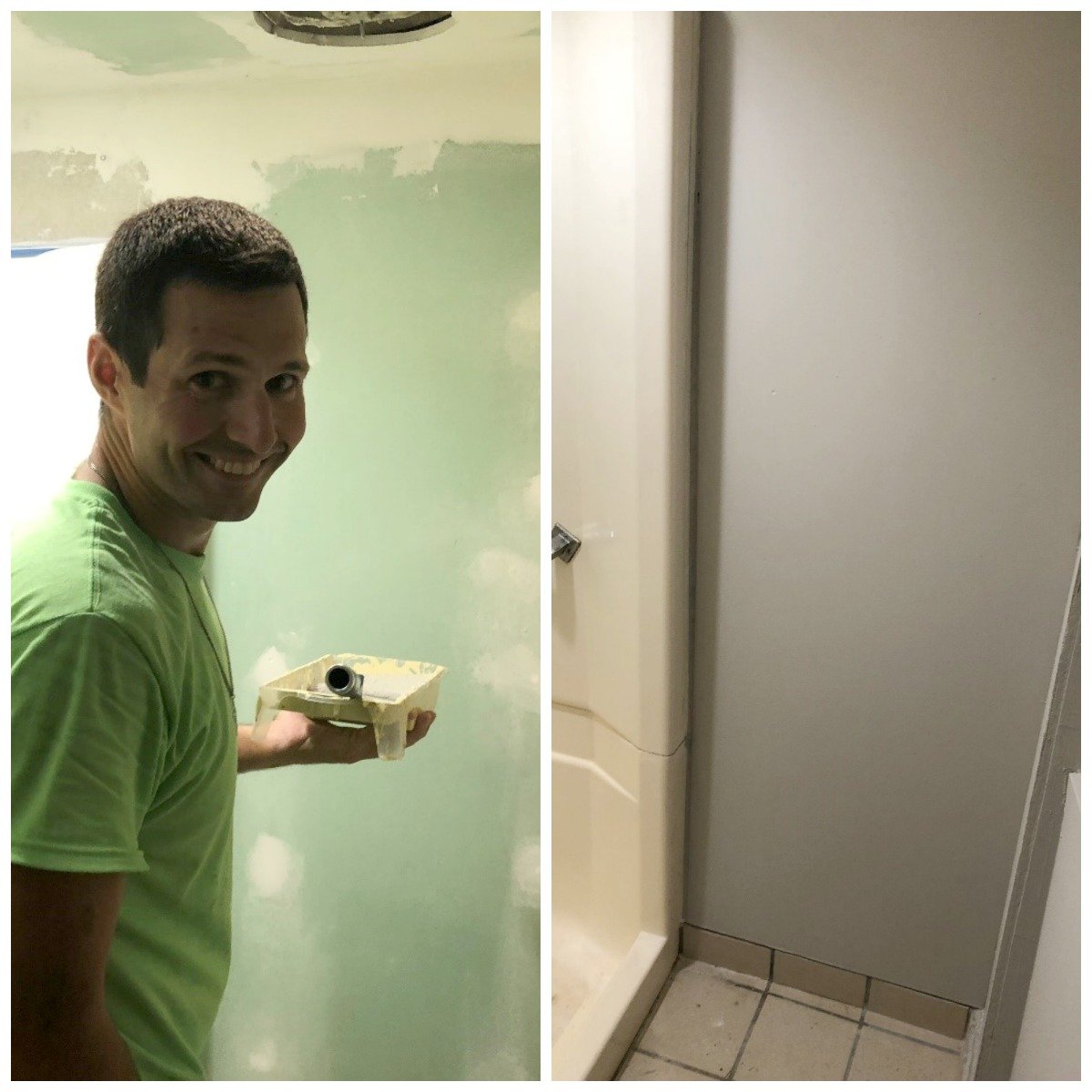 Jamie – Painting the "Phonebooth Shower" (before and after)
Back outside, Jeff quickly worked at troubleshooting a sagging portion of the front porch. He then swiftly removed the decking and proceeded to diagnose the issue; immediately discovering the rotted piece of lumber. A quick replacement and Jeff was done; ready to move on to other jobs.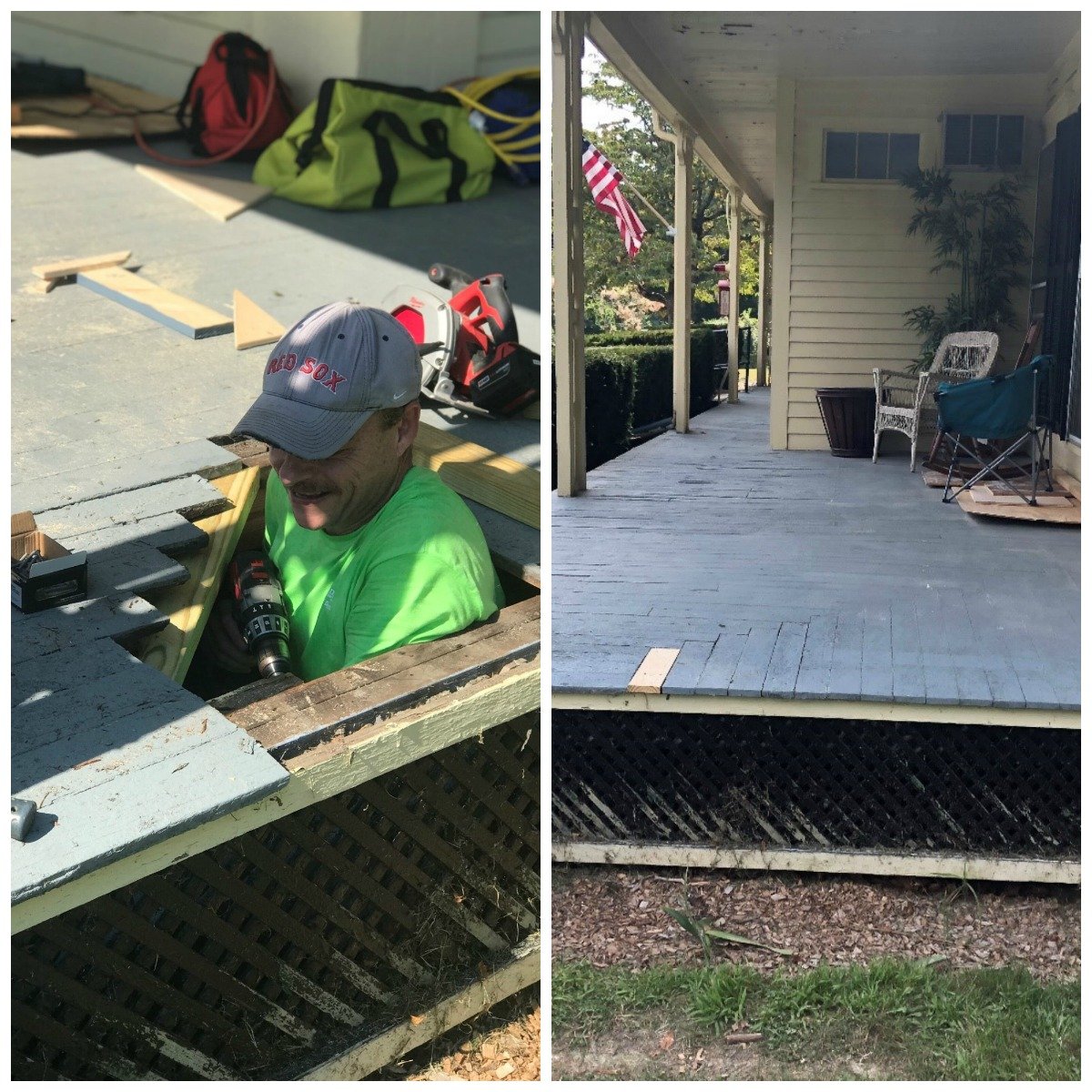 Jeff – Diving Right in To Fix the Front Porch (before and after)
Close by, Matt Reed and Robb Chase were occupied with the task of designing, fabricating and installing a new piece of wooden trim along the stringer of one of Gilly's House's front stairways.

Fabricating New Front Stair Stringer Trim Piece (before and after)
Meanwhile, Anh Cai, and Mike Pimentel scraped and sanded one of the 2nd floor wooden fire escapes in preparation for a new coat of paint. Anyone who has ever scraped and sanded a wooden structure in preparation for paint, knows just how monotonous and labor-intensive this process is. In a show of force, once other Hallam team members completed their assigned tasks, they moved on to help with the fire escape job.

Anh and Mike–Receive Much Appreciated Help on the Fire Escape Job (before and after)
Sam Lacasse and Tom Toppin quickly made their way around the perimeter of Gilly's House, where they replaced old exterior light fixtures with new, energy efficient LED units in record time. They both soon moved on to help with all the other jobs.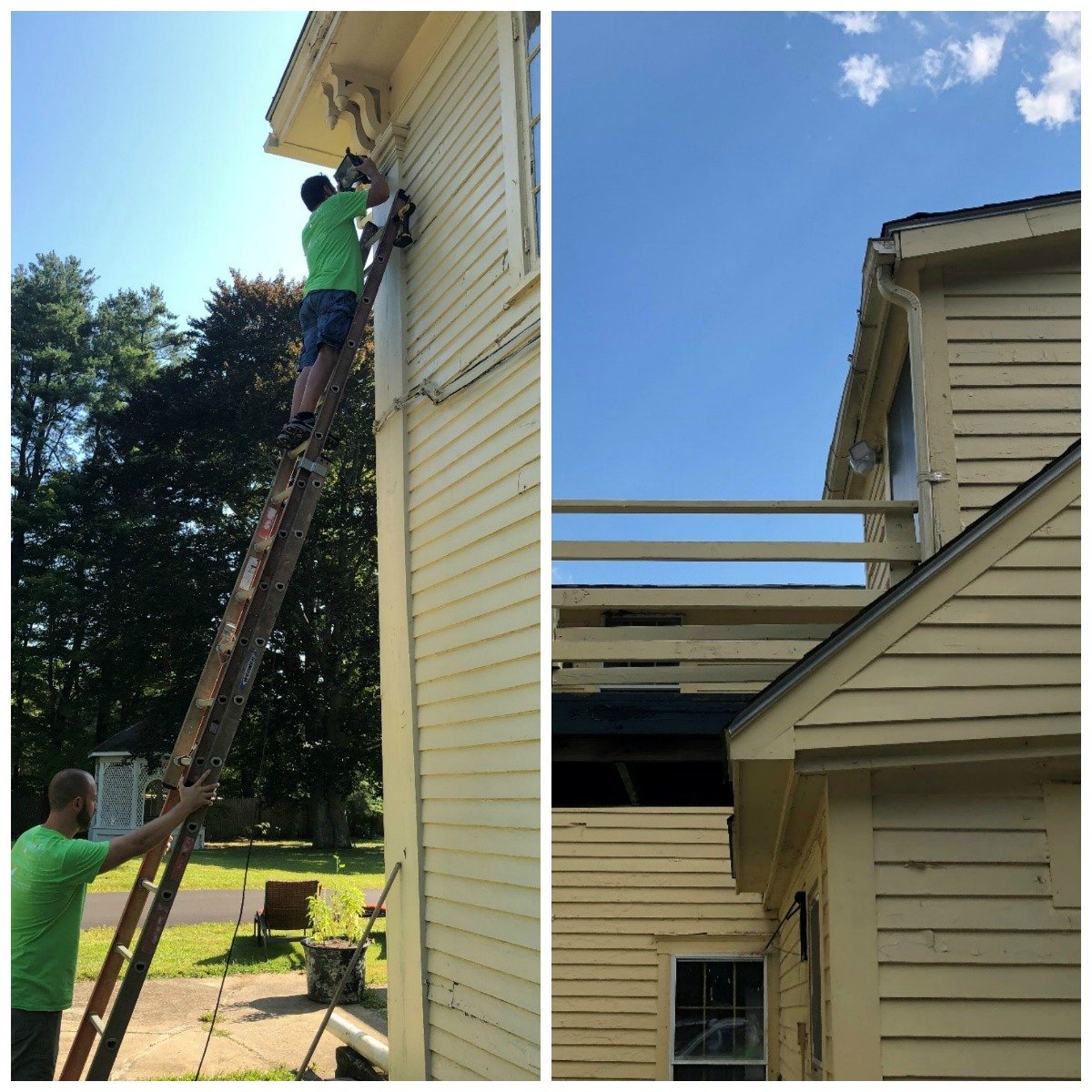 Sam and Tom-Replacing an Outdoor Light with New LED Model (before and after)
Jack Macko, Keith Sheldon, and I decided to tackle the cellar bulkhead door replacement job. None of us had ever replaced one of these doors before, and we were anxious to see the condition of the concrete foundation underneath the old unit. After a little bit of concrete chipping and some metal grinding we were able to remove the old bulkhead and see what we were left to work with. Fortunately for us, the foundation was in excellent condition and the rest of the bulkhead replacement went according to plan.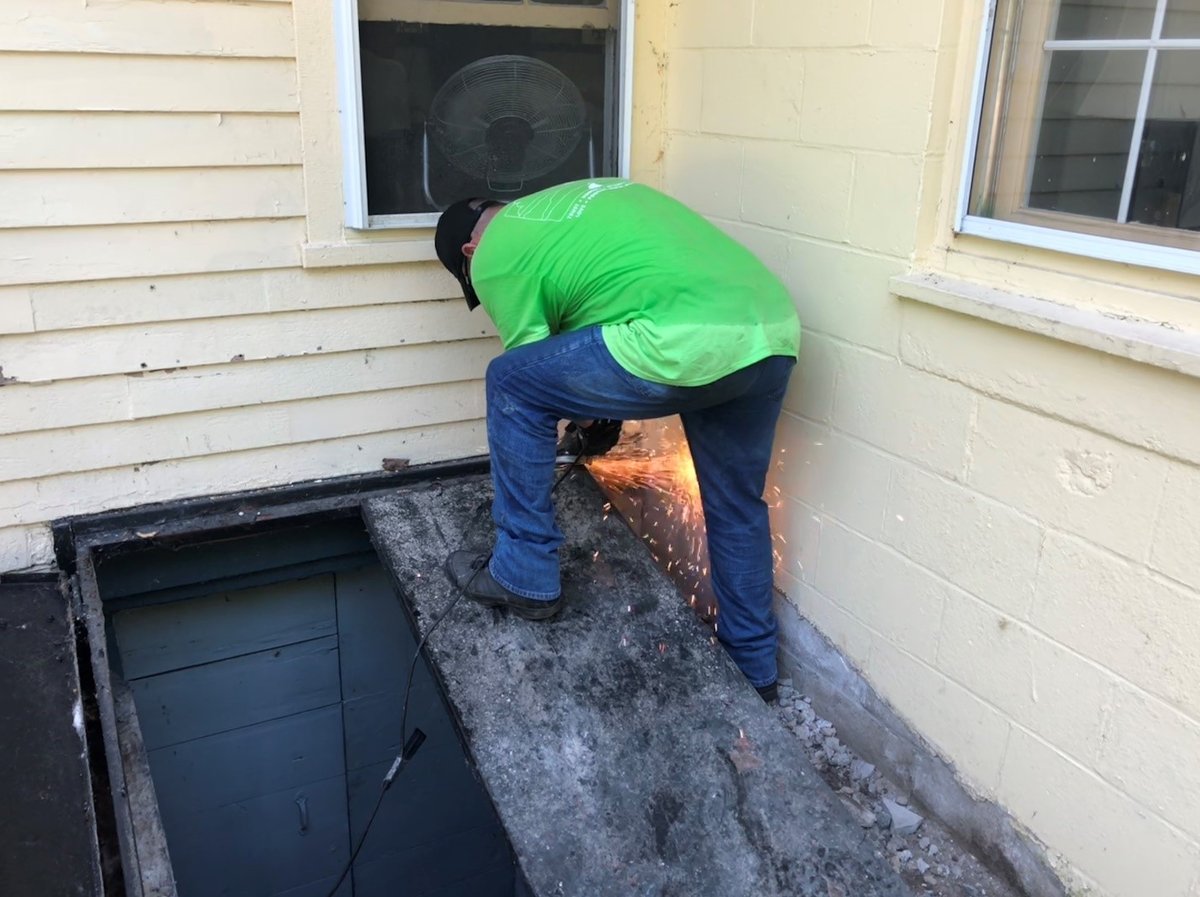 Jack–Cutting Out Old Cellar Bulkhead Door

Keith and Jack – Finishing Cement Installation (before and after)
It was a lot of work, and an extremely hot day, but the 15 of us from the CT/ MA offices left Gilly's House with a sincere feeling of accomplishment.
About the author
Ian Moldovan has left Hallam-ICS to pursue other endeavors, but his contributions to the company continue to be valued.
Read My Hallam Story
About Hallam-ICS
Hallam-ICS is an engineering and automation company that designs MEP systems for facilities and plants, engineers control and automation solutions, and ensures safety and regulatory compliance through arc flash studies, commissioning, and validation. Our offices are located in Massachusetts, Connecticut, New York, Vermont and North Carolina and our projects take us world-wide.